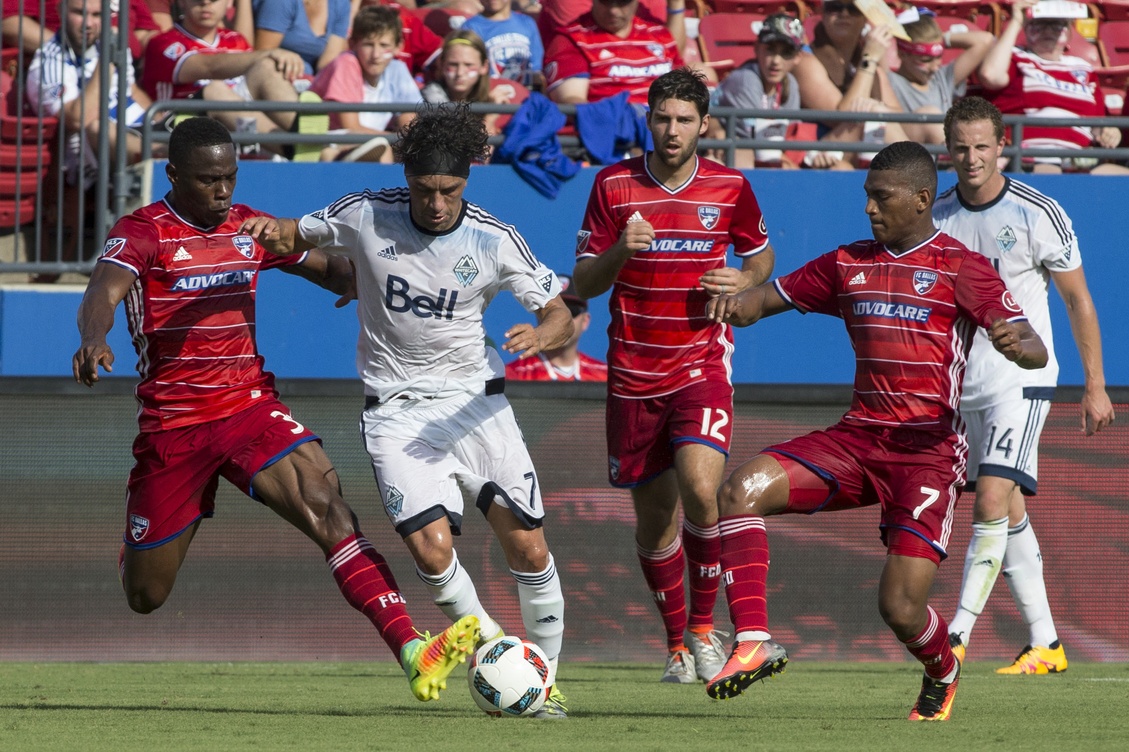 Even as Fabian Castillo's status remains up in the air, FC Dallas continues to roll through the rest of the Western Conference.
FC Dallas extended their league atop the West on Sunday evening, toppling the Vancouver Whitecaps, 2-0, on goals from Kellyn Acosta and Maxi Urruti. FC Dallas now sits on 44 points, six ahead of the Colorado Rapids in the Western Conference race.
Fresh off his first MLS All-Star Game, Acosta opened the scoring 10 minutes after halftime with his second goal of the year. After prodding around the Whitecaps box, Michael Barrios flicked a pass into the path of Acosta, who was left one-on-one for a finish past David Ousted.
Just three minutes later, Urruti added FC Dallas' second, effectively killing the Whitecaps' hopes of a comeback. Played in via a long ball from Atiba Harris, Urruti rocketed a first-time shot past Urruti, scoring FC Dallas' second in just minutes by adding his sixth goal of the year.
The first half belonged to FC Dallas, although the hosts failed to find the back of the net despite several chances to do so. Just five minutes in, Urruti saw a shot go just wide of Ousted's goal, as FC Dallas nearly jumped into an early lead. Urruti has another chance go sky high in the 25th minute, while Walker Zimmerman and  Maynor Figueroa both had headers miss the mark in the first 45.
Moments into the second half, Urruti once again fired close, putting a shot just high as looked to beat Ousted past the near post. However, the FC Dallas onslaught began soon after, as the team earned their fifth win in seven games.
FC Dallas will return to action on Thursday for a CONCACAF Champions League clash with Real Estelí, while the Whitecaps faces Central FC in Trinidad & Tobago on Tuesday evening.
MAN OF THE MATCH
Maxi Urruti created chance after chance for FC Dallas, and the veteran forward effectively ended the game with his second half finish.
MOMENT OF THE MATCH
After a full half of chances, FC Dallas finally took one through Kellyn Acosta, who build upon a solid performance in Thursday's MLS All-Star Game.
MATCH TO FORGET
David Ousted will be frustrated with his effort on Acosta's goal. Normally one of the league's best, the Whitecaps goalkeeper would expect to have saved what ended up being the first of a quick pair of FC Dallas finishes.