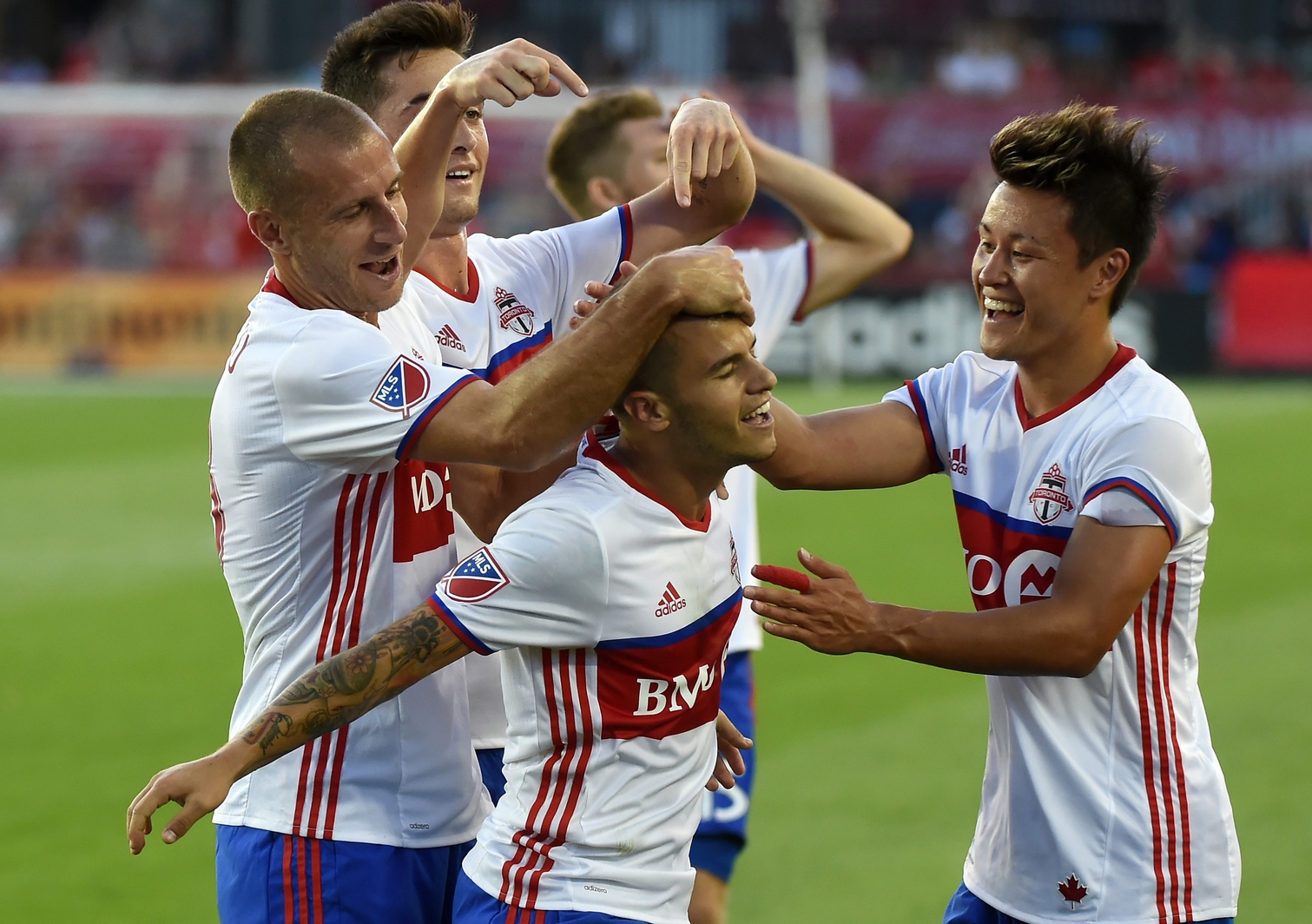 Saturday's clash between Toronto FC and D.C. United developed into the latest edition of the Sebastian Giovinco show.
The Italian star contributed a pair of free kick goals and a late insurance finish, leading Toronto FC to a 4-1 victory over D.C. United at BMO Field on Saturday night. The win sees TFC grab the club's 27th point of the season, while D.C. remains on 22 points.
Giovinco's takeover began in the 21st minute. Set up on the right side, Giovinco picked out the corner on the near post, giving TFC the 1-0 lead. Then, with TFC up 2-1, Giovinco found the same corner on yet another free kick, firing his set piece across the goal to push the lead to 3-1. The pair of goals were Giovinco's sixth and seventh finishes from free kicks since his move to MLS.
In between the Italian's pair of finishes, both sides exchanges goals, with Jared Jeffery netting the equalizing goal for D.C. United in the 24th minute. Five minutes later, Marky Delgado restored TFC's advantage, paving the way for Giovinco's second bit of free kick magic.
The second half wasn't highlighted by on-the-field action. Rather, it was headlined by the introduction of a pair of substitutes, as Jozy Altidore returned from a lengthy spell on the sideline, while recent signing Tossaint Ricketts joined the fray for his first TFC appearance. Ricketts nearly opened his TFC account just moments after coming on, as the Canadian star drilled the post in the 73rd minute.
Giovinco did end up providing a stoppage time insurance goal for Toronto FC, who cruised through the second half to a comfortable victory. The win sees Toronto FC end a two-game winless run ahead of next Sunday's clash with the Columbus Crew. D.C. United, meanwhile, returns to action against the Montreal Impact that same day in an effort to end a four-game stretch without a win.
MAN OF THE MATCH
For the past year-and-a-half, Sebastian Giovinco as proven to be the class of MLS, and Saturday's effort was just another example at Giovinco at his best.
MOMENT OF THE MATCH
One could debate which of Giovinco's free kicks was a better finish, but Marky's Delgado's reply to D.C. United's equalizer swung the momentum in Toronto FC's favor.
MATCH TO FORGET
It's hard to truly fault Travis Worra too much for being beaten twice by Giovinco, but the D.C. United goalkeeper will be disappointed to see two shots swing past him into the exact same corner.