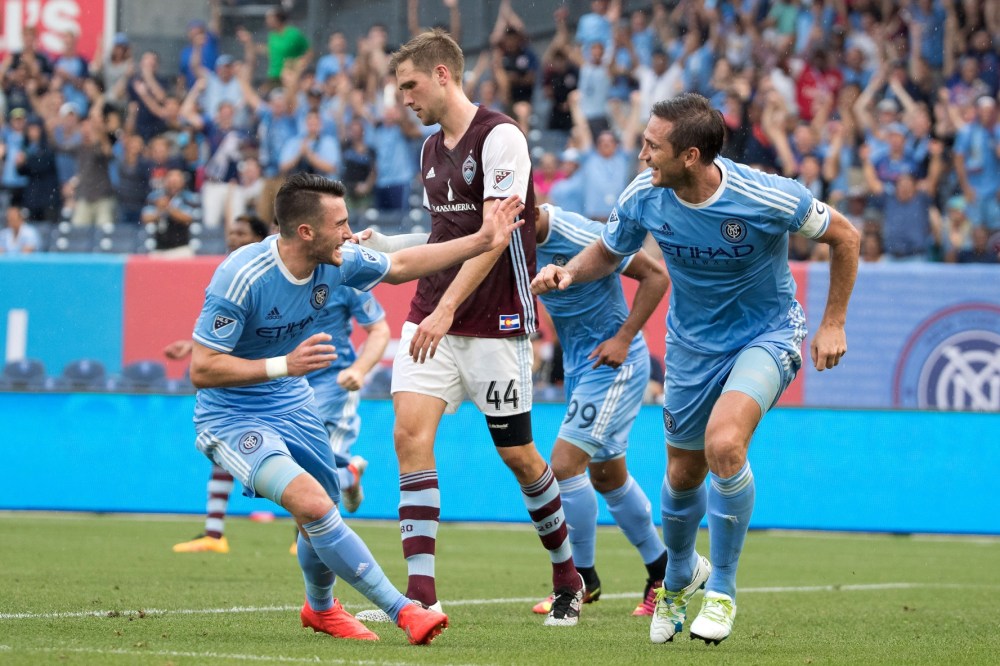 NEW YORK — The roaring cheers Frank Lampard drew on Saturday would almost make some forget about the boos for him back in May, but Jack Harrison isn't one of them.
The New York City FC rookie has been vocal in defense of Lampard all season, as the two had worked side by side during their respective rehab process earlier in the year prior to making their season debuts together as substitutes on May 21 at Yankee Stadium.
The reception for the two at that game could not have been more of a contrast. Cheers for Harrison, the No. 1 overall pick in the 2016 MLS SuperDraft, but boos for Lampard, one of the team's Designated Players.
When the reactions didn't change for Lampard in the following week, Harrison took it to Twitter to vouch for his fellow Englishman.
Why is Frank Lampard being booed every time he comes on??? He works harder than anyone off the pitch have some respect #WeAreOne

— Jack Harrison (@Harrison_Jack11) May 30, 2016
On Saturday, two months following that tweet, Lampard tallied the first hat-trick in NYCFC's brief history during the team's 5-1 rout of the Colorado Rapids in the Bronx. Harrison took the opportunity again to remind the public of Lampard's importance to the team.
"I thought he had a great performance," said Harrison, who assisted one of Lampard's goals. "He showed true leadership out there. He's a great captain, he showed that at Chelsea and he just showed that here today as well and proved everyone wrong that we do need him and he's a key part of our success."
Lampard — who was wearing the captain's armband in place of the suspended David Villa — opened the scoring in the 28th minute before finishing Harrison's setup in the 81st. Three minutes following that, the 38-year-old midfielder buried a penalty kick for his eighth goal on the season, all of which came after June 18.
"He's been a great mentor to me and to see him doing so well out there, scoring goals, it's a big accomplishment for him," Harrison said.
With Villa sitting due to yellow card accumulation and manager Patrick Vieira also suspended for getting sent off in last week's 4-1 loss to the New York Red Bulls, Lampard took up the role of leading City on Saturday.
"I mean, I'm pleased," Lampard said. "David's our captain and does a very good job, not just on the pitch where he scores a lot of goals and leads us from the front but off the pitch. I think is important for all the players to show their leadership and I've been around a long time playing for a long time with great captains and as captain myself at times. I tried to use the experience to help today and I think everyone performed well today."
Lampard, who was on target with all of the seven shots he took on Saturday, said he's "happy" about making history for NYCFC, but it's the response from his side following another difficult loss that he takes more pride in.
"I know it's a very short history but it's a great accolade for me as a person," he said. "I'm very happy and when I'm playing well, feeling good, obviously I can score goals, I've manage to do since I've been fit. To the three goals, I personally feel great but for the team more importantly, that's twice now in recent weeks we lost a game and come straight back the next week and won. And that's what team who wants to stay on top of the table must do."