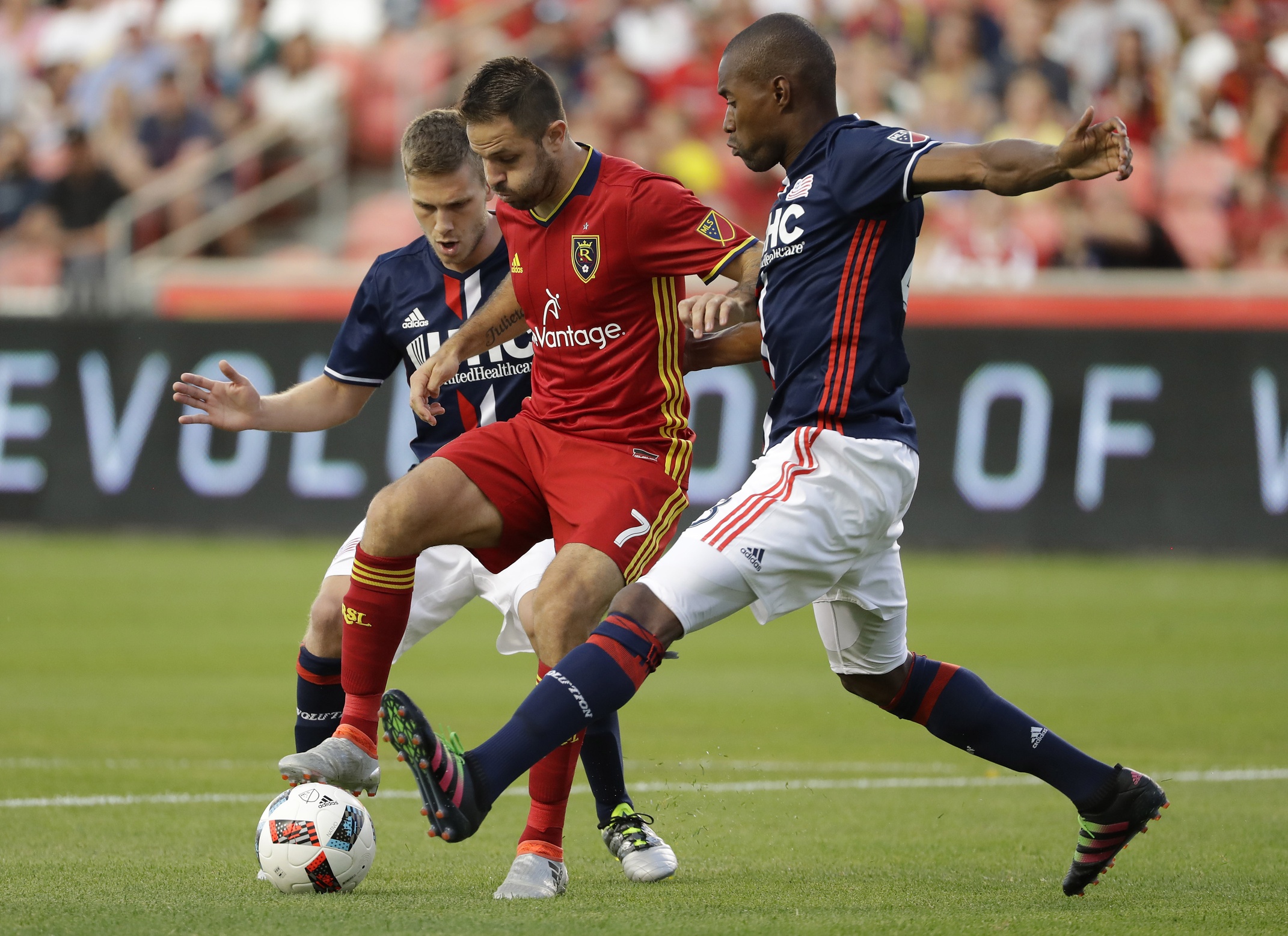 Kei Kamara appeared to have fired his side into the lead, but a controversial call saw the New England Revolution settle for a draw on Saturday night.
The Revs forward saw his goal waved off due to a foul, ensuring a scoreless draw with Real Salt Lake on Saturday night at Rio Tinto Stadium.
Just moments into the second half, the Revs appeared to have snatched the lead.
In the 50th minute, Kamara found himself on the receiving end of a cross from Kelyn Rowe, and the former Columbus Crew forward buried the ensuing shot first time to seemingly give the visitors the lead. However, Kamara was called for a foul as RSL centerback Aaron Maund tumbled to the ground just outside the box. Several seconds after the goal, referee Ismail Elfath blew his whistle, signaling no goal while preserving the tie.
The goalkeepers on either side had just as much of a say in the scoreless draw, as Nick Rimando and Bobby Shuttleworth stepped up with crucial saves. Shuttleworth topped Kyle Beckerman on the doorstep in the 14th minute on what proved to be RSL's best look before making a 70th minute stop on Yura Movsisyan's breakaway effort. Meanwhile, Rimando made a fantastic save on Diego Fagundez late in the second half to keep the Revs at bay.
With the draw, RSL earns their third point from four games, while the Revs pick up their 23rd point from their 20th game.
Real Salt Lake returns to the field on Friday for a clash with the San Jose Earthquakes, while the Revs face off with the Philadelphia Union in Wednesday's U.S. Open Cup quarterfinal.
MAN OF THE MATCH
RSL fullback Demar Phillips was a menace down the left side, making seven interceptions while helping to create in the attacking third.
MOMENT OF THE MATCH
Kei Kamara appeared to have given the Revs a second half lead, but referee Ismail Elfath saw otherwise, blowing the whistle for a foul while waving off the forward's finish.
MATCH TO FORGET
Yura Movsisyan and Burrito Martinez had several chances to score for RSL, but the veteran forwards were uncharacteristically sloppy in front of goal in what turned out to be a scoreless draw.