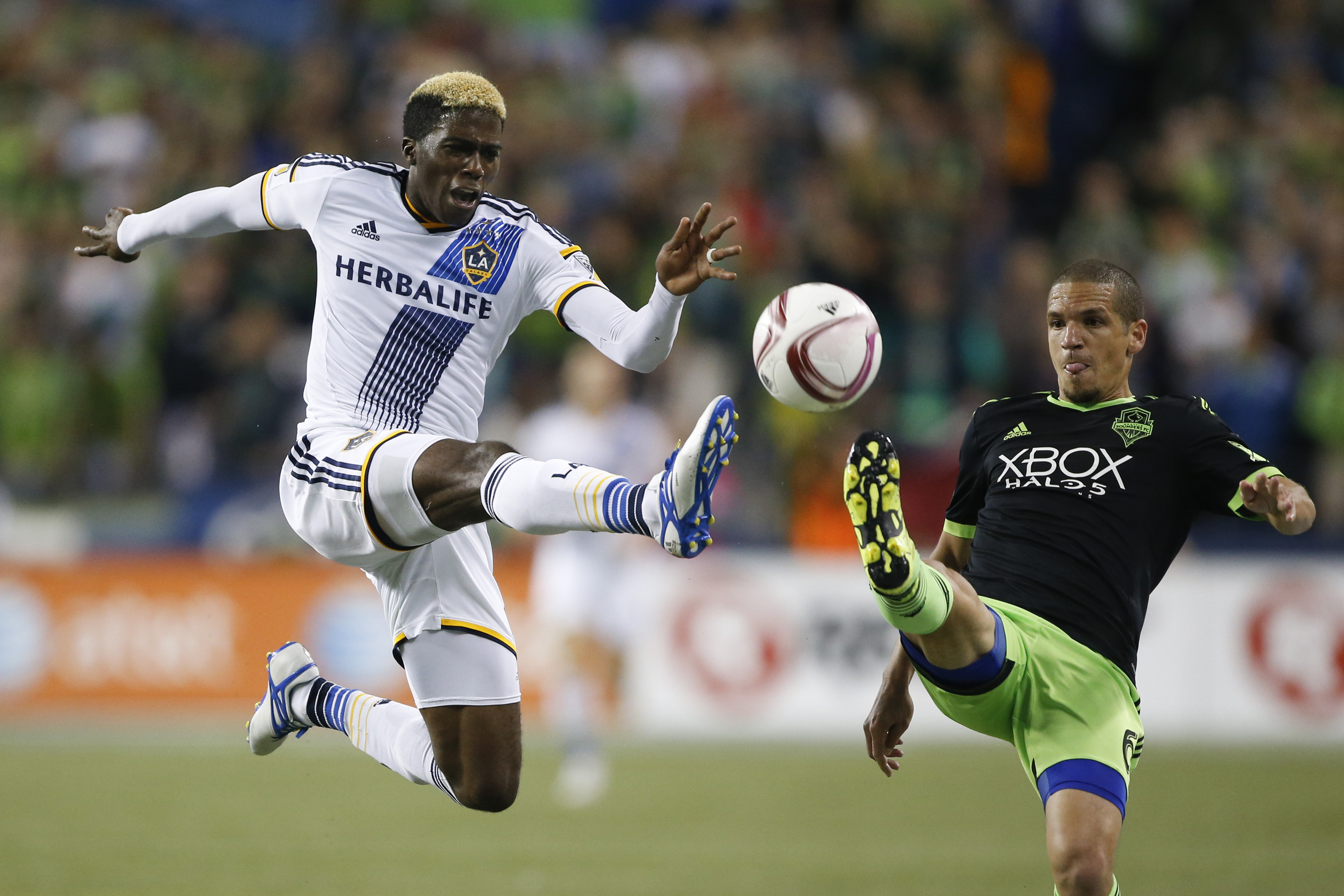 After a busy holiday, MLS returns with yet another full slate as all 20 teams take the field over the weekend.
Headlining the weekend's action is a clash between two traditional powers as the LA Galaxy pay a visit to the Seattle Sounders. The former has experienced a slight upswing in form, while the latter remain mired in the bottom of the Western Conference table following a string of lackluster results.
The Colorado Rapids, another team competing for the top spot out West, takes on the Vancouver Whitecaps, while a surging FC Dallas team faces the San Jose Earthquakes.
New York City FC, now atop the East, will look to build on a midweek win over the New England Revolution in Sunday's clash with Sporting Kansas City.
Here's a closer look at all of this weekend's action:
ORLANDO CITY vs. HOUSTON DYNAMO (Friday, 8 p.m., UniMas)
Both Orlando City and the Houston Dynamo have seen the departure of their head coaches, and now both sides will be looking to fight to remain in the playoff picture in their respective conferences in a Friday night clash.
The Dynamo are several weeks removed from the departure of Owen Coyle, while Orlando City enter their first match since the dismissal of Adrian Heath. Following a 4-0 drubbing from FC Dallas, Orlando City will look to return to the win column for the second time in five matches. The Dynamo, meanwhile, are riding high after picking up their first win in six last time out.
SAN JOSE EARTHQUAKES vs. FC DALLAS ( Friday, 10:30 p.m., UniMas)
The San Jose Earthquakes backline remains depleted, a scary prospect ahead of a clash with one of the league's best attacks.
FC Dallas thumped Orlando City, 4-0, last time out, although their first two clashes with the Earthquakes have ended in draws. With a total of five defenders on the injury list, the Earthquakes will look to defend an Avaya Stadium that has yet to see a home loss this season.
SEATTLE SOUNDERS vs. LA GALAXY (Saturday, 3 p.m., ESPN)
Two of the league's perennial contenders collide in Saturday's matinee matchup.
The Seattle Sounders have struggles in recent months, relying mostly on rookie Jordan Morris to carry the goalscoring load. The return of Clint Dempsey helps, but the Sounders are still winless in three. The Galaxy were also boosted by the return of their stars last time out, as Gyasi Zardes and Robbie Keane helped lead the team to their first win in seven matches.
PHILADELPHIA UNION vs. D.C. UNITED (Saturday, 7 p.m., MLS Live)
The Philadelphia Union have slumped a bit in recent weeks, making a result over a fellow Eastern Conference foe vital as the summer heats up.
With just two wins in their last seven MLS matches, the Union remain second in the East, but have fallen back towards the pack. The loss of Vincent Noguiera, paired with injuries to C.J. Sapong and Fabian Herbers, have left a mark for a team still contending atop the East. Their opponents, D.C. United, have already felt their wrath earlier this season, but remain in solid form without a loss in their last three.
TORONTO FC  vs. CHICAGO FIRE (Saturday, 7:30 p.m., MLS Live)
Toronto FC remains beat up, but a meeting with the Chicago Fire may be just what the doctor ordered.
Michael Bradley, Jozy Altidore and Will Johnson remain on the shelf, as TFC enters with just six points from their last seven games. Set to play at BMO Field, TFC will look to defend their home turf better than they have in recent weeks against a Chicago Fire team that has yet to pick up a road win this season.
NEW ENGLAND REVOLUTION vs. COLUMBUS CREW (Saturday, 7:30 p.m., MLS Live)
Kei Kamara scored his first two goals for the New England Revolution last week, but the star forward will have extra incentive to find the back of the net on Saturday night.
Kamara faces off with his first team for the first time on Saturday in a clash with the Columbus Crew. Traded after a dust up with teammate Federico Higuain, Kamara netted his first two goals for his new club last week, but was held scoreless against NYCFC in a midweek loss. The Crew, meanwhile, have seen Ola Kamara score seven goals in five matches but have one just once since April 23.
VANCOUVER WHITECAPS vs. COLORADO RAPIDS, (Saturday, 10 p.m., MLS Live)
Tim Howard's presence couldn't help the Colorado Rapids earn a win last time out, but the Western Conference foes have a chance to gain points against a team known for giving up goals.
The Vancouver Whitecaps have allowed 31 goals this season, tied for worst in the league. The Rapids, meanwhile, have surrendered just 11 finishes, fewest in MLS. Adding to the Whitecaps' difficulties is the departure of Octavio Rivero, who, despite his shortcomings, leaves the Whitecaps down a forward heading into what could be a statement match.
REAL SALT LAKE vs. MONTREAL IMPACT (Saturday, 10 p.m. MLS Live)
Both Real Salt Lake and the Montreal Impact have been a bit under the radar in recent weeks, but both sides are legitimate contenders in their respective conferences.
Unbeaten in seven matches at Rio Tinto Stadium, RSL enters Saturday's match as favorites to gain some points on the two teams in front of them in the Western Conference. Add in the potential absence of Didier Drogba, and the Impact could be in trouble, even after erasing a two-goal deficit to earn a miraculous victory over the New England Revolution last time out.
NEW YORK RED BULLS vs. PORTLAND TIMBERS (Sunday, 6 p.m., ESPN 2)
The New York Red Bulls are riding a series of road failures, making a return to Red Bull Arena a welcome one, even if it is against the defending champions.
Streaky as any team in MLS, the Red Bulls are in the midst of a three-game winless run headlined by a loss to local rivals NYCFC. Defender Damien Perinelle is nearing fitness, but is unlikely to feature after taking part in Wednesday's friendly win over Club America. The Timbers, meanwhile, are unbeaten in six, but sit just outside of the West's postseason positions.
SPORTING KANSAS CITY vs. NEW YORK CITY FC, (Sunday, 8 p.m., Fox Sports 1)
New York City FC remains atop the Eastern Conference, but a trip to Children's Mercy Park will be a difficult one for David Villa and Co.
Winners in four straight matches, NYCFC has jumped to the top of the Eastern Conference, with their latest result coming in a 1-0 win over the New England Revolution. Frank Lampard has stepped up in a major way since returning to the fold, while fellow Englishman Jack Harrison has shined during his time on the field. The returns of Matt Besler and Graham Zusi provided a welcome boost for Sporting KC, who knocked off the Columbus Crew, 3-2, last time out with a goal apiece for the U.S. Men's National Team duo.