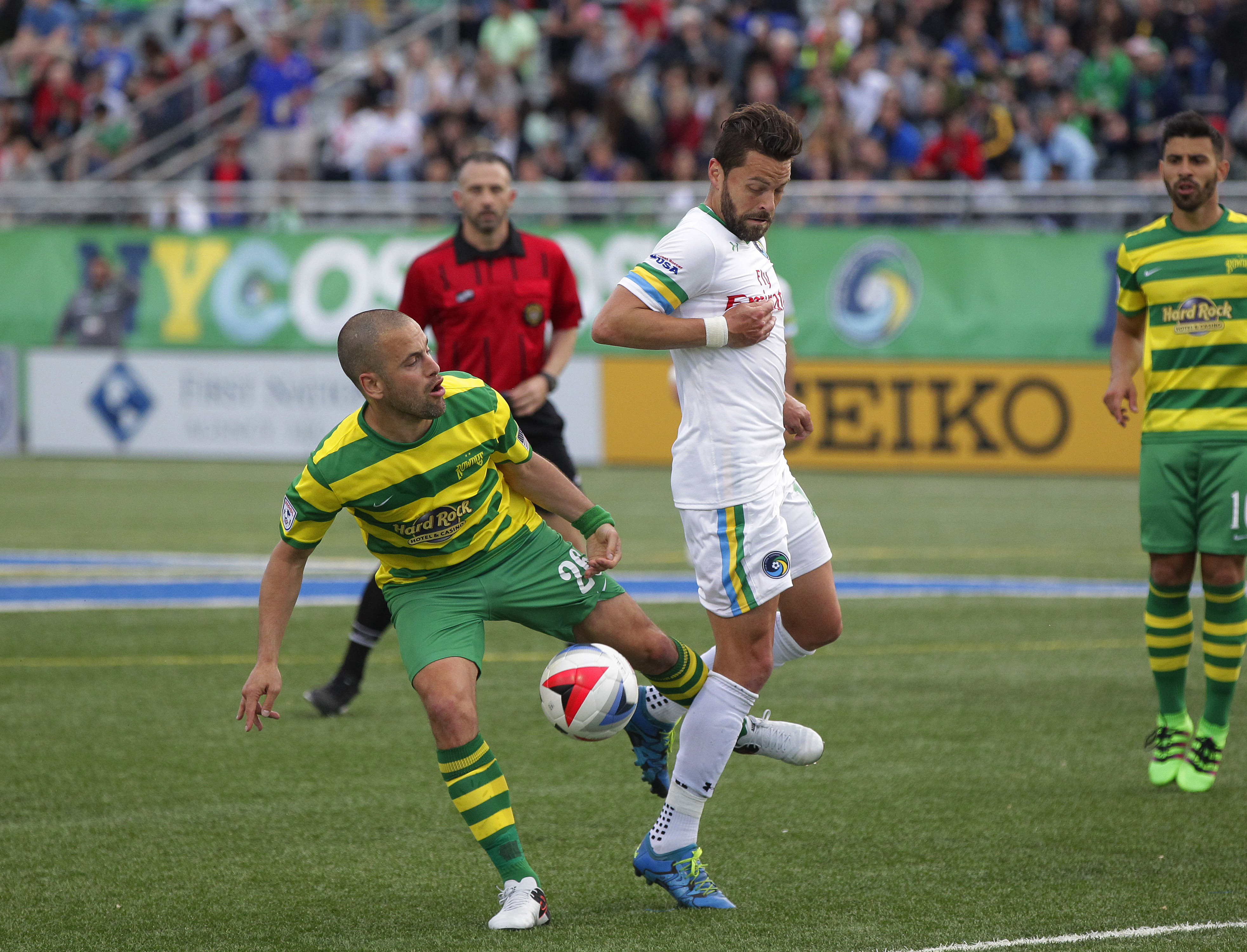 One of the NASL's oldest rivalries headlines the weekend's action, while the Carolina RailHawks will look for a boost to be provided by the introduction of a former Mexican national team mainstay.
The New York Cosmos take on the Tampa Bay Rowdies in a clash of two NASL originals. The Cosmos enter the weekend in better form overall, but will be looking to bounce back from a 3-0 thumping from Rayo OKC last time out.
Meanwhile, the RailHawks are set to introduce former Mexican national team and Chivas de Guadalajara star Omar Bravo, who joins the team for Friday's clash with Miami FC. Elsewhere, Spring champions Indy Eleven take on FC Edmonton, while Minnesota United takes on a struggling Fort Lauderdale Strikers team.
Here's a closer look at this weekend's NASL action:
CAROLINA RAILHAWKS VS. MIAMI FC (FRIDAY, 7:30 P.M., ESPN 3)
A Mexican star makes his NASL debut on Friday night.
Omar Bravo is set for his first taste of the NASL, as the former Chivas forward is expected to feature for the Carolina RailHawks on Friday night. Coming off 1 -0 win over the Fort Lauderdale Strikers, the RailHawks take on another Florida side in Miami FC, which won its first game of the Fall last time out as Jamie Chavez sunk the Jacksonville Armada with a late goal. The two sides played to a 0-0 draw in their meeting in the Spring Season, but a rebuilt Miami FC team featruing Kwadwo Poku, Richie Ryan, Johnny Steele and Gabriel Farfan offers a much different look than before.
JACKSONVILLE ARMADA VS. OTTAWA FURY (SATURDAY, 5 P.M., beIN Sports)
Entering on the heels of defeats, both the Jacksonville Armada and Ottawa Fury FC could certaily use a result on Saturday evening.
The Armada are fresh off of a backbreaking loss to local rivals Miami FC, while the Fury conceded a late goal to lost to a 10-man FC Edmonton. Both sides do enter with new faces, though, as the Armada have brought in Swedes Alexander Andersson and Nicklas Maripuu while Fury FC has added  Ryan Williams and Jamie Dixon, the former of whom comes from a stint in Scotland.
INDY ELEVEN VS. FC EDMONTON (SATURDAY, 7:30 P.M., ESPN 3)
Indy Eleven's unbeaten run is officially over, and now the Spring champions will look to begin a new streak on Saturday night.
A 13-game unblemished run was snapped last week as Indy Eleven fell, 2-0, to Minnesota United last time out. Standing in their way is a team that has proven to be one of the toughest in the league to defeat, as FC Edmonton has lost just one of their last 10. Their most recent effort might have been the most surprising, as the 10-man Eddies overcame their Canadian rivals, Ottawa Fury FC, with a late goal.
PUERTO RICO FC VS. RAYO OKC (SATURDAY, 7:30 P.M., ESPN 3)
For the second time in 10 days, Puerto Rico FC is set to face off with Rayo OKC, and it is the latter that enters Saturday's clash of expansion sides in the better form.
After dismantling the New York Cosmos, 3-0, last time out, Rayo OKC will enter Saturday's match riding high. The first-year club sits just one point behind the reigning NASL champions in the Fall standings, and their road form has been a major positive throughout the year. Traveling to Puerto Rico is a different animal, though, as Puerto Rico FC looks to seal the first win in club history.
TAMPA BAY ROWDIES VS. NEW YORK COSMOS (SATURDAY, 7:30 P.M., ESPN 3)
One of the NASL's most historic rivalries takes centerstage on Saturday night.
Since the heyday of the original NASL, the New York Cosmos and Tampa Bay Rowdies have battles for supremacy, and the former has proven the more successful in recent times. Despite a 3-0 defeat last time out, the Cosmos remain top of the table, even with the club's poor road form that has continued into the Fall Season. The Rowdies, meanwhile, are riding high following a 3-0 defeat of Puerto Rico FC, a win that included a world class bicycle kick from Joe Cole.
MINNESOTA UNITED VS. FORT LAUDERDALE STRIKERS (SATURDAY, 8 P.M., ESPN 3)
Minnesota United is fresh off a major victory, and Christian Ramirez and co. will now turn their focus to a Fort Lauderdale Strikers team that has struggled out of the gate in the Fall.
The Strikers have lost three of their first four Fall games, scoring just one goal in that stretch. Entering off a midweek U.S. Open Cup loss to the Chicago Fire, the Strikers are tasked with stopping Ramirez, who leads the NASL with 10 goals on the year.