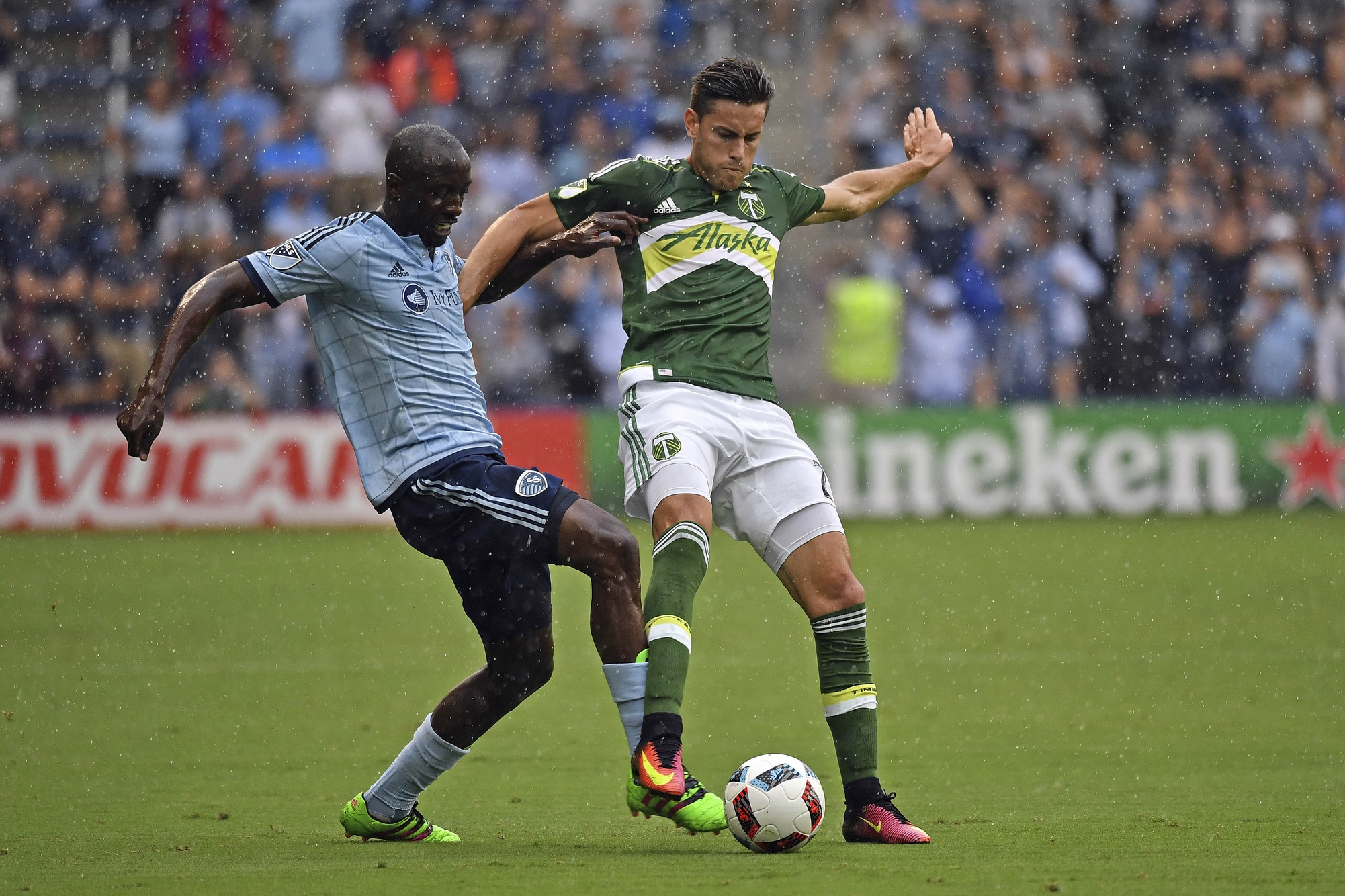 The reigning champions saw an unbeaten streak anp last weekend, and things only got worse for the Portland Timbers on Sunday afternoon.
On Sunday at Children's Mercy Park, the Timbers fell to Sporting Kansas City, 1-0, as Jacob Peterson played the hero for the hosts with a 50th minute goal.
Peterson's eventual game-winner came off a free kick from about 30 yards away. Peterson sent his header to the far post past the left hand of Jake Gleeson.
Benny Feilhaber put in another strong performance for the upward-trending Sporting KC. In this match, he recorded the assist on Peterson's goal while also nearly scoring in the first half, sending a shot off the crossbar from about 10 yards away.
After losing Nat Borchers to an ACL injury earlier in the week and missing Liam Ridgewell for this game, the Timbers back line was in disarray. Veteran defender Amobi Okugo filled in at center back with former Houston Dynamo man Jermaine Taylor partnering with him.
The Timbers attack hardly looked any better. After holding the Sounders to just a single shot last week, Sporting KC also held the Timbers to a single shot on goal. In all, the Timbers recorded seven shots but threatened Alec Kann's goal less as the game went on, save for a 90th minute shot off the crossbar from Jack McInerney, which was Portland's best opportunity. Kann started this game in the absence of Tim Melia, who sat out injured.
Sporting KC remains in fourth in the Western Conference with the win. That may not last long, as most teams below them have a game or two in hand. The Timbers stay at 29 points and give the San Jose Earthquakes, who hold two games in hand, a chance to jump ahead.
These two teams meet again next weekend as Sporting KC will travel to Portland to take on the Timbers again on Sunday, Aug. 7, at Providence Park.
MAN OF THE MATCH
When Benny Feilhaber is on, Sporting KC is on. Feilhaber has been impressive in recent games, recording the assist on Jacob Peterson's goal to get the win in this match.
MOMENT OF THE MATCH
Sporting KC did enough to win the match in the 50th minute, when Jacob Peterson got his head on the end of Benny Feilhaber's cross. Peterson was a doubt to play in this match, training with an injury during the week.
MATCH TO FORGET
Amobi Okugo and the Timbers defense were beaten just once, but that was all that was needed on Sunday afternoon. The veteran defender was beaten for a header by Peterson in the lone goal and, although they had little help from the attack, Portland needed to be a little more locked down defensively.