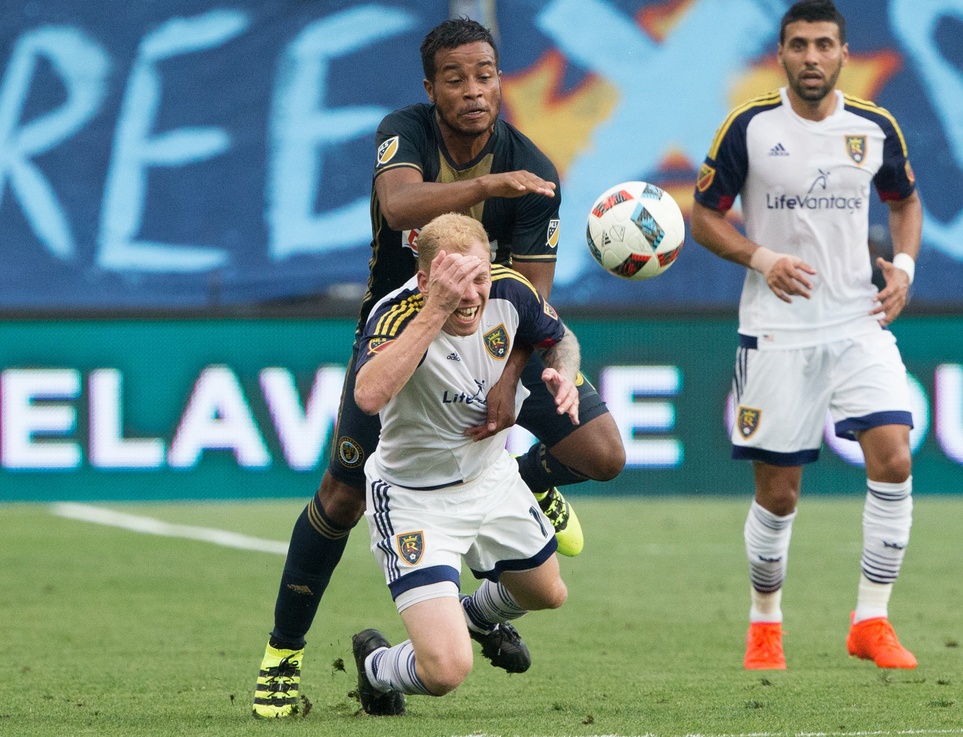 CHESTER, PA– Two moments of brilliance powered Real Salt Lake to a 2-1 victory over the Philadelphia Union at Talen Energy Stadium.
Joao Plata and Javier Morales produced a goal each on stunning individual efforts to hand RSL their fourth road win of the season.
Neither goalkeeper faced a significant test for most of the first half until the Union earned a penalty by way of forward C.J. Sapong.
Sapong, who used his physical play to his advantage all night against Aaron Maund, worked his way into a great position in front of Maund to draw the penalty.
After a delay caused by a pair of argumentative RSL players, Roland Alberg slotted his eighth goal of the season into the bottom-left corner of the net. Alberg forced Nick Rimando to take one step to the right with his run up in order to put his shot into the lower 90.
The visitors struck for an equalizer three minutes into the second half as Joao Plata placed a perfectly hit ball into the upper right part of the net. The Ecuadorian struck the underside of the crossbar and the ball bounced over the line for his sixth goal of the season and first since May 28.
Javier Morales produced a second moment of brilliance for RSL in the 54th minute as he chipped a shot over the arms of an outstretched Andre Blake. The goal was the second of the season for the 36-year-old Argentinian.
Plata came close to scoring a second as he created space with his speed at the top of the box, but he was denied by a diving Blake near the left post.
Nick Rimando came to the rescue in the 90th minute as he made a pair of terrific saves on the goal line to preserve three points for Jeff Cassar's side.
RSL returns to action on Wednesday as they visit Toronto FC at BMO Field, while the Union travel to RFK Stadium to play D.C. United on Saturday.
MAN OF THE MATCH
Joao Plata was a dominant force in the final third for most of the contest. The Ecuadorian used his pace and technical ability to find pockets of space in the Union back line.
MOMENT OF THE MATCH
Both RSL strikes were works of art. Morales' tally in the 54th minute was the more meaningful of the two since it put RSL ahead for good.
MATCH TO FORGET
Chris Pontius lacked any presence on the left wing in the defeat. The performance was a rare disappointing one for the winger.