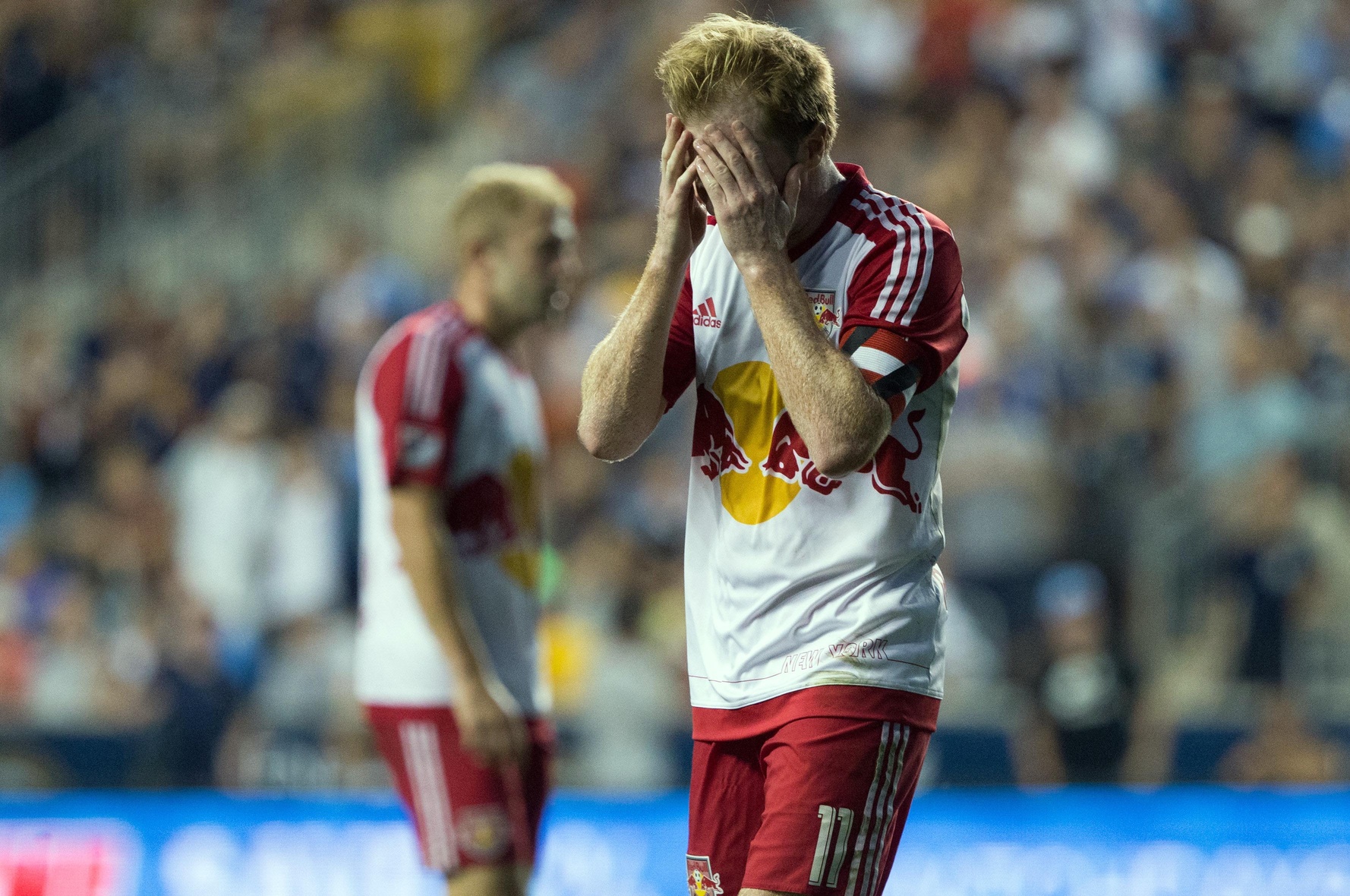 CHESTER, PA– Every player and coach in the New York Red Bulls locker room on Sunday voiced displeasure with how their 2-2 draw with the Philadelphia Union ended.
Jesse Marsch's side gave up two goals in quick succession and then were outplayed once Ilsinho was sent off in the 72nd minute for an elbow to the face of Connor Lade.
"Until we figure out how to deal with some of these moments, it's going to feel like a long year," Marsch said. "On the road, we just find a way to shoot ourselves in the foot. We've gotten leads. We've played well for major stretches. We've been the better team for major stretches and we've walked away with very few results." 
Midfielder Sacha Kljestan echoed the sentiment of his head coach.
"We've got to do better in the second half," Kljestan said. "We played like boys, not men." 
The concession of two second-half goals were similar to the ones given up by the Red Bulls in the June 29 U.S. Open Cup loss to the Union in which Jim Curtin's side progressed by way of a pair of second-half tallies.
"We made the same mistakes we've made in the past," Kljestan said. "(Chris) Pontius scores a goal again the exact same way he scored against us the last time. It's going to be a long season if we don't learn from our mistakes."
"How they can just play balls up the field and be on the run basically at our goals from the sides," Kljestan said. "It's mistakes. We're not men and we don't manage the game well. We're up a man and we have to go to five at the back because we aren't getting the job done defensively, It's ridiculous, It's a disappointing result."
Pontius has recorded three strikes and earned a penalty in the last two matches against the Red Bulls. Letting the midfielder roam free is a major issue for Marsch.
"Frankly it's not doing well on the back side," Marsch said. "It's partly Chris Pontius but it's also just that whoever plays right back for us doesn't do the job. If they do the job, then it doesn't trouble us but because they were late and asleep and don't see that Chris is running, all of a sudden Chris has tap-ins. I mean it's easy as can be for him. All he has to is run down the field and tap the ball into the goal four times." 
Despite all the anger postmatch, the Red Bulls began to gain perspective of how important a road draw at Talen Energy Stadium could be at the end of the season.
"If there's any sort of silver lining, its the fact that we got a point on the road against a very good team who's been very successful playing at their place," goalkeeper Luis Robles said. "We can't feel it right now, but let's fast forward a couple months and all of a sudden that point is vital and is important. Maybe that's where we can see a silver lining." 
The Red Bulls also began to focus on receiving a rare full week of training ahead of their rivalry clash with New York City FC on Sunday.
"We know it's going to be a tough match next weekend, but before it happens next weekend, there's certain things we need to evaluate and get better at," Robles said. "Hopefully we can use it and take advantage of the full training week."