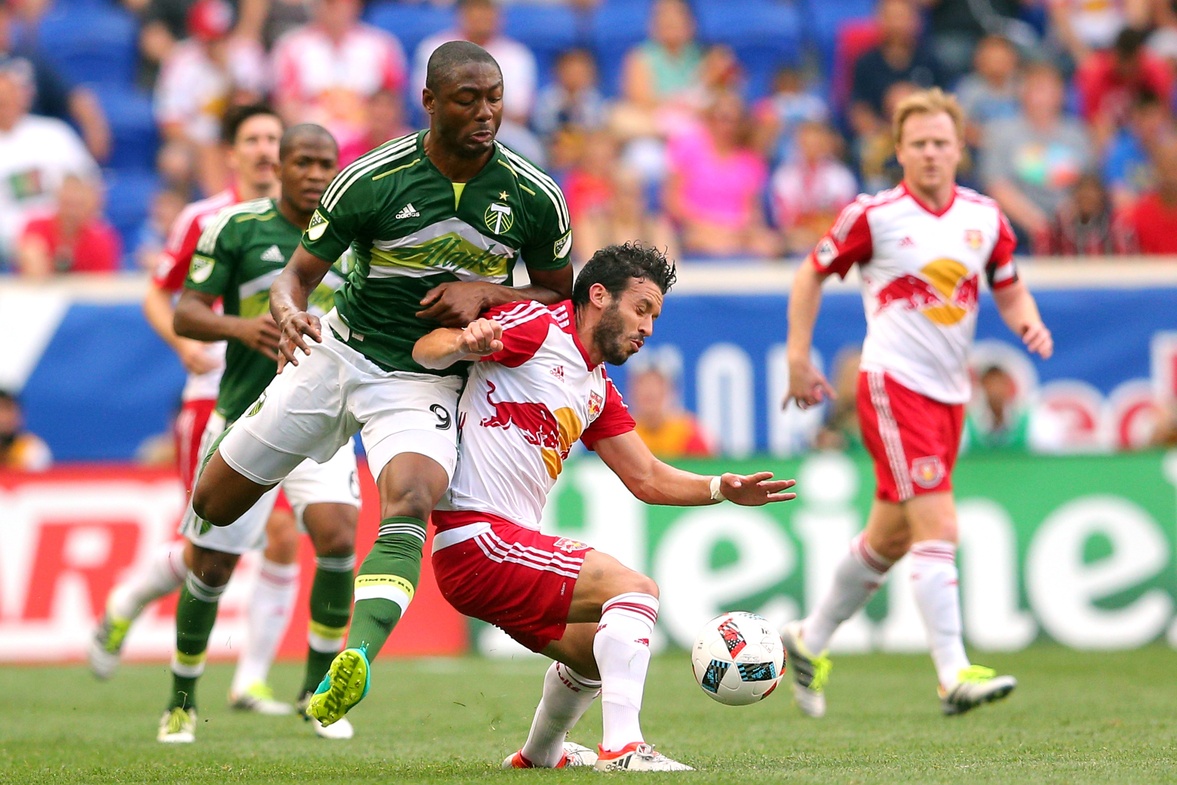 HARRISON, N.J.— The New York Red Bulls controlled much of Sunday's match against the Portland Timbers when it came down to possession, but neither team could finish their scoring chances at Red Bull Arena.
For the fourth consecutive match, the Red Bulls failed to capture a victory as Jesse Marsch and co. settled for a 0-0 tie against the Timbers. The road side Timbers came away from the game unbeaten in their last seven MLS matches, but still winless on the road.
The game's first big chance came in the 11th minute, when Lucas Melano forced an acrobatic save out of Red Bulls goalkeeper Luis Robles. The Timbers were pinned back six minutes later off of a set piece situation, and Timbers goalkeeper Jake Gleeson made an impressive save of his own following Felipe's powerful strike.
While the second half started out without much of a rhythm, the Timbers nearly bagged the opener in the 56th minute. The ball fell to Ben Zemanski at the top of the box, before the Timbers midfielder struck a superb volley off the crossbar.
The Red Bulls struggled to find chances in the second half, but Felipe almost broke the deadlock with 12 minutes remaining after the Brazilian found himself one-on-one against Gleeson. The keeper made himself big, though, keeping the 24-year-old midfielder off the board.
Timbers attacker Darren Mattocks was forced out of the match just three minutes in after an awkward landing from Connor Lade's sliding challenge.The Red Bulls had an injury concern of their own in the first half, as centerback Gideon Baah was carted off the field with an unknown leg injury. Veteran defender Damien Perrinelle made his return for the home side, replacing Baah in the 22nd minute.
Following Sunday's tie, the Red Bulls will be back in action at home on Wednesday night against Orlando City SC, while the Timbers will host the Montreal Impact later that evening.
MAN OF THE MATCH
With a little help from the post, Red Bulls keeper Luis Robles did enough to give the home side a share of the points.
MOMENT OF THE MATCH
The Red Bulls had their chances limited on Sunday, however, Felipe nearly gave the home side the winner in the 78th minute when the midfielder found himself in front of goal. Keeper Jake Gleeson held his ground, though, making an important stop.
MATCH TO FORGET
Felipe will rue his missed opportunities on the night, though he wasn't the only player to squander a scoring chance.