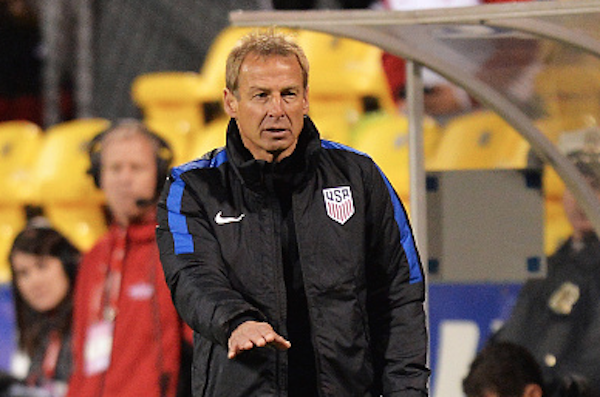 It seemed unlikely when reports recently surfaced linking U.S. Men's National Team head coach Jurgen Klinsmann to England's vacant coaching position. However, the German could now be a candidate for the job after all.
Germany general manager Oliver Bierhoff is making claims that Klinsmann is in discussions with England's Football Association over the job left open by outgoing coach Roy Hodgson.
Bierhoff, a close friend of Klinsmann, believes the 51-year-old should be considered by the FA given his decorated career as both a player and now a coach.
"He would be a good fit," Bierhoff said. "We started in 2004 together and he's not always, how can I say, nice to handle because he wants to change [things]. But he brings motivation. He has the courage to make difficult decisions and, perhaps, you need something like this."
Klinsmann is currently under contract with the U.S. until after the 2018 World Cup in Russia, and recently helped the USMNT finish fourth at the Copa America Centenario.
Before taking over the U.S. in July 2011, Klinsmann was credited with reviving Germany's national team set up. The Germans finished third at the 2006 World Cup under Klinsmann.
The U.S. coach had his own personal success in his playing days with Germany, which has reportedly earned him high marks with the English, after winning both the World Cup and European Championship in 1990 and 1996, respectively.
"It's not like putting a hand on the shoulder and everything happens," said Bierhoff. "A lot of things need to come together. When we failed at Euro 2000 we invested a lot in the infrastructure and the education of young players and coaches, so now we have a lot of talented players and the Bundesliga is investing in young players.
"Perhaps it is an advantage that good players go to England and other countries, so our clubs have to bring other players through. But since the arrival of Jürgen Klinsmann – who I think is in discussions with England – we have also given the national team a certain pride, atmosphere and organisation. The success of the story is the high quality but also the good organisation and good atmosphere we have in the group."
—
What do you make of the latest news? Do you believe Klinsmann will see out his contract with the U.S.?
Share your thoughts below.