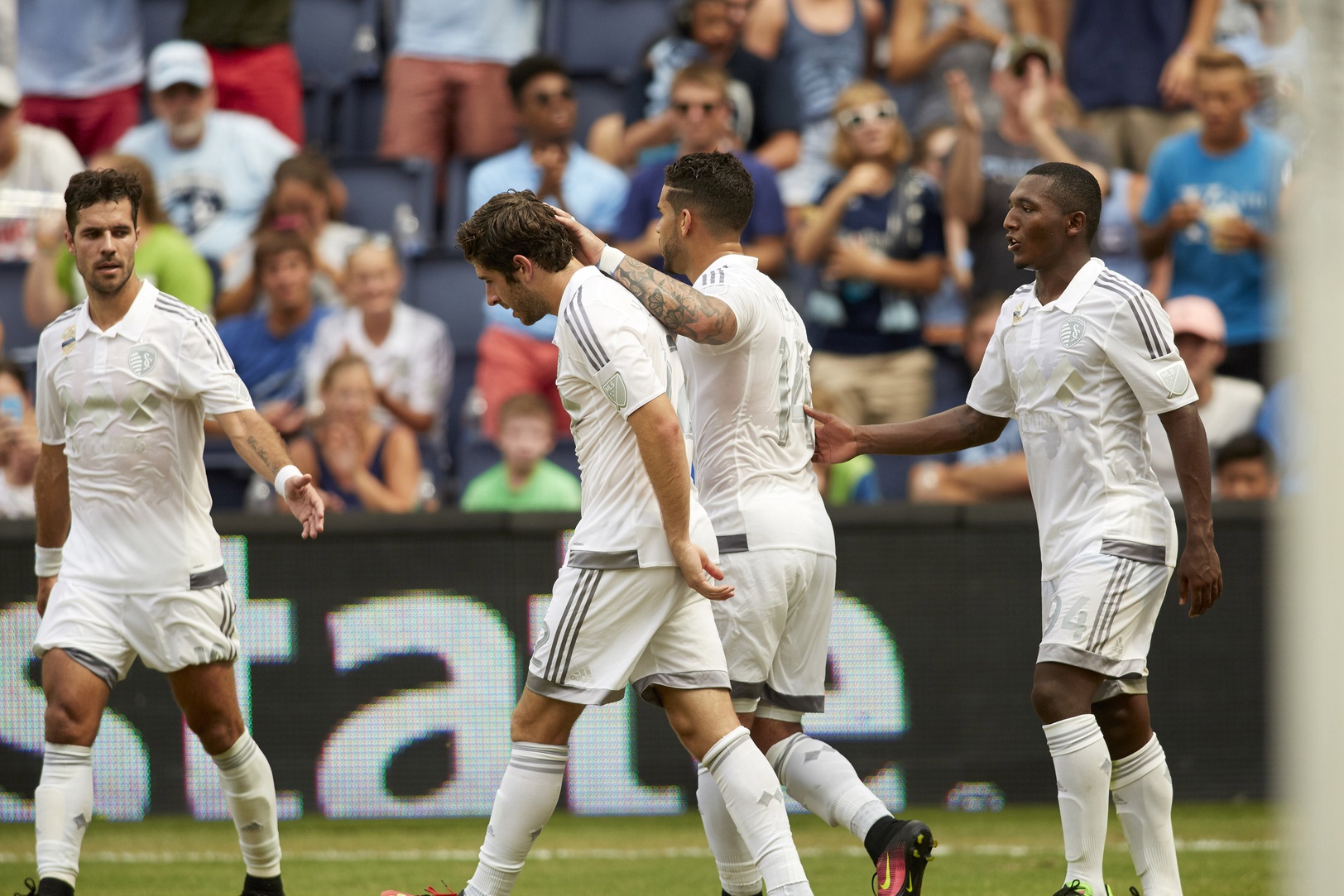 Under harsh midday heat, Sporting Kansas City was prepared for Sunday's match to be a struggle. However, the Western Conference contender fell back into their comfort zone on Sunday afternoon while displaying a desire to defend their home turf.
They were at home, and played like it, as Dom Dwyer scored a brace in Sporting KC's 3-0 win over the Seattle Sounders at Children's Mercy Park. In a stadium where pitch temperatures rise to over 100 degrees, Sporting KC reverted to a characteristic that has defined it for the entirety of Peter Vermes' tenure as coach: fitness.
Vermes planned to score early, and it worked. Sporting chased an early goal to set the tone, finding it when Dwyer headed Sporting into the lead in the 21st minute.
"As a team we were extremely committed knowing that we were going to have to play our game regardless of the climate," Vermes said. "We also knew that if we could keep it up for at least a good period of time, we could benefit."
"I don't think its humane to play in this heat," Benny Feilhaber added after the match.
Feilhaber remarked that all the goals were well-timed. With the early goal, Sporting set the tone. Jacob Peterson's goal just before half put Sporting in control going into halftime.
With a finish indicative of the Sounder's lack of energy, Sporting's third goal in the 79th minute sealed the match. The Sounders defenders lagged to react to the ball, allowing Dwyer to score with ease. It was that energy which kept Sporting going in the game. It was that energy which held the Sounders to zero shots through 88 minutes.
"Mentally and psychologically, [Peterson's first half goal] set the tone for us to go into the second half and win," Roger Espinoza said. "It's a mental game in this type of heat. That's the Sporting I know. We just keep improving and improving and we will keep going."
Espinoza heads up a defensive midfield that outworked the Sounders on Sunday. Sporting continued to stay strong defensively, which contrasts with the team's poor defense earlier in the season. Goalkeeper Tim Melia said his back line organized much better during Sporting's recent run of high-volume scoring.
While the Sounders were out of sorts for nearly the entire match, coach Sigi Schmid focused on positives and downplayed the negatives.
"I thought in the first 20 to 30 minutes in the second half we played better and got close a couple of times," Schmid said. "Not necessarily shots, but close. The timing of the second goal, with only two minutes to go until half, was brutal. We weren't good today.
"There are all kind of things. At the end of the day, we were not good today. Sometimes you have a day where you are not good."
The win puts Sporting in fourth in the Western Conference, but that won't last long. Most teams have played two or three games less than Sporting. The Sounders still hold out some hope, too. The team still holds three games in hand over Sporting and one or two over most other teams in the conference.