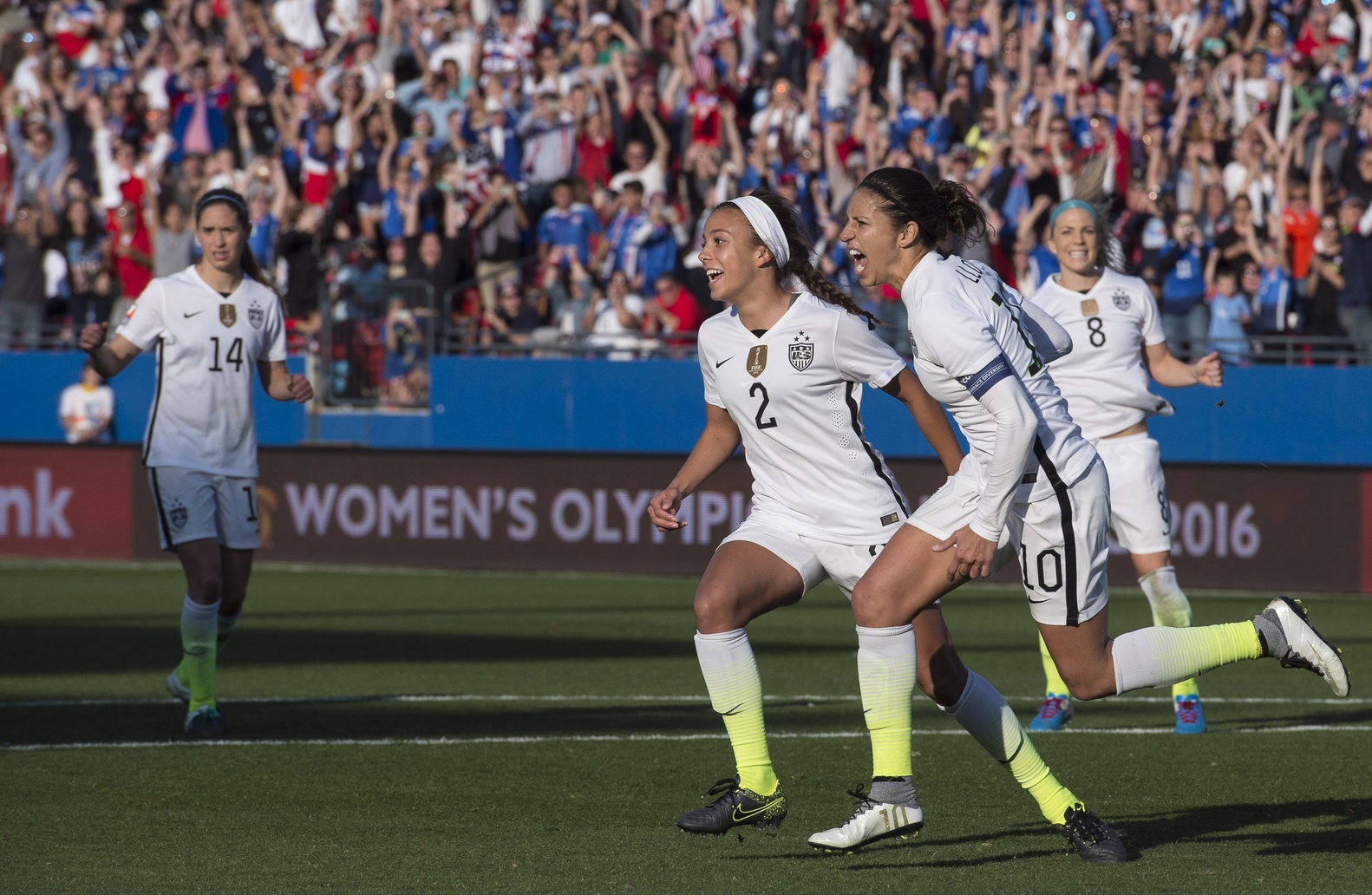 In each of the last three Olympic games, the U.S. Women's National Team has stood as top dogs by claiming the gold medal. The team's quest for a fourth-straight triumph began, in earnest, on Tuesday, as Jill Ellis named the 18 players charged with leading the USWNT to a fifth total gold.
Featuring a unique blend of veteran stars and young prodigies, the U.S. has constructed a strong squad before heading to Rio. With few surprises, Ellis kept things by the book, preserving the USWNT's status as one of the tournament's favorites in the process.
While players like Carli Lloyd, Alex Morgan and Hope Solo leading the veteran charge, younger players like Crystal Dunn, Mallory Pugh and Lindsey Horan head to their first Olympics together. The lone surprise, if you can call it that, was the inclusion of Megan Rapinoe, who was deemed healthy enough to compete after ACL surgery.
Here's a closer look at some major takeaways from the USWNT roster:
RAPINOE CHECKS IN AS HEALTHY ENOUGH FOR THE OLYMPICS
It's rarely a surprise to see Megan Rapinoe headlining a USWNT roster, but the veteran playmaker's inclusion was a question mark right up until the roster release.
Just eight months after undergoing ACL surgery, Rapinoe will join the USWNT in Brazil for the Olympic Games. The inclusion completes a remarkable comeback for the 31-year-old star, who is just a week removed from returning to the field.
"Even when Megan got hurt," Ellis said, "in my mind, did I do the math in terms of the run up and was it possible? I think when you're dealing with a player who has experienced this injury before, who has an incredible high work rate and just knowing Megan, I knew she would be in with a shot in terms of the timing of it. I know she had excellent care in Seattle and we kept very close tabs on where she was and where she was progressing.
"I think what came down to Megan was: is Megan going to be able to come in and play 90 minutes every game? No. She is going to bring experience and able to help us in certain moments, whether it's starting or finishing, and her experience in the locker rooms; there is so many add-ons when selecting Megan that if she was truly ready, which we saw that she was, she's a massive bonus for us going into Brazil."
While Rapinoe's inclusion did answer one question, it also introduces several others. How healthy is she? Can she handle the smoldering Brazilian heat after months without true fitness training? How confident is she in her leg's ability to withstand the rigors of an international tournament?
Those questions will be answered in the coming weeks. Whether utilized as a starting option or a super sub, Rapinoe should still provide a valuable presence in the very least after battling back from what could have been a catastrophic injury.
YOUTH MOVEMENT IN FULL SWING WITH PUGH, DUNN
In the aftermath of the 2015 World Cup, the USWNT began a youth movement, adding several new faces to the fold. Those faces stood out in a major way in the build-up to the upcoming Olympics, more than justifying their inclusion in Ellis' roster.
Mallory Pugh and Crystal Dunn headline the USWNT youth movement, while Allie Long and Lindsey Horan join as new faces not included on the 2015 team.  Pugh and Horan lead the USWNT roster as the two youngest members at just 18 and 22, respectively.
"This roster is very balanced. Certainly going into the World Cup, we recognized we were had more of a senior roster," Ellis said. "Now, it's not just having your eye on the Olympics this summer; it's having your eye on what's beyond that. Getting younger players experience in this world event will help down the line.
"I think that's part of what you have to do in this position is continue to always plan to win world championships. It's a great infusion of new players – slightly different style in terms of different players and pieces and putting it all together – and that's actually been good. It's refreshing, as a staff, to work with different faces and trying to blend them."
In particular, Pugh has the chance to break several records. The young forward is already the second youngest forward to be named to a USWNT Olympic roster, behind only Cindy Parlow of the 1996 team. A goal would see Pugh become the youngest American to score in the competition.
"I think Mal has had a fairly seamless – at least it appears that way – transition into this environment," Ellis said. "She's fit in well socially, the soccer piece has been very, very good and what I like about her is that she's come in, held her own and she doesn't get phased or rattled. She's a quality player and she's a big part of this future, this program going forward. It's not just bringing her in to get experience, it's bringing in a player that can help us down there and impact the game."
O'REILLY HEADLINES EXCLUSIONS
Every tournament roster sees several close calls when it comes to selection, and the current USWNT squad is no different.
Heather O'Reilly, who won Olympic gold medals with the USWNT in 2004, 2008 and 2012, headlined the list of exclusions. The writing appeared to be on the wall when O'Reilly was excluded from 20-woman roster for Olympic qualifier, but there was still hope of Ellis utilizing her as a veteran presence for a major tournament. Included among the alternates, O'Reilly still has an outside chance of featuring should an injury arise.
Alongside O'Reilly, Ellis named veteran goalkeeper Ashlyn Harris along with youngsters Emily Sonnett and Samantha Mewis as the team's alternates.
"Immediately, we select a roster of 18, but then we bring four alternates with us. In the last Olympics, Meghan Klingenberg and Christen Press were alternates," Ellis stated. "So I think that role is critical, it keeps training alive. It allows us to do certain things at training and their moral and their energy is very important. Everything about them has to be completely professional, so you have to pick the right people for that role and I very much feel that we have that."
USWNT ENTERS OLYMPICS AS FAVORITES YET AGAIN
Ellis kept things fairly conventional with the USWNT roster choice, choosing a mix of veteran stars and young prospects to complete an very talented 18-player roster. Now assembled, the USWNT can focus on the task at hand: defending their Olympic crown while once again competing as favorites.
As with almost every major international tournament, the USWNT is favored to emerge victorious. It's something the U.S. battled successfully last summer, saving their best performance for the WWC final against Japan.
Now, one year later, the expectations remain, even if faces like Abby Wambach do not. The tournament will be grueling and challenging, as women's soccer continues to evolve outside of the U.S, but favored once again, the U.S. will need to rise to the challenge of claiming their fourth-straight gold medal.
"When you go to the Olympics," Ellis said, "and have essentially 11 new debutants as Olympians, players who have had two Olympics already under their belts, heading into their third with Carli and Tobin and Hope, it really is a bonus to have that experience, to have players that have been in the trenches and understand what it takes.
"The Olympics is slightly different than the World Cup, but it is a shorter turn-around. We're playing in a pretty hostile environment in terms of the home team is going to be the favorite down there. Having them and their experiences on and off the field is important. I know Becky and Carli as our captains will lead us, but I also think we have veteran players that will step into leadership moments."