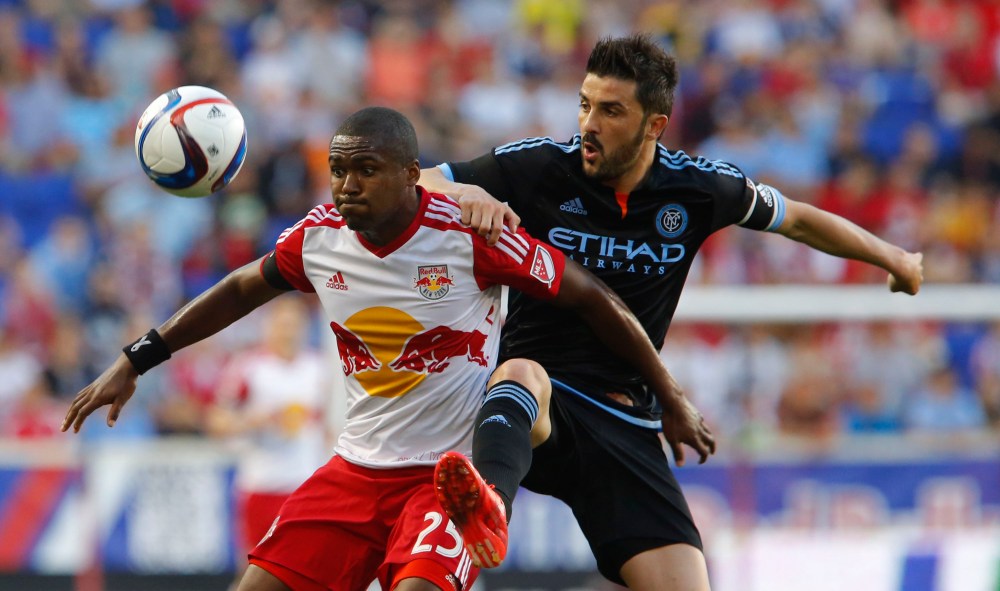 The third and final chapter of this season's New York derby wraps up this weekend.
New York City FC, after picking up its first victory over the New York Red Bulls in club's brief history earlier this month, looks to win the season series when it heads to Red Bull Arena on Sunday. The last time the two sides met in Harrison, New Jersey, on Aug. 9, 2015, the home team picked up a 2-0 victory en route to sweeping NYCFC on the season.
City comes into this weekend's fixtures three points clear of the top of the Eastern Conference, while the Red Bulls trail five points behind in third place. Philadelphia Union, who stands in between in second, will visit fourth-place Montreal Impact on Saturday.
On the Western Conference side, the Portland Timbers look to build off their 3-1 win over the Seattle Sounders last week with another home victory against an LA Galaxy squad that is on a five-match winning streak across all competition. The reigning MLS Cup champions have yet to lose to the Galaxy in a nine-game stretch and they will try to extend that with an offense that has scored 20 goals in the second half of this season, tying Real Salt Lake for most in the league.
Elsewhere, the International Champions Cup begins on Friday with a match pitting Manchester United against Borussia Dortmund. Juventus, Leicester City, Inter and Paris Saint-Germain will all be in action during the weekend as well.
Here is a rundown of all the soccer action on TV this weekend, with all times Eastern:
FRIDAY
MAJOR LEAGUE SOCCER
11 p.m. — UniMás/Univision Deportes/MLS Live — Real Salt Lake vs. San Jose Earthquakes
NASL
7:30 p.m. — CBS Sports Network/NASL Live — Carolina RailHawks vs. Miami FC
MEXICAN LIGA MX
10 p.m. — Azteca America — Veracruz vs. Santos Laguna
INTERNATIONAL CHAMPIONS CUP
8 a.m. — WatchESPN/ESPN3/ESPN Deportes — Manchester United vs. Borussia Dortmund
WOMEN'S INTERNATIONAL FRIENDLY
9 p.m. — ESPN/WatchESPN/Univision Deportes — United States vs. Costa Rica
SATURDAY
MAJOR LEAGUE SOCCER
3:30 p.m. — ESPN/ESPN Deportes — Portland Timbers vs. LA Galaxy
7:30 p.m. — MLS Live — Montreal Impact vs. Philadelphia Union
7:30 p.m. — MLS Live — Toronto FC vs. D.C. United
7:30 p.m. — MLS Live — Columbus Crew vs. Orlando City SC
7:30 p.m. — MLS Live — New England Revolution vs. Chicago Fire
9 p.m. — MLS Live — Colorado Rapids vs. FC Dallas
9:30 p.m. — MLS Live — Houston Dynamo vs. Vancouver Whitecaps
NASL
5 p.m. — beIN Sports USA/beIN Sports Connect/NASL Live — Jacksonville Armada vs. Ottawa Fury
7:30 p.m. — ESPN3/NASL Live — Puerto Rico vs. Rayo OKC
7:30 p.m. — ESPN3/NASL Live — Indy Eleven vs. FC Edmonton
7:30 p.m. — One World Sports/ESPN3/NASL Live — Tampa Bay Rowdies vs. New York Cosmos
8 p.m. — ESPN3/NASL Live — Minnesota United vs. Fort Lauderdale Strikers
MEXICAN LIGA MX
6 p.m. — Univision Deportes — Chiapas vs. Pachuca
6 p.m. — UniMás — Cruz Azul vs. Pumas UNAM
8:06 p.m. — Univision Deportes/Univision — Club León vs. Necaxa
10 p.m. — Univision Deportes/Univision — Guadalajara vs. Monterrey
10 p.m. — UniMás — Club América vs. Toluca
CLUB FRIENDLY
10 a.m. — ESPN3 — Barnsley vs. Everton
INTERNATIONAL CHAMPIONS CUP
5 a.m. — ESPN2/WatchESPN/ESPN Deportes — Melbourne Victory vs. Juventus
12:30 p.m. — ESPN/WatchESPN/ESPN Deportes — Celtic vs. Leicester City
SUNDAY
MAJOR LEAGUE SOCCER
1 p.m. — Fox/Fox Soccer 2Go/MLS Live — New York Red Bulls vs. New York City FC
3 p.m. — ESPN/ESPN Deportes/MLS Live — Sporting Kansas City vs. Seattle Sounders
MEXICAN LIGA MX
7 p.m. — Univision Deportes — Puebla vs. Tijuana
INTERNATIONAL CHAMPIONS CUP
5 p.m. — ESPN/WatchESPN/ESPN Deportes — Inter vs. Paris Saint-Germain
INTERNATIONAL FRIENDLY
5 p.m. — Fox Deportes — Argentina vs. Haiti