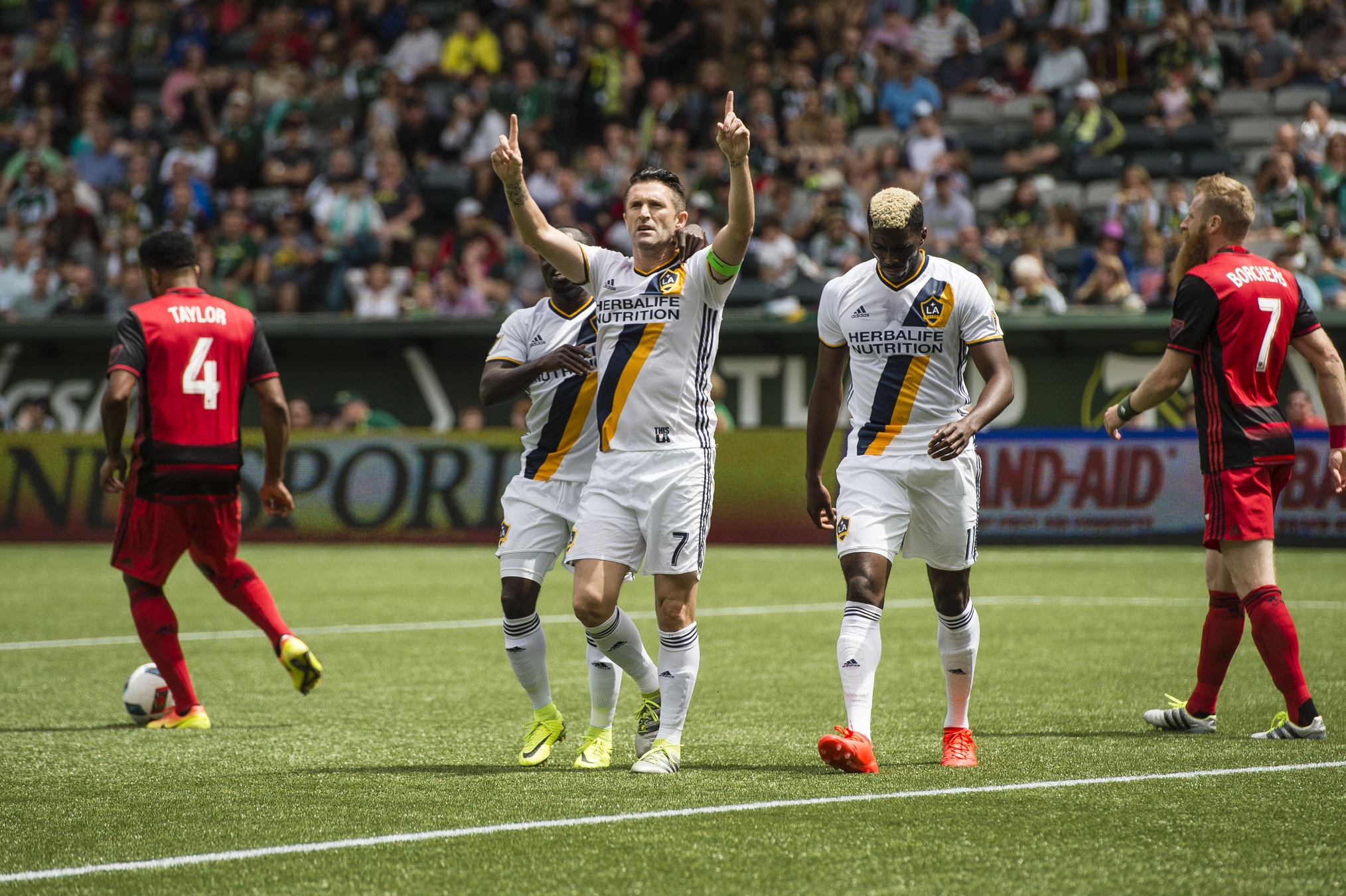 While the Portland Timbers looked the better side at times on Saturday afternoon, a pair of early defensive lapses halted the team's nine-match unbeaten streak at Providence Park.
First-half finishes from Robbie Keane and Gyasi Zardes led the LA Galaxy past the Timbers, 2-1, bringing their winning streak to four and extending their overall unbeaten run to six matches.
The Galaxy didn't waste any time on the road, and took a lead after just seven minutes when Giovani dos Santos picked out a wide open Robbie Keane at the far post. The Irishman made no mistake on the finish, comfortably tapping home his effort from close range.
Without defender Liam Ridgewell in the starting XI, the Timbers struggled to find their feet defensively in the first half, and the home side conceded a second goal just four minutes later.
Emmanuel Boateng did well to latch onto a Jelle van Damme long ball, before the speedy winger found space and picked out a dangerous ball into Gyasi Zardes, who notched his fifth goal of the season in the 11th minute.
The home side lost another central defender during the latter stages of the first half when Nat Borchers went down with an injury.
As the half wore on the Timbers began trouble the Galaxy backline more and more, and an unlikely goalscorer gave Caleb Porter's group a lifeline heading into the halftime break. Zarek Valentin scored his first goal of the season in the 41st minute, pulling the score back to 2-1.
The Timbers pushed hard for an equalizer during the second stanza, creating most of the chances, and Fanendo Adi nearly scored the home side's second in the 74th minute after a quick counterattack was snubbed by Galaxy goalkeeper Brian Rowe.
The Galaxy nearly put the game to rest three minutes prior after a fantastic volley by Robbie Keane narrowly missed over the bar. Van Damme began the sequence with a lobbed through ball from his own half of the field, but Keane's shot didn't quite hit the target.
MAN OF THE MATCH
Robbie Keane continues to torture MLS backlines and even though he scored, the Irishman's runs are what make the veteran so dangerous.
MOMENT OF THE MATCH
The Timbers pushed hard for an equalizer throughout the second half, and Brian Rowe came up huge in the Galaxy net with about a quarter hour remaining when the keeper perfectly read a through ball into the path of Fanendo Adi.
MATCH TO FORGET
The Timbers backline will be upset to have given up two early goals because their makeshift defense performed well otherwise.