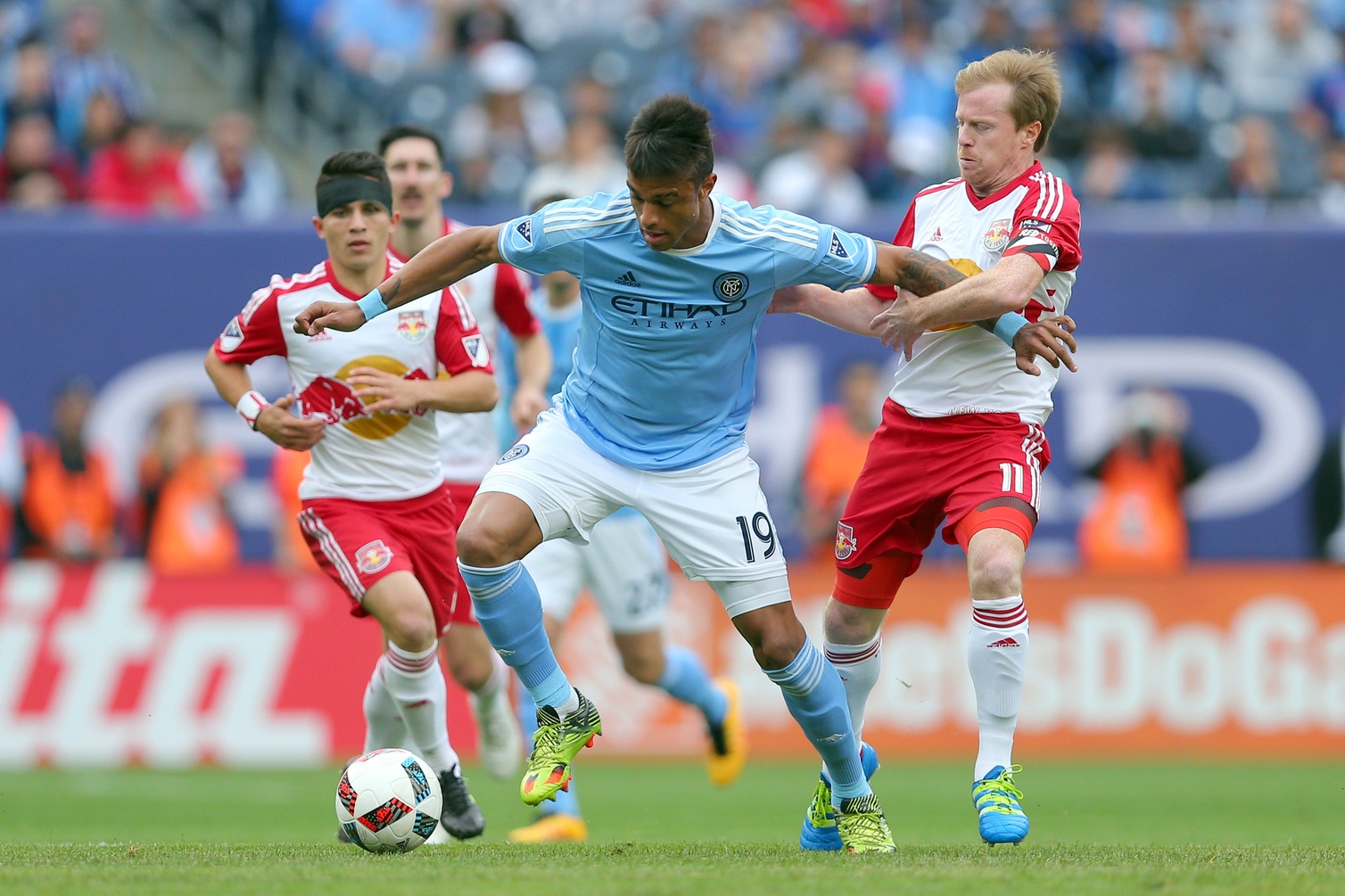 Over the club's first season-and-a-half, David Villa has been a focal point of the NYCFC attack. However, Saturday will provide a different look at what the Eastern Conference side can do without its biggest star.
Currently the league leader in goals scored (13), Villa is undoubtedly a frontrunner for this season's MVP award, while guiding NYCFC to the top of the East. His 31 goals since joining MLS in 2015 is second to only Toronto FC striker Sebastian Giovinco, who has notched two more in that span.
Unfortunately for the Bronx side, Villa will be unavailable to play against the Colorado Rapids on Saturday after picking up a suspension for yellow card accumulation during NYCFC's 4-1 defeat against the New York Red Bulls on Sunday. Not only does Villa's absence put head coach Patrick Vieira at a loss in terms of leadership, with the former Spanish national team star serving as the team's captain, but Vieira must also come up with a viable option to fill the void left up top.
Coming into 2016, there was great excitement surrounding the team with various options that were tabbed to fit alongside Villa or even potentially replace him in the event he couldn't play. That hasn't been the case, though, as several players have proven to be expendable when Vieira has given them the nod.
However, Saturday's match provides the team's role players an opportunity to not only see increased minutes but also make a better impression on Vieira.
With the recent exit of Patrick Mullins, NYCFC is lacking a true backup striker. That means Vieira is likely left with second-year attacker Khiry Shelton, Tony Taylor and offseason addition Steven Mendoza to fill in for Villa. The three players have appeared in a combined 34 matches this season, but have just four goals to show for their work.
All three attackers possess different assets, but it will be a matter of putting in a complete shift against the Rapids that will gain them recognition as NYCFC faces one of the top sides in MLS.
As last season's second overall pick in the MLS SuperDraft, there's a lot riding on Shelton as he looks for a way back into the NYCFC starting XI. After featuring for the side a lot during the early portion of 2016, the former Oregon State forward has been forced to regain a first-team role due to the emergence of rookie Jack Harrison on the wing.
While Shelton certainly possesses the pace necessary to make a good winger, the 23-year-old has looked awkward at times when taking on defenders. Without Villa, though, Shelton could be introduced as a the point man in Vieira's 4-3-3 system, giving the 6-foot-3 attacker a chance to do damage in front of net if he is able to play after recently battling a hamstring injury.
Another player whose status is up in the air for the weekend is Mendoza, who is working his back from a core injury that has left him sidelined. The on-loan attacker has shown glimpses of magic in his time in the Bronx, displaying quality footwork and great pace down the wings. After netting 23 goals over two seasons in India with club side Chennaiyin, Mendoza has shown in the past that he can be a capable goalscorer, so it is very possible that Vieira utilizes the Colombian in place of Villa, pending his health.
Although Taylor hasn't scored since NYCFC's first match of the season against the Chicago Fire, the former U.S. youth international has a golden opportunity to make a name for himself at Yankee Stadium.
Taylor battled back from a season-ending knee injury a year ago to prepare him for the 2016 campaign, but since his superb debut against the Fire, Taylor has failed to find the field consistently, making just six appearances.
Regardless of who is in the lineup, NYCFC will look very different on Saturday afternoon, and it will be up to the club's role players to step up in a match against one of the league's elite sides.