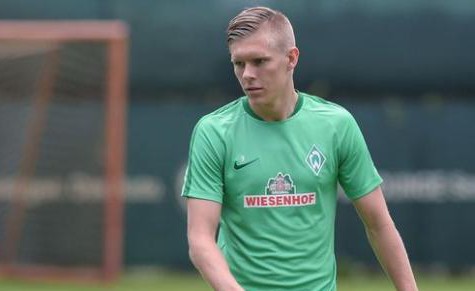 Aron Johannsson's road back to competitive action has been a long one, but this Sunday could represent a major step forward for the U.S. Men's National Team striker.
The forward appeared in a pair of Werder Bremen friendlies last week, and could now be in line to make his competitive return to action this Sunday for a German Cup meeting with third-division side Lotte. Werder Bremen coach Viktor Skripnik pegged Johannsson as one of several possible replacements for Claudio Pizzaro, who will miss the next 10 days due to injury.
According to reports, the club is not fully confident in Johannsson's ability to withstand a full competitive match and could split time with fellow forward Lennart Thy.
"Aron is a good alternative," Skripnik said. "He puts pressure on the other players. "
Joahnsson recently returned from an 11-month injury absence. The USMNT forward scored two goals in his first six matches with Werder Bremen, but saw his first Bundesliga campaign cut short due to a hip injury. Surgery followed, keeping Johannsson out of action until just last week, when he played a combined 75 minutes in a pair of friendlies.
What do you expect from Johannsson this year? See him earning minutes with Werder Bremen?
Share your thoughts below.