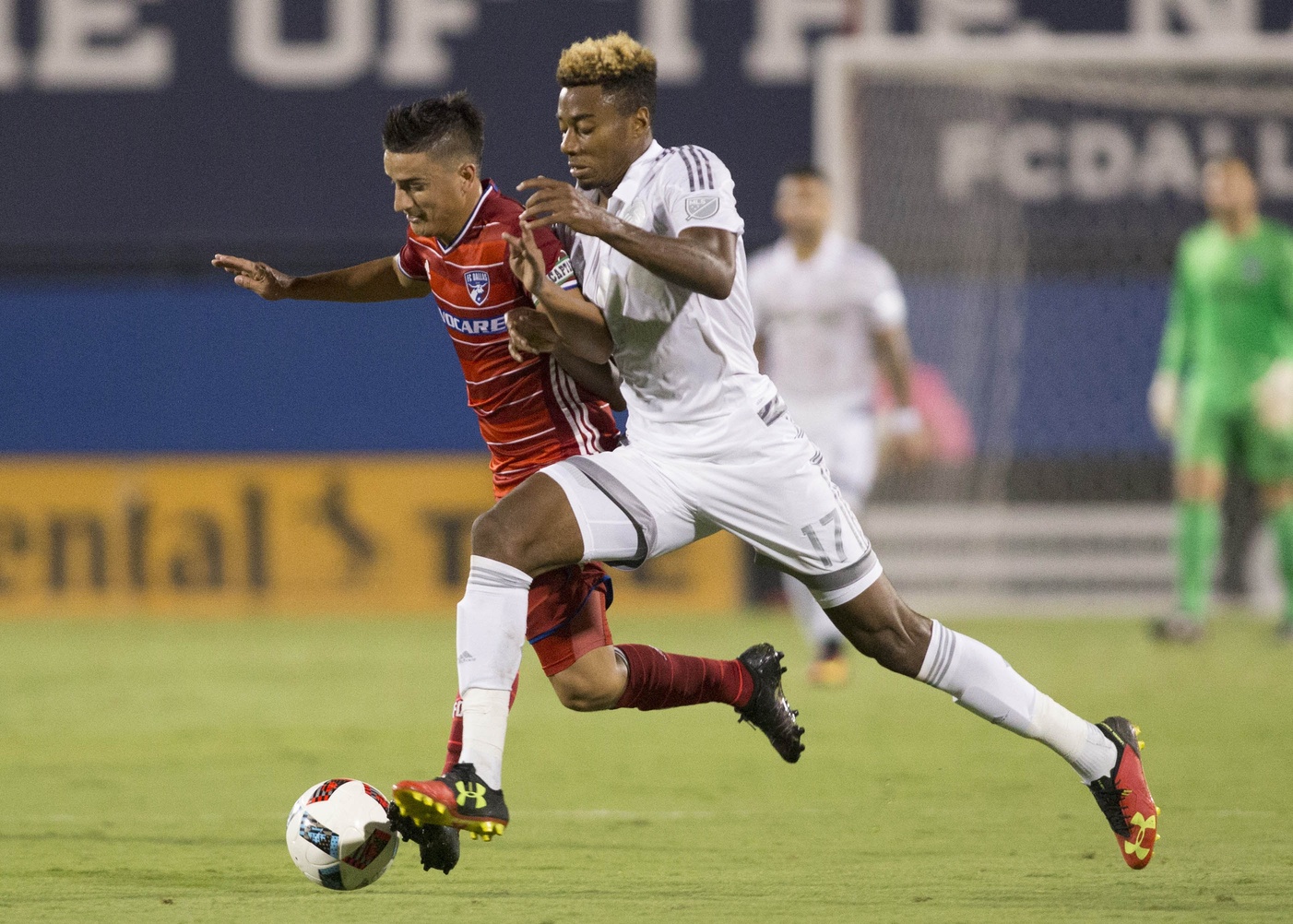 Four goals in ten minutes turned Saturday's clash between FC Dallas and Sporting Kansas City into quite a spectacle, but it was not one that could produce a winner.
Dom Dwyer scored a brace for Sporting KC, but goals from Tesho Akindele and Maxi Urruti proved just enough for FC Dallas to earn a 2-2 draw on Saturday at Toyota Stadium. The draw comes just three days after FC Dallas sealed a spot in the U.S. Open Cup final with an extra time win over the LA Galaxy.
Featuring a lineup with just two changes from Wednesday night's thriller, Akindele opened the scoring, and started a scoring spree, in the 60th minute. The FC Dallas forward headed home a cross in from Atiba Harris, giving the hosts a 1-0 lead via Akindele's sixth goal of the year.
Dwyer took over from there, scoring two goals just five minutes apart to push the score to 2-1. The English forward began his brace with a 68th minute finish of a Brad Davis assist before volleying home a misclearance to give the visitors the lead.
It was last all of three minutes before Urruti tied things up in spectacular fashion. Inside the six-yard box, Urruti looked up as Alec Kann mishit his punch straight into the air. The FC Dallas forward responded with a close-range bicycle kick, pushing the score to 2-2, where both sides would remain until the final whistle.
The tie sees FC Dallas extend the team's unbeaten league run to four straight ahead of a visit to Real Salt Lake, while Sporting KC has lost just one of four heading into a CONCACAF Champions League clash with Central FC.
MAN OF THE MATCH
Dom Dwyer played like a star striker on Saturday night, firing a quick brace and putting his team in a position to win. They didn't, but Dwyer's performance was far and away the best of the night.
MOMENT OF THE MATCH
Maxi Urruti's equalizer was a worthy one. The FC Dallas forward fired a bicycle kick to seal a deserved draw for the Western Conference leaders.
MATCH TO FORGET
Alex Kann's mispunch proved costly, opening the door for Urruti to take two points away from what could have been a statement win for Sporting KC.