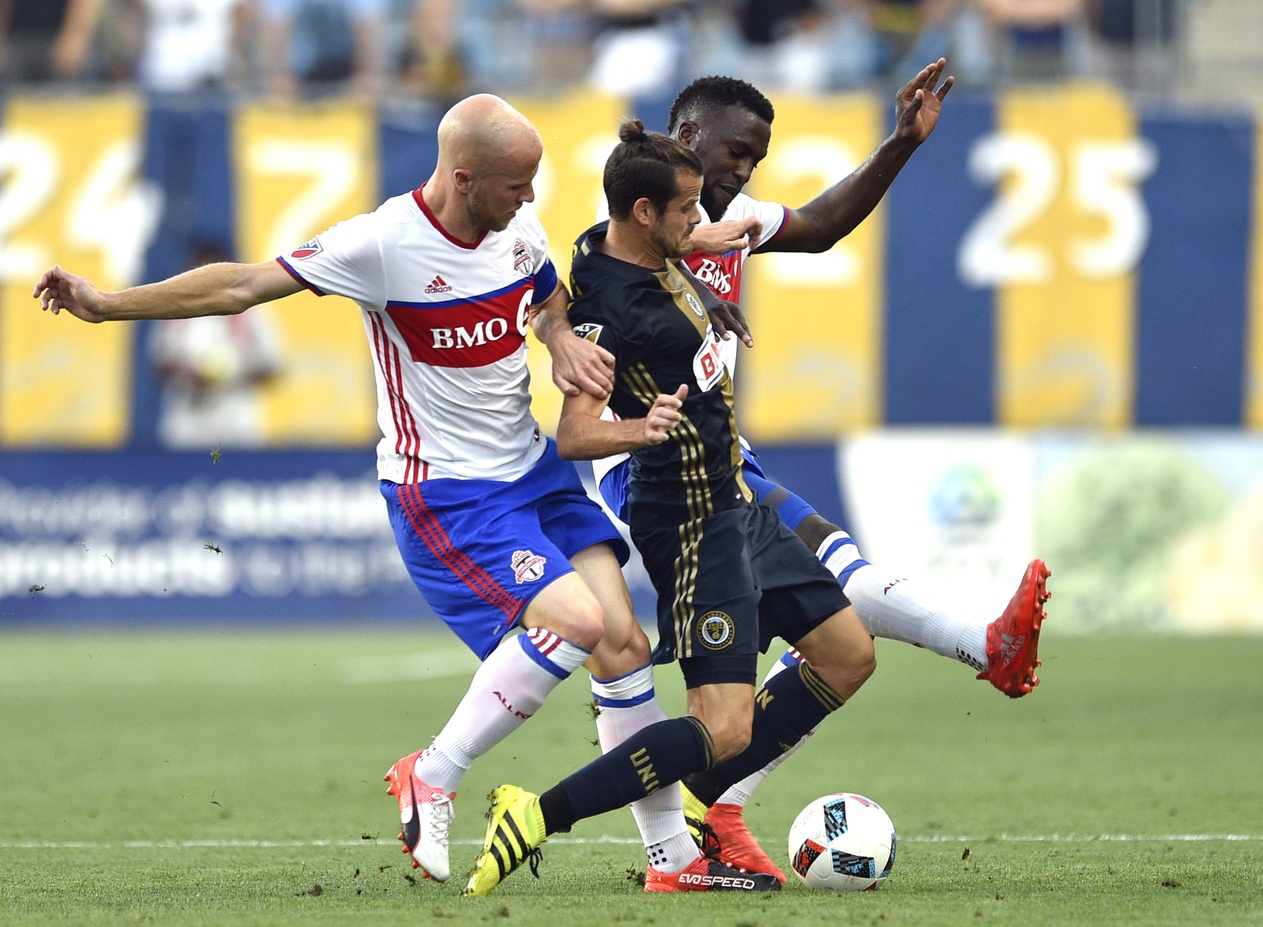 CHESTER, PA—Toronto FC kept pace with New York City FC in the race for the top seed in the Eastern Conference with a 3-1 win over the Philadelphia Union at Talen Energy Stadium.
All three of TFC's designated players contributed to a goal in some fashion as the Reds outclassed the Union to earn their fourth road win of 2016.
TFC opened the scoring through Sebastian Giovinco in the 19th minute as the Atomic Ant sped past Ken Tribbett on his way into the left side of the box. The Italian's shot knocked off the right post, then off the left stanchion before bouncing over the line for the first tally of an eventful evening at Talen Energy Stadium.
Tribbett recovered from his rough defending for a slight second in the 25th minute as he popped a splendid header into the right side of the net off a Tranquillo Barnetta free kick. However, the game would only remain level for five minutes as the Reds took the lead on a set piece of their own in the 30th minute. Drew Moor dove in the middle of the penalty area to connect with Michael Bradley's free kick from the right wing to put the visitors back in control of the match.
Jozy Altidore added to the offensive assault just before the halftime whistle as he easily worked his way around Tribbett to slot home his fourth goal in five games.
Both sides created chances in the second half, but Toronto was unable to add to its lead and the Union failed to catch up with Greg Vanney's men. Giovinco hit the crossbar from 30 yards out in the 56th minutes on Toronto's best chance of the second half. Alex Bono came up big with a kick save on C.J. Sapong in the 66th minute to quell the Union's best chance of the closing stanza.
The win kept Toronto one point behind NYCFC in the East on 40 points, while the Union remained in fourth with 34 points.
MAN OF THE MATCH
Altidore and Giovinco both shredded the Union center backs to pieces throughout the match. Altidore was slightly better due to his physical play and being able to occupy more defenders to create space for Giovinco to run into open channels, especially in the first half.
MOMENT OF THE MATCH
Altidore's tally right before halftime sucked the life out of Talen Energy Stadium. The Union were never able to recover after the Reds gained a two-goal advantage.
MATCH TO FORGET
Tribbett was overwhelmed with the strength of the TFC attack during his 45 minutes on the pitch. His halftime exit was needed for the Union to stabilize their defense.