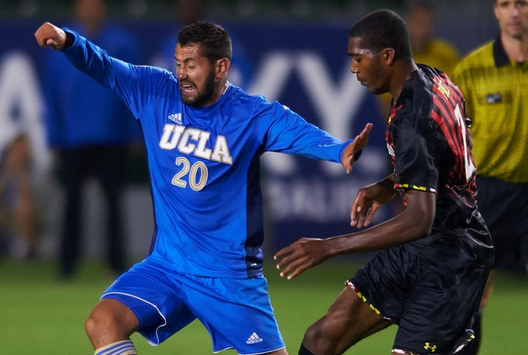 The Maryland Terrapins traveled across the country in search of a tough challenge, and UCLA provided just that.
The two traditional national powers played to a 1-1 draw on Friday night at StubHub Center, trading goals in the first five minutes before locking into an even battle the rest of the night.
Akron won Friday night's other high-profile clash, beating No. 7 Georgetown, 1-0. The N0. 6 ranked Zips looked headed for a draw before senior defender Brad Ruhaak scored a 90th-minute winner to lead the Zips to victory.
On the upset front, Saint Louis knocked off SBI No. 7 Wake Forest, 1-0, with sophomore forward Anthony Brown delivering the winner for the Billikens.
Here is a rundown of Friday's major results:
FRIDAY COLLEGE SCORES
(4) UCLA 1, (1) Maryland 1  (RECAP)
(2) North Carolina 3, Cal Poly State 0 (RECAP)
(3) Stanford 0, Penn State 0 (RECAP)
(5) Syracuse 3, Massachusetts 0 (RECAP)
(6) Akron  1,  (7) Georgetown 0 (RECAP)
(8) Wake Forest 0, Saint Louis 1 (RECAP)
(9) Indiana 1, New Mexico 0, (RECAP)
Quinnipiac 0, (10) Boston College 2, (RECAP)
(23) South Carolina 1, (11) Clemson 2 (RECAP)
West Virginia 0 (12) Seattle 2 (RECAP)
(13) SMU 1, Michigan State 2 (RECAP)
(25) Monmouth 1, (14) Denver 1 (RECAP)
(15) Notre Dame 4, UC Irvine 0 (RECAP)
(16) Ohio State 0, Virginia Tech 1, 2OT (RECAP)
(17) South Florida 0, Michigan 0 (RECAP)
(18) Virginia 2, Coastal Carolina 1 (RECAP)
(19) UC Santa Barbara 2, Oakland 1 (RECAP)
(22) Rutgers 0, (20) Creighton 2 (RECAP)
(21) UConn 3, Iona 1 (RECAP)
Furman 1, Florida International 0, (RECAP)
Utah Valley 2, Washington 1, (RECAP)
Marquette 0, Kentucky 4 (RECAP)