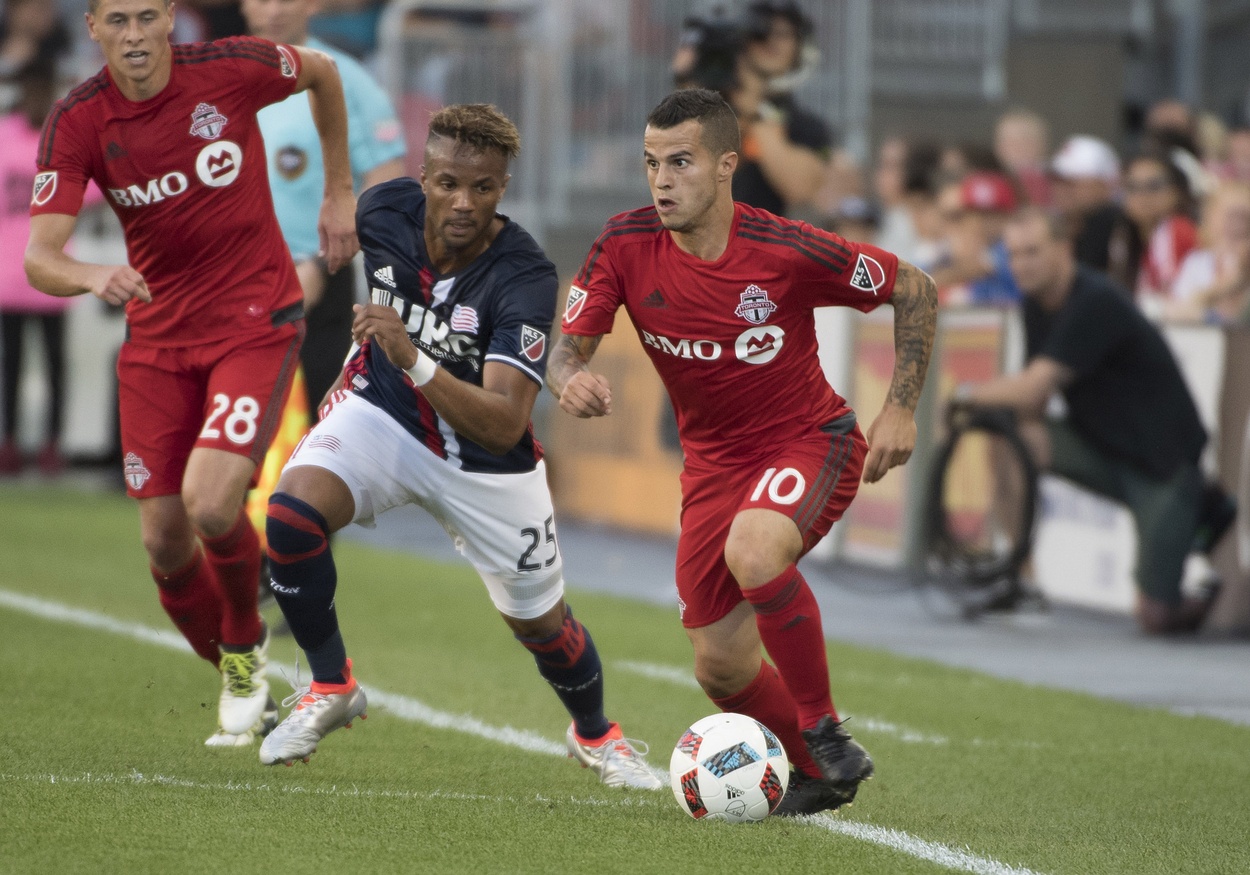 A weekend without a Sebastian Giovinco goalazo is no weekend at all. On Saturday, the Toronto FC forward provided two.
The Italian star shined once again on Saturday, leading the Toronto FC with a hat-trick in a 4-1 win over the New England Revolution at BMO Field. TFC's final goal was scored by Jozy Altidore, who fired a stoppage time finish after being inserted into the game in the 60th minute.
The win earns TFC the club's 36th point of the season, while the Revs remain on 26.
Giovinco's first finish came in the 20th minute. Following a corner kick scramble, the ball fell to Michael Bradley, who was playing his first game since returning from an injury suffered during the Copa America. Bradley's shot was blocked, but the ball fell to Giovinco, who rifled a shot across the box and into the far corner.
Eight minutes later, Giovinco popped up again with a finish even better than his first. On the ball just outside the box on the left side, Giovinco took several touches to cut inside. The forward then unleashed a curling shot with his right foot, leaving Bobby Shuttleworth helpless as TFC pushed the scoreline to 2-0.
Giovinco finally made it 3-0 in the 76th minute with a penalty kick that sealed his second hat-trick in 14 days. The goals are the forward's 13th, 14th and 15th of the season, pushing him into the league lead in goalscoring.
On the other side, the Revs struggled to generate chances, with Kellyn Rowe firing what was likely the Revs' best shot of the first half in the 25th minute. With the game all but decided, Teal Bunbury added a consolation goal for the Revs to push the scoreline to 3-1.
Following the win, TFC takes on the Houston Dynamo next Saturday, while the Revs look to bounce back on Tuesday against the Chicago Fire in U.S. Open Cup action.
MAN OF THE MATCH
In one of the more straightforward decisions of the weekend, Sebastian Giovinco is Saturday's Man of the Match. With a pair of goals, Giovinco has reclaimed the mantle as league's top goalscorer, a deserving honor given his recent play.
MOMENT OF THE MATCH
Giovinco's first finish was magnificent, but his second was downright spectacular. The Italian's curling effort all but sealed the win while also booking a spot in the league's highlight reels.
MATCH TO FORGET
While far from the only member of the Revs defense to struggle Saturday, Darius Barnes will be frustrated to have conceded the penalty that led to Giovinco's third.