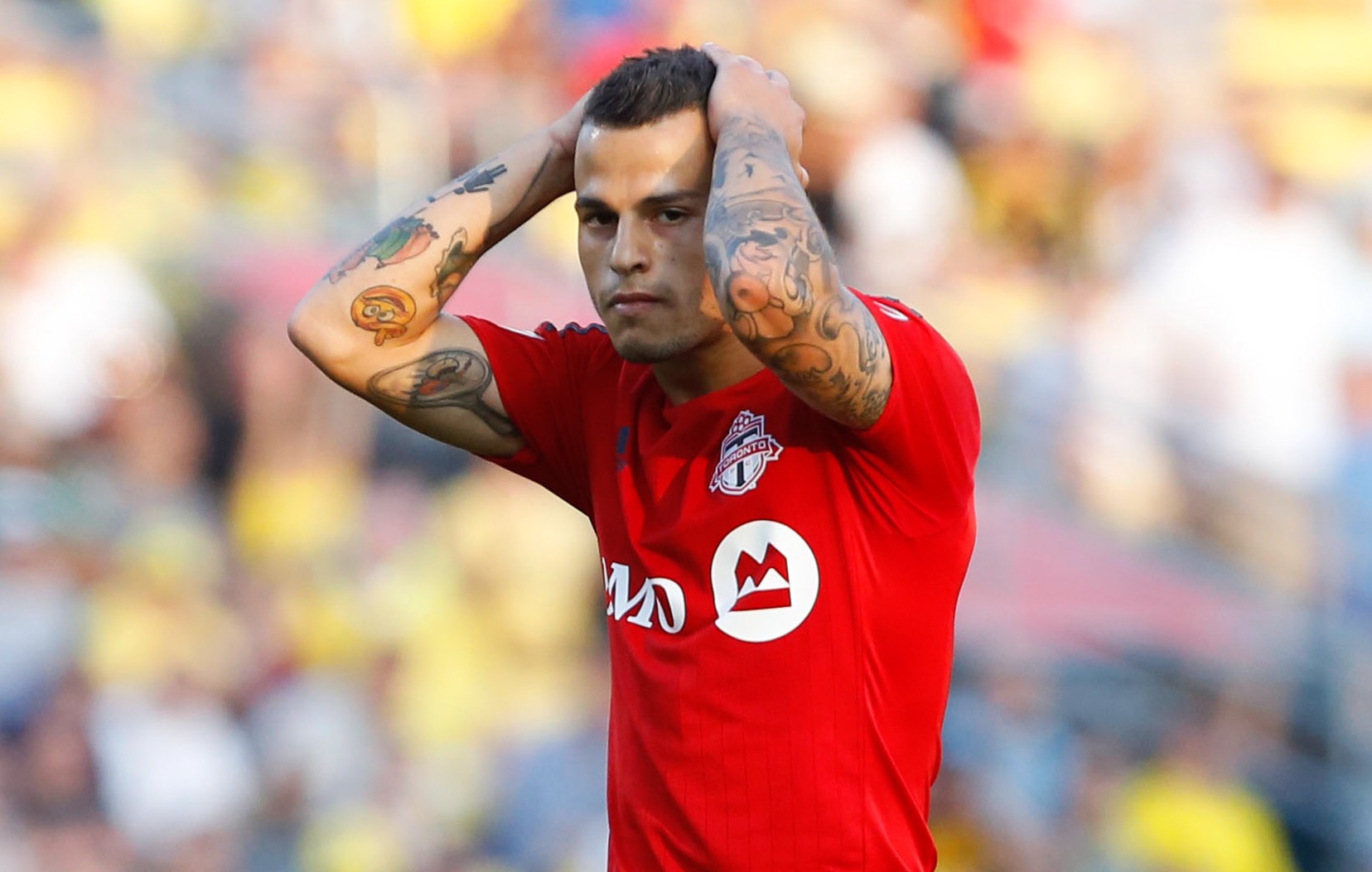 When a team loses a key player, it's a devastating blow. It is especially difficult to handle when the key player is the MLS MVP and the league's co-leading scorer.
Toronto FC will be without Sebastian Giovinco for the next four weeks after he suffered a groin injury in the team's 1-0 loss to the Montreal Impact. The Italian has notched 16 goals and 13 assists this season, contributing to an astonishing 74 percent of TFC's offensive output.
With the Reds in the thick of the Supporters' Shield race, Giovinco's injury couldn't have happened at a worse time. With the 29-year old Italian missing only two matches since signing with TFC, there is uncertainty surrounding the team's ability to perform without him. However, Toronto should have the depth and tactical flexibility to overcome the loss of its star player.
Head coach Greg Vanney has made it clear that he is not set on a fixed system and has varied his approach over the course of the season. TFC has utilized a three or four-man defense, a diamond midfield or a 4-3-3 in the past. The players are tactically flexible, so the team should be able to adjust even with Giovinco's absence.
In terms of who can replace him, Toronto recently acquired Panamanian international Armando Cooper on loan. The dynamic attacker can fill in as an attack-minded midfielder, a winger or in a deeper role. He could also play off Jozy Altidore as a second striker.
Alternatively, Jordan Hamilton can be slotted into the starting XI. The only issue is that both Hamilton and Altidore are similar players, they are at their best when paired with a technically gifted playmaker.
Another option could be Mo Babouli starting up front. He partnered Hamilton in TFC's 1-1 draw with the Columbus Crew on July 13 when Altidore and Giovinco were unavailable. With the American international back in the fold, Babouli will have someone experienced beside him to help carry the load.
A 3-5-2 was used that day against the Crew, but now that Will Johnson and Benoit Cheyrou are fit Vanney can use a diamond midfield in a 4-4-2 with Johnson, Cheyrou, Michael Bradley and Marky Delgado.
It's clear that Giovinco's absence will be felt. He has been involved in 29 goals, more than any player in MLS by a wide margin. However, TFC could emerge from this month-long period relatively unscathed.
Toronto does not play during Labor Day weekend, then it faces the lowly Chicago Fire on the road the following week. Then the team returns home to face the New York Red Bulls and Philadelphia Union.
While both sides are quality opponents, TFC has lost just twice at BMO Field, while also posting a formidable 5-6-4 record on the road. One of those wins was against the Union. Even without Giovinco, Toronto should still expect to compete against the Union and Red Bulls, especially with its stingy back line.
On the other hand, a strong defense is not the only key to victory. When Toronto fell, 1-0, to the 10-man Montreal Impact at home on Aug. 27, the visitors exposed one of TFC's weaknesses. When facing a side that sits deep and restricts space for the attackers, the Reds are unable to penetrate the opposing back line. The same problems were apparent against the San Jose Earthquakes on July 16.
This is why Giovinco is so crucial to TFC's attack. He can create space for himself out of nothing and set up his teammates with quality scoring chances. When the MVP exited the game against Montreal, Toronto was bereft of ideas.
Altidore's return to form will help ease the loss of Giovinco. However, if Vanney cannot find a suitable strike partner and figure out how to break down stubborn opponents, TFC may be in danger of sliding out of the top three in the Eastern Conference.