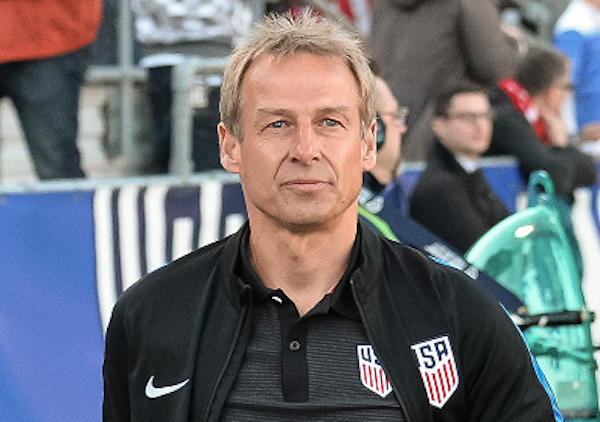 The Copa America is long over. However, Jurgen Klinsmann is hoping lessons learned from this summer's tournament can lead his team through a pair of games that could prove trickier than many may think.
World Cup qualifying continues on Friday night as the U.S. Men's National team visits St. Vincent & the Grenadines. A win on Friday paired with a Trinidad & Tobago triumph over  Honduras would seal the USMNT's spot in the Hexagonal round. Any other result and the USMNT will have all to play for in next week's clash with T&T. The Hex still remains probable, but not definite, a fact not lost on Klinsmann.
Traveling to the Carribean is never an easy task, and Friday's clash will be made all the more difficult by the conditions the USMNT will face. Playing in humid weather within a cricket stadium, the U.S. faces a battle following a summer full of them. St. Vincent & the Grenadines is no Colombia or Argentina, but Klinsmann expects the unit that featured against the South American powerhouses to battle back should adversity hit.
"We definitely think that the group that got fourth in the Copa America deserves a certain priority going on to the next World Cup qualifiers because they did tremendously well in the Copa America," Klinsmann said. "It was an exciting tournament with great games. The whole group learned a lot, playing teams like Colombia, Ecuador and Argentina.
"This is a big stage, and they deserve to come back and confirm what they did in the tournament in these upcoming, very important World Cup qualifiers. We are preparing for these two games very seriously, with a lot of urgency because we want to finish off our group in first place if possible, and this group of players gets the chance to do that."
In total, 18 of the 26 players called in to camp were a part of this summer's mega-tournament. Just 23 of those 26 will travel to Arnos Vale Stadium for Friday's clash. Still, Klinsmann says bringing in a bigger group was the priority, especially with suspensions to players like Michael Bradley and Michael Orozco.
The roster boasts a unique mix of North American-based and European-based options. Players like Omar Gonzalez, Jordan Morris and even late addition Sacha Kljestan enter in the midst of strong club campaigns. Meanwhile, regulars like Bobby Wood,  Fabian Johnson, DeAndre Yedlin and Geoff Cameron are all easing their way into club seasons. Klinsmann says he doesn't expect to favor one group or the other, as he expects the European side to step up to the international level the second they get into camp.
Should the USMNT take care of business in game one, Klinsmann will be given freedom to shuffle things around in game two. Young players like Caleb Stanko, Rubio Rubin, Paul Arriola and Christian Pulisic are all included among the veteran-heavy roster, and could feature against T&T if all goes according to plan.
"The priority is the group that played in Copa America. They need to get the job done in St. Vincent, and then see how we can modify little things. It also gives us a chance during a couple of days to work with a couple extra guys – younger guys – that we've had an eye on since quite a while, like Caleb Stanko or Rubio Rubin. They are players that are knocking at the door and are doing well in their club environment, so that's nice to see them.
"Then we have the situation with the suspended players – Michael Bradley and Michael Orozco – and they are not eligible for the first game. Jermaine Jones is still struggling with his knee injury, so we will take it one day at a time with him. So having a couple extra guys is a good thing. We are going to go with only 23 players down to St. Vincent, so a few will stay behind. Hopefully we get the job done down there and then we can adjust for the second game."
In addition, Klinsmann faced several unforeseen complications when it came to roster selection.
Gyasi Zardes was a late scratch due to an injury suffered over the weekend, while John Brooks was left in Germany due to a back issue. Clint Dempsey, meanwhile, remains sidelined with an irregular heartbeat.
Matt Miazga was also likely a potential option, but Klinsmann stated that he believes it is best to leave players with their club if they are currently the subject of transfer speculation. Klinsmann wants 100 percent focus, and a potential club move half-a-world away would make it quite difficult to focus on St. Vincent & the Grenadines on Friday afternoon.
It's a big match against a small nation, a clash that could determine whether or not the U.S. continues to pursue Russia 2018.
"Our message for players coming into this camp for the two World Cup qualifiers is very clear: approach it with a lot of urgency," Klinsmann said. "It's not easy to go into those Caribbean countries and get the results, so it's not going to be easy in St. Vincent on a very difficult field with heat and whatever else to get the goals as quickly as possible.
"We've got to be patient, but we have to play with urgency and determination in our approach. That's how we are going to go and prepare for that game."