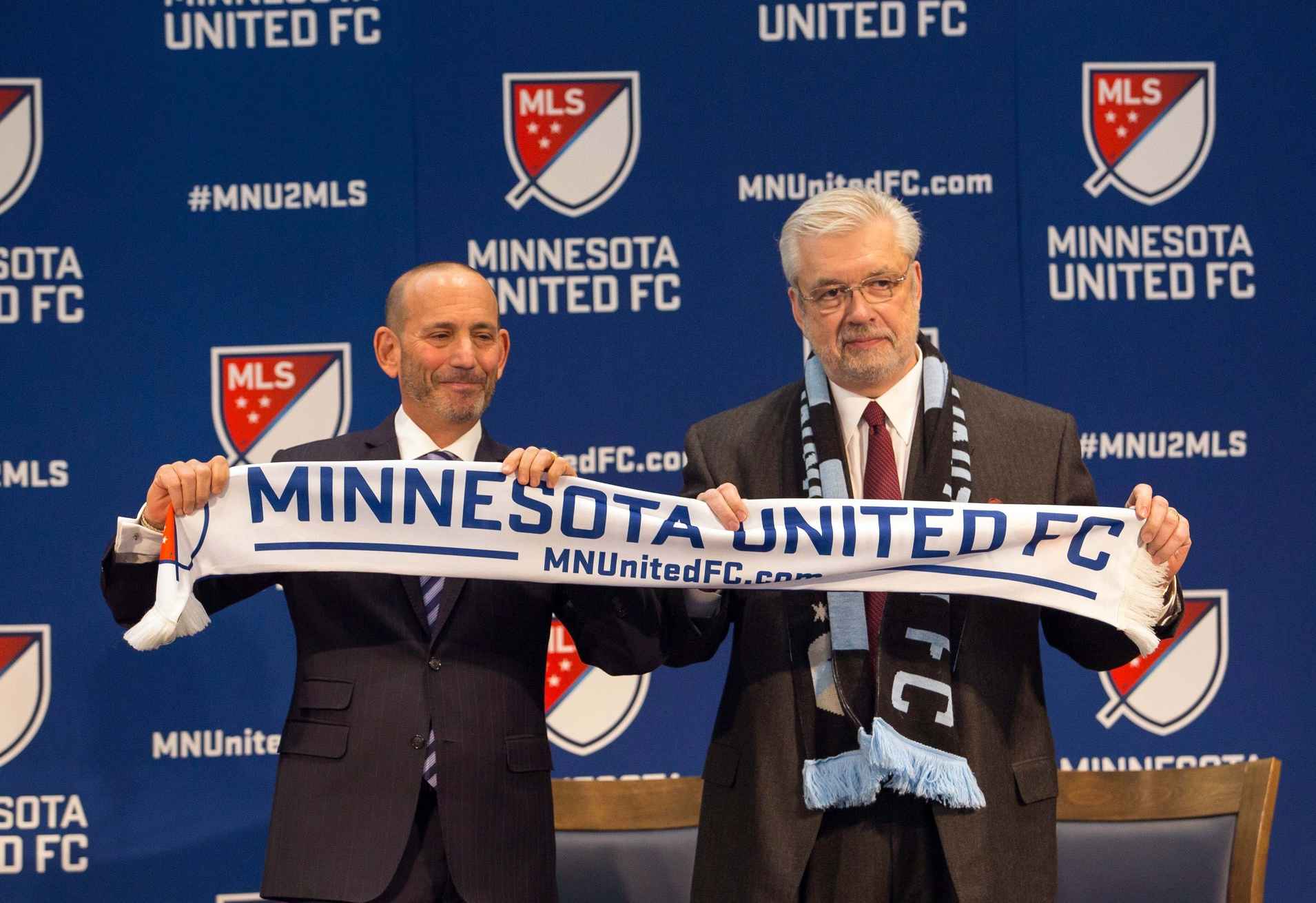 Friday is set to be another big day in the history of Minnesota soccer.
Minnesota United has confirmed that commissioner Don Garber will be on hand for an announcement Friday, which is expected to consist of the unveiling of plans to launch Minnesota's MLS team in 2017. The St. Paul Pioneer-Press reported last week that Minnesota's MLS expansion team will begin play in 2017, along with Atlanta United. Garber will be joined by former New England Revolution forward, and Minneapolis-born, Taylor Twellman, Governor Mark Dayton, Mayor Chris Coleman and club owner Dr. Bill McGuire at Friday's announcement.
Garber is reportedly expected to provide details on how the club can contract players, while the club is expected to discuss youth academy plans and various other steps taken in anticipation of the move.
The club was awarded an expansion franchise back in 2015 but, until Friday, a start date had yet to be announced. The 2017 start will see Minnesota enter MLS alongside Atlanta United as the two newest teams. Behind them are Los Angeles FC and David Beckham's Miami project, with the latter still battling to secure a stadium location before joining the league.
Minnesota United's group still has some stadium wrangling of its own to do in the coming weeks. McGuire told the St. Paul Press that the club is operating in "good faith" that their proposed $150 million stadium project is approved in the near future. According to McGuire, there's a chance that the stadium could be ready for the club as soon as the 2018 season, although the club will call the University of Minnesota's TCF Bank Stadium home until that point.
"It's one of those things that we hope people will be excited about, something that embodies both appreciation and pride in the fact that it is aesthetically beautiful, frankly," McGuire told the Pioneer Press of the stadium. "That it fits into the neighborhood and the community well, rather than overwhelming it or in any way driving it. That it's something that people feel is theirs. That they can relate to as an exciting place that they want to go to and they want to keep going back to, they want to take their friends to.
"And that it's a facility that works for the sport and is designed to optimize the fans' experience as well as the players'. And something that we hope will drive and spur future and additional investment in the community around us. I frankly think it will be up there as one of the premier soccer-specific stadiums in America and North America based on everything I know. Will it be the top of the top? We'll see. I certainly think it has a lot of attributes that make it really a special place."