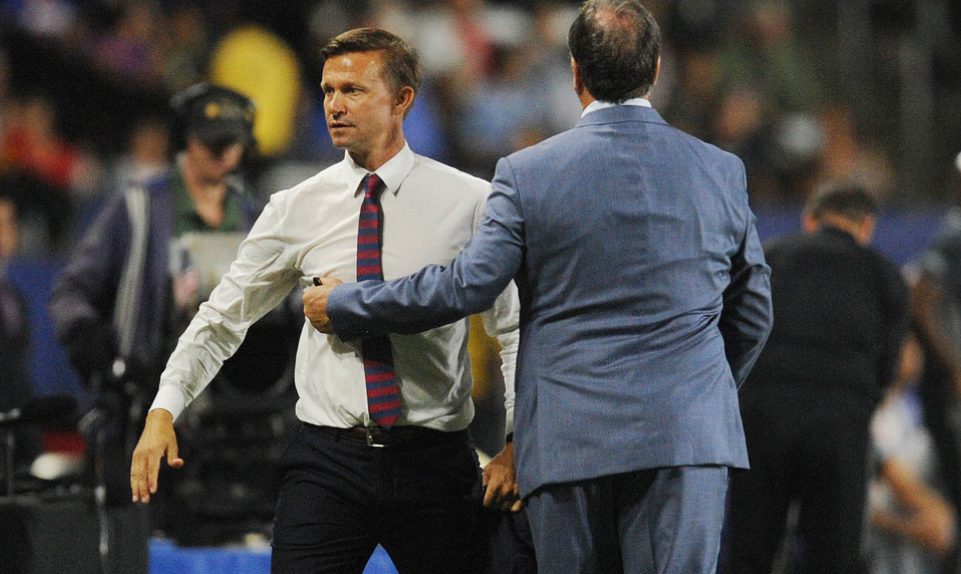 Officiating has, once again, been a hot topic in MLS circles this week, and the league has taken action against a trio of players while admitting to a series of mistakes over the weekend.
The MLS Disciplinary Committee announced on Thursday that LA Galaxy defender Jeff Larentowicz, Orlando City midfielder Antonio Nocerino and Houston Dynamo defender David Horst have each earned one-game suspensions for incidents over the weekend. All three will serve their one-match bans over the weekend.
When assessing the incidents surrounding the Galaxy in particular, MLS VP of Competition, Jeff Agoos said that the league acknowledges that there were two missed calls in the Galaxy's 2-2 draw with the Red Bulls. According to Agoos, the Red Bulls deserved two separate penalty kicks that were not given by referee Hilario Grajeda. Following the second of the two, Red Bulls head coach Jesse Marsch was ejected.
In addition, a Larentowicz tackle was not properly punished after Damien Perinelle was forced off with what has since been identified as a meniscus injury that will keep him out for four-to-six weeks.
"We reviewed the New York-LA game and concluded that there had been two missed penalty kick calls late in the game," Agoos said. "In addition, the Disciplinary Committee also determined that the foul by Jeff Larentowicz merited a one-game suspension."
Agoos went on to say that "video review would have allowed for the review of these non-calls," as the league continues to push towards being one of the first in the world to move towards adding the technology.
Nocerino's suspension stems from an incident that saw the Italian midfielder kick the ball at Clint Dempsey, while Horst will serve a one-game ban for a foul on Patrice Bernier.
What do you think of the latest MLS DisCo news? Did the league get it right by admitting the error?
Share your thoughts below.