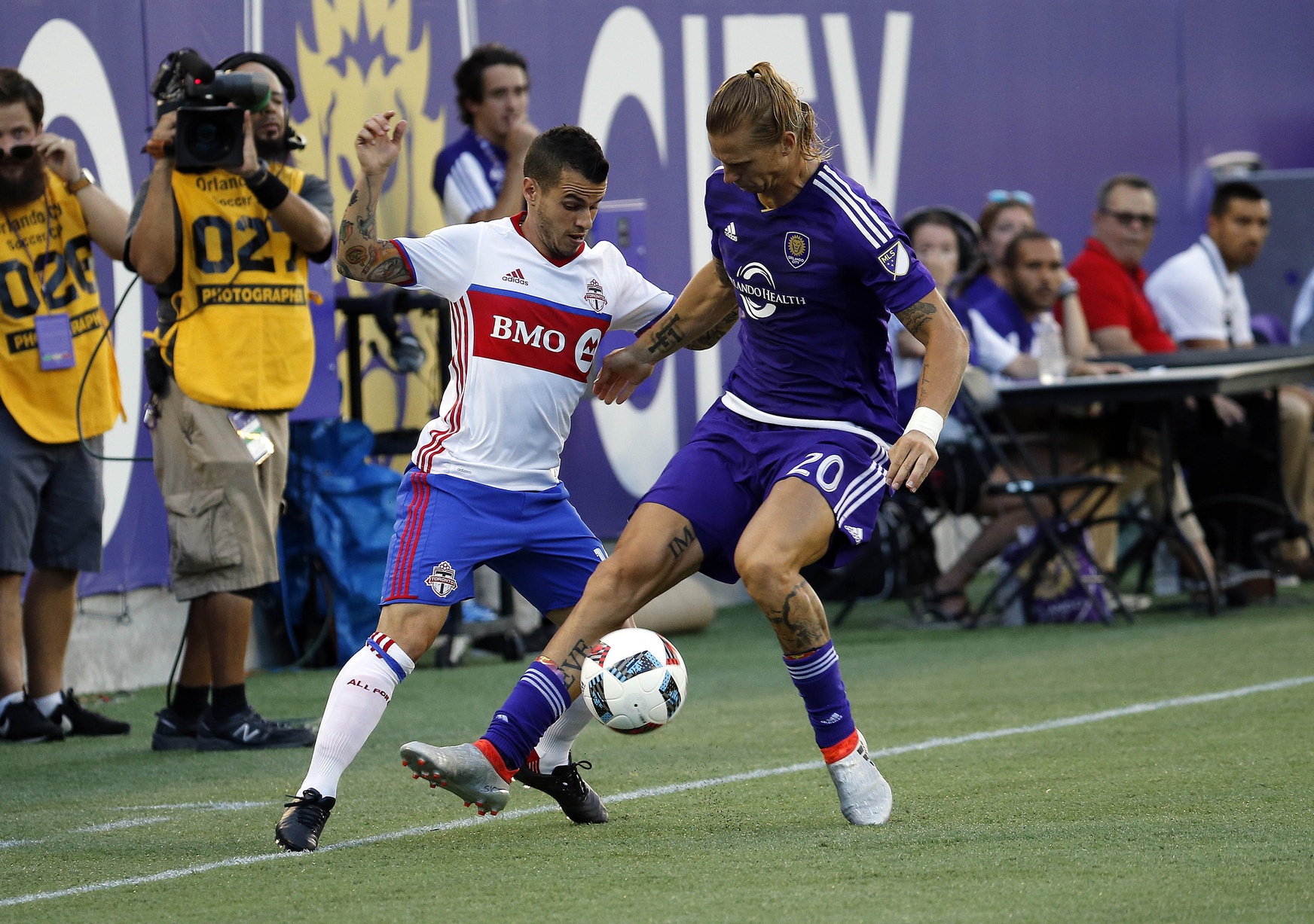 It's a double serving of MLS in week 26 as action begins with midweek showdowns on Wednesday night.
Two Eastern conference matches headline the show as both D.C, United and Orlando City, tied on points for the final playoff position, are in action in separate matches against Canadian opposition. D.C, United will have to go north of the border to visit the Montreal Impact, while the Lions will welcome sizzling hot Toronto FC.
A cross-conference battle between two teams just outside the playoff picture is also on feature, as the New England Revolution look to banish their road woes when they visit the San Jose Earthquakes at Avaya Stadium.
Just one all-Western conference match is on the slate, as the Houston Dynamo welcome the Seattle Sounders and their three-match win streak to Texas.
Here's a closer look at the midweek MLS action:
ORLANDO CITY vs. TORONTO FC (Wednesday, 7:30 P.M., MLS Live)
The headline match of the Wednesday night showdowns features an Orlando City team on the playoff fringe and a Toronto FC side that's gunning for sole possession of the top spot in the East with a win.
Toronto FC is without a doubt the hottest team in MLS, winning five of their last six with the only exception being a draw against the Houston Dynamo. Their last loss dates over a month ago to July 16th as they've rode the incredible Sebastian Giovinco, who has a goal or assist in each of the last six matches, and a healthy Jozy Altidore back to winning form. Orlando City haven't won since July 31st and recorded their league-high 13th draw of the season last weekend against the Colorado Rapids. They'll seek to secure three points with playoff rivals D.C. United also in play.
COLUMBUS CREW vs. PHILADELPHIA UNION (Wednesday, 7:30 P.M., MLS Live)
Also in action are two teams aiming to turn their bad fortunes around as the Philadelphia Union travel to the lowly Columbus Crew Wednesday night.
Each team is riding losing form into this Eastern conference match. The Union have won only one of their last six, that being a 4-0 thrashing of the New England Revolution, and are looking to return to the early season form that sees them still securely in a playoff position. Meanwhile, the Crew are coming off a long-awaited win, a 2-0 victory over the same Revolution, but were winless in their 10 matches before that. It's not too late to return to playoff contention for the Crew, and they'll have a chance to do so against a Union side that has only won two matches out of 12 on the road this season.
MONTREAL IMPACT vs. D.C. UNITED (Wednesday, 7:30 P.M., MLS Live)
The other key Eastern Conference playoff battle of the midweek slate sees hopefuls D.C. United travel to the Montreal Impact side that sits just above them in the standings.
With Orlando City facing a very difficult Toronto FC team, D.C. United has a great chance to seize three points from the Impact and firmly plant themselves in playoff position. The Impact will be looking to extend their current 5 point lead over both D.C. United and the Lions and remove themselves further from the playoff line. It will be a difficult match for D.C. United as they've struggled on the road this season, managing only a single victory, while the Impact have a solid 6-3-3 home record.
CHICAGO FIRE vs. LA GALAXY (Wednesday, 8:30 P.M., MLS Live)
The first cross-conference match of the evening sees the LA Galaxy, fresh off of a disappointing 1-0 defeat to New York City FC, visiting the Chicago Fire, who are riding high off their first road win in over two years last weekend.
The two teams are in vastly different positions entering the match as the Galaxy are seven points above the playoff line and the Fire are six points below it. While the playoff implications are minimal, the Galaxy won't want to overlook a Fire side that are surprisingly decent at home despite their overall record. The Fire know they have a match in hand over nearly every team ahead of them in the East and there have been crazier comebacks than a six-point deficit in MLS, so they'll be looking to build off that road win from the weekend. The Galaxy also have a few games in hand on teams above them and would love to secure their own playoff spot with a win as favorites in this match.
HOUSTON DYNAMO vs. SEATTLE SOUNDERS (Wednesday, 9:00 P.M., MLS Live)
The only pure Western conference match of the evening sees the last place Houston Dynamo welcome the in-form Seattle Sounders to Texas.
The Sounders are winners of three straight matches and have yet to lose since the departure of Sigi Schmid and suddenly find themselves in the thick of the playoff race as the Portland Timbers sit just two points ahead with the Sounders holding two matches in hand. They'll seek to extend their winning streak against a Dynamo team that just snapped their own six match winless streak and their road winless streak that dates back to July 10th, 2015 with a victory over the San Jose Earthquakes at Avaya Stadium. All eyes will be on star striker Clint Dempsey as he's exploded for five goals and an assist, including a hat trick and a brace, over the last four matches.
SAN JOSE EARTHQUAKES vs. NEW ENGLAND REVOLUTION (Wednesday, 10:30 P.M., MLS Live)
The final showing of the night comes from the west coast as the New England Revolution venture cross-country to Avaya Stadium to face the San Jose Earthquakes.
The Earthquakes are coming off just their second home loss this season after the Dynamo left California with a 2-1 victory, but they may be in luck against the Revolution. The Revs have struggled mightily of late, losing four straight as they've been outscored 13-2 over that span. They currently sit only two points back of D.C. United and Orlando City, each of whom has a difficult opponent on Wednesday night, so a win can bounce them right back on track. The match also holds significance for the Earthquakes as they're in the thick of the Western conference playoff race with the Sounders and Timbers with their destiny in their own hands. They might be fortunate entering this match as the Revs are heavily hampered by injuries, potentially missing defenders Je-Vaughn Watson and Jose Goncalves in addition to suspended defender London Woodberry.
–
What do you think of Wednesday night's playoff race action? Who will emerge in prime position?
Share your thoughts below.