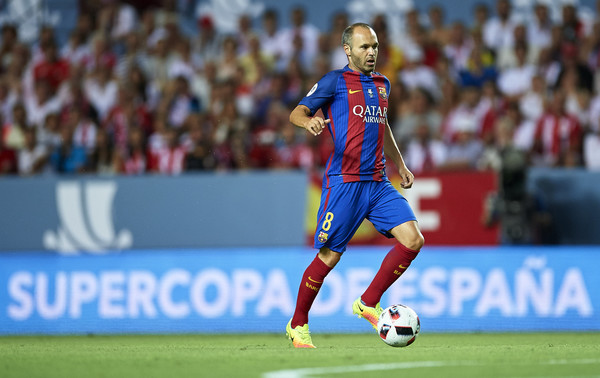 One of Spain's biggest stars is set for some time away due to injury, while one of the Premier League's best can't even push his way into a matchday squad.
Andres Iniesta is set to miss two weeks after suffering a knee injury in Sunday's 2-0 Spanish SuperCup win over Sevilla, while centerback Jeremy Mathieu will miss three weeks due a leg injury. (REPORT)
Yaya Toure has reportedly been dropped from Manchester City's squad for the first leg of their Champions League Playoff against Steaua Bucharest. Toure was also left off of the 18-man roster for Man City's opening win over Sunderland. (REPORT)
Inter Milan is reportedly the favorites to sign Brazil Olympic Team forward Gabriel 'Gabigol' Barbosa, while Juventus, Manchester United, Chelsea and Leicester City have also reportedly shown interest. (REPORT)
Everton completed the signing of Yannick Bolasie from Crystal Palace. (REPORT)
Pep Guardiola says that Joe Hart is "not happy" about being Manchester City's backup goalkeeper heading into the Premier League season. (REPORT)
German star Lukas Podolksi announced that he has retired from international soccer. (REPORT)
Led by goals from Arturo Vidal and Thomas Muller, Bayern Munich toppled Borussia Dortmund, 2-0, on the German SuperCup.
Veteran manager Dick Advocaat has left his job as an assistant with the Netherlands to begin talks with Fenerbahce. (REPORT)
WEEKEND REWIND
Following the U.S. Women's National Team's loss to Sweden, Hope Solo pulled no punches with her postgame comments, calling the opposition "cowards". (READ)
In response to Solo's rant, U.S. Soccer president Sunil Gulati released a statement saying that her viewpoints do not align with those of the federation. (READ)
DeAndre Yedlin is reportedly still a target for Sunderland with just several weeks remaining in the transfer window. (READ)
Bradley Wright-Phillips broke yet another New York Red Bulls record on Saturday, surpassing Juan Pablo Angel for most goals scored. (READ)