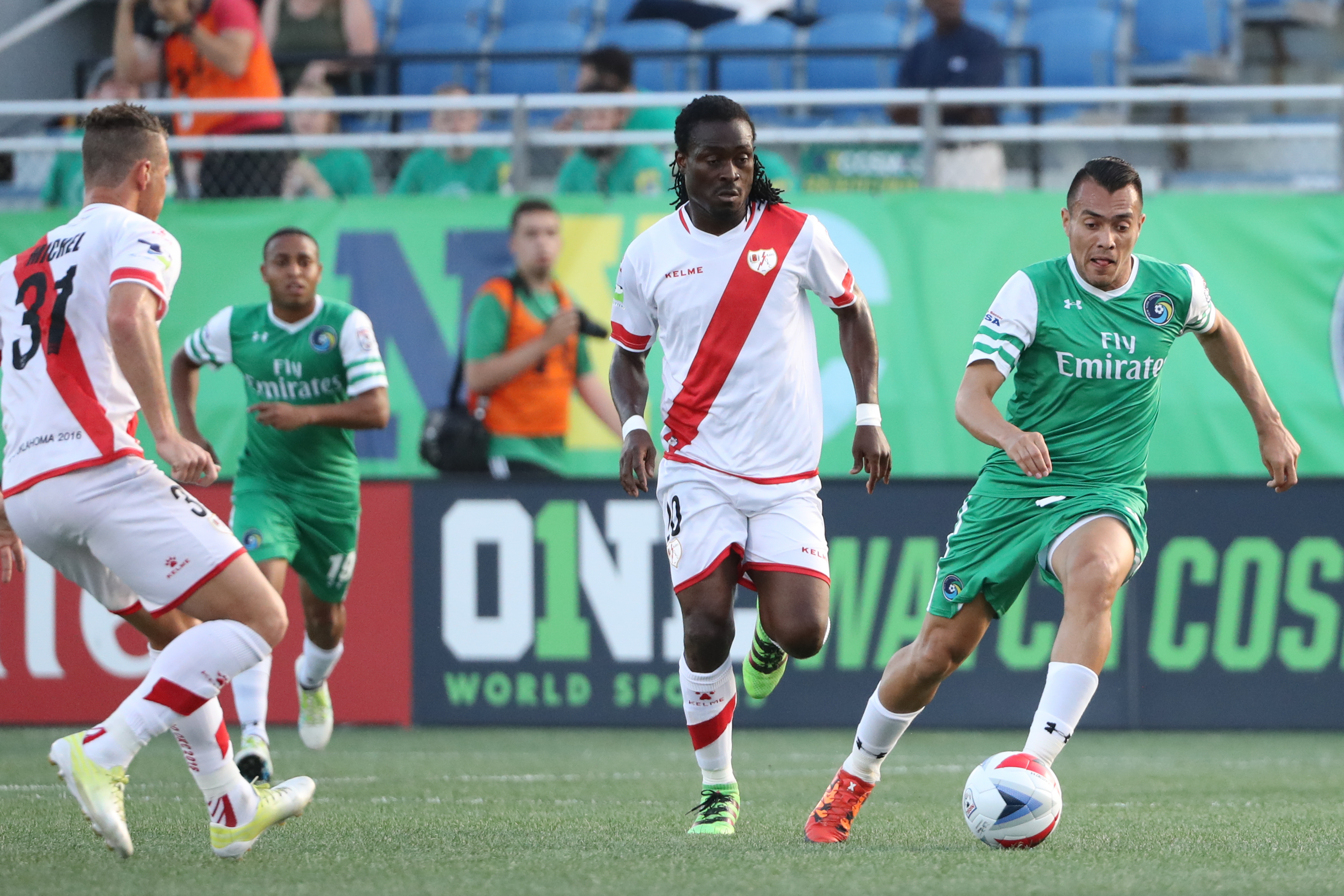 While Indy Eleven looks to continue to roll through the rest of the NASL, a first-year club in disarray faces off with the New York Cosmos.
Fresh off the departure of Alen Marcina, Rayo OKC faces a trip to Shuart Stadium to take on the Cosmos, a team still looking to build a string of results following a mid-summer rough patch. Meanwhile, Indy Eleven looks to continue their reign atop the table in a clash with a surging Ottawa Fury FC side.
Elsewhere, the Fort Lauderdale Strikers take on the Tampa Bay Rowdies in a Florida Derby clash, while Minnesota United collides with Miami FC.
Here's a closer look at this weekend's NASL action:
JACKSONVILLE ARMADA vs. CAROLINA RAILHAWKS (Saturday, 7 p.m., ESPN 3)
Both the Jacksonville Armada and Carolina RailHawks are very much in need of a win on Saturday.
Entering Saturday's meeting, the Armada sit last in the league with just one in seven Fall games. The RailHawks sit a bit better in eighth place after scoring a combined seven goals in their past two matches.
INDY ELEVEN vs. OTTAWA FURY FC (Saturday, 7:30 p.m., ESPN 3)
Indy Eleven has yet to lose a home match this season. An in-form Ottawa Fury FC will look to be the team to change that on Saturday.
Entering Saturday's match, Fury FC is riding three straight shutouts and three straight wins, propelling the team all the way to sixth in the Fall Standings. Threatening that shutout streak is Indy Eleven goalscorer Eamon Zayed, whose second hat-trick of the year pushed the forward to 11 goals on the season.
PUERTO RICO FC vs. FC EDMONTON (Saturday, 7:30 p.m., ESPN 3)
FC Edmonton's home form has been one of the NASL's biggest storylines, but a trip to Puerto Rico will provide a big test for a team that has been lackluster on the road this season.
The Eddies have won just one road game ahead of a trip to Puerto Rico FC, a team that hasn't lost either of its two home games this season. Fresh off of a 1-1 draw with Minnesota United midweek, Puerto Rico FC will look to Héctor Ramos to lead the way once again after scoring the team's first two home goals.
TAMPA BAY ROWDIES vs. FORT LAUDERDALE STRIKERS (Saturday, 7:30 p.m., beIN Sports USA)
The Tampa Bay Rowdies and Fort Lauderdale Strikers are struggling more than they would have expected, but the pair of Florida sides could make a push up the table in Saturday's derby clash.
Two straight road losses have dampened the mood in Tampa, but a home match should be a positive sight for a team unbeaten in their last five home matches. The Strikers, meanwhile, road a Maicon Santos goal to a 1-0 win over the Jacksonville Armada last time out, ending a four-game skid.
MINNESOTA UNITED vs. MIAMI FC (Saturday, 8 p.m., ESPN 3)
Minnesota United cruised past Miami FC, 3-1, when the two sides met in the Spring, but Saturday's match should look a bit different following Miami FC's shake-up.
Acquisitions like Kwadwo Poku, Richie Ryan and Gabriel Farfan have helped lift Miami FC throughout the Fall Season, as the club currently sits mid-table with games in hand. However, the club's backline will now be tasked with stopping Christian Ramirez, who enters Saturday's clash with 12 goals.
NEW YORK COSMOS vs. RAYO OKC (Sunday, 4 p.m., ONE World Sports)
Rayo OKC is in disarray, and a visit to the New York Cosmos is unlikely to be the ideal matchup for the first-year side given their off-the-field issues.
Head coach Alen Marcina is one of several officials to depart Rayo OKC ahead of Sunday's clash, as issues between ownership and the front office apparently reached a breaking point. Still, the club sits fourth in the Fall standings, making Sunday's clash with the second-place Cosmos vital for Rayo OKC's hopes of qualifying for the postseason.