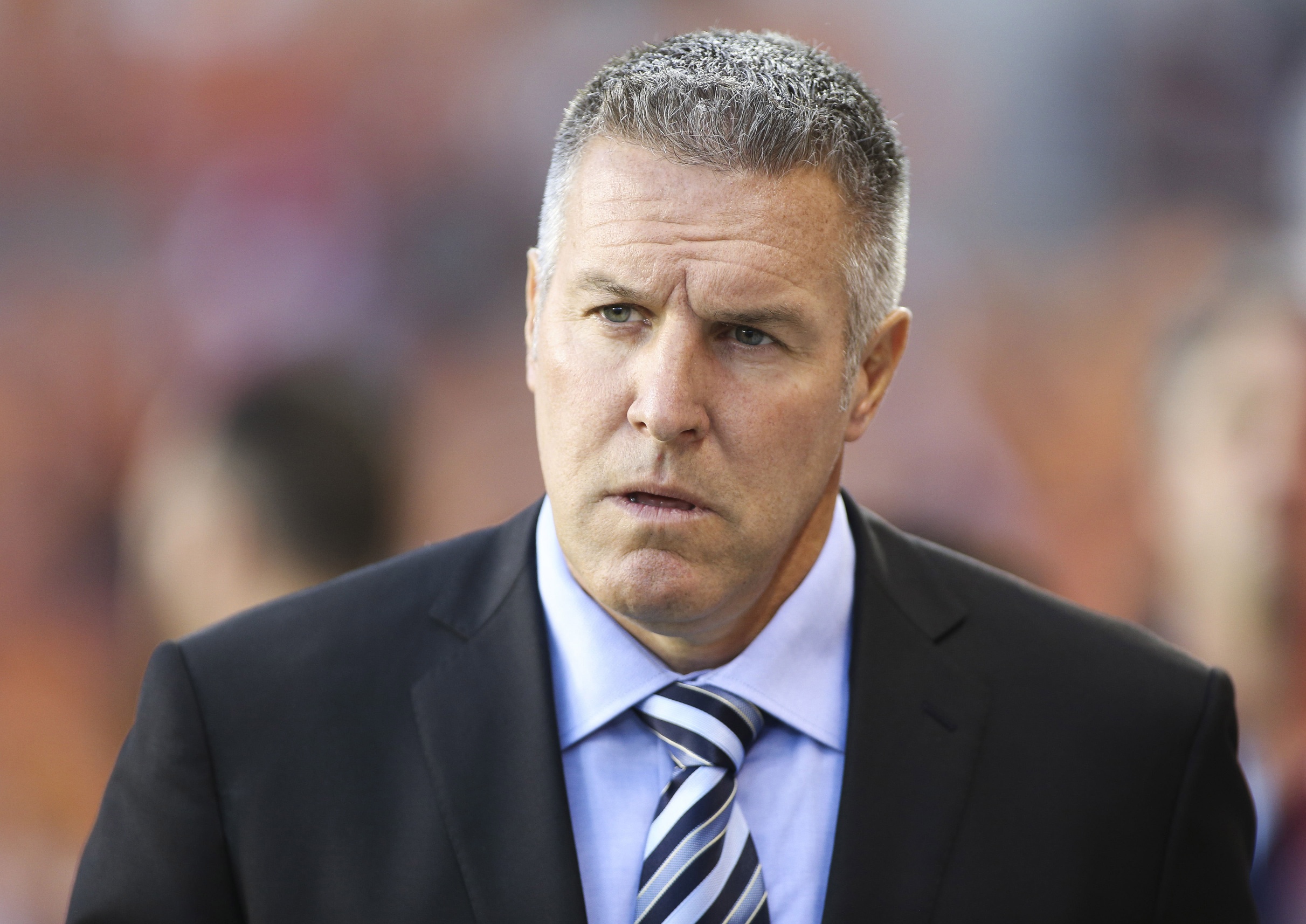 CHESTER, PA– A disgruntled Peter Vermes was not shy about his opinion of referee Juan Guzman's decisions in Sporting Kansas City's 2-0 loss to Philadelphia on Saturday.
Guzman sent off defender Jimmy Medranda in the 59th minute for a second yellow after he fouled Keegan Rosenberry near the right side of the penalty area.
Medranda picked up his first yellow of the night in the first half against Fabian Herbers, a call Vermes thought should've gone in the other direction.
"For me, tonight's game was decided by the referee," Vermes said. "It's pretty simple. He made a horrible call, a missed call, in the first half when Herbers came in and got his studs up on Jimmy Medranda. That play turned over, the ball went to him, he chased the guy back and got a yellow card."
Roger Espinoza's ejection late in the second half did not sit well with the Sporting KC boss either. Espinoza made contact with Union midfielder Roland Alberg, but the red was given after Alberg exaggerated the incident and went to the pitch quickly.
"And the second, the red card on Roger Espinoza is absolutely ridiculous," Vermes said. "Unfortunately that's what happens in this league too often."
The frustrating loss to the Eastern Conference foe ended a long August road trip for Sporting KC in which they played a pair of CONCACAF Champions League games on the road as well as Portland and FC Dallas in league play.
"After about five or ten minutes of being down a man, I could tell we were getting gassed big time," Vermes said. "Five games in 15 days and this is the last one. We traveled over 16,000 miles."
Despite the struggles with keeping men on the pitch, Vermes was happy with the effort the club produced at the end of the match that hopefully will propel the club to winning ways in September.
"But when we went down two men, I tell you we had some pretty good fight at the end," Vermes said. "We almost scored one, which is pretty good. It was good fight for us at the end. But unfortunately I think the game was changed by the calls."