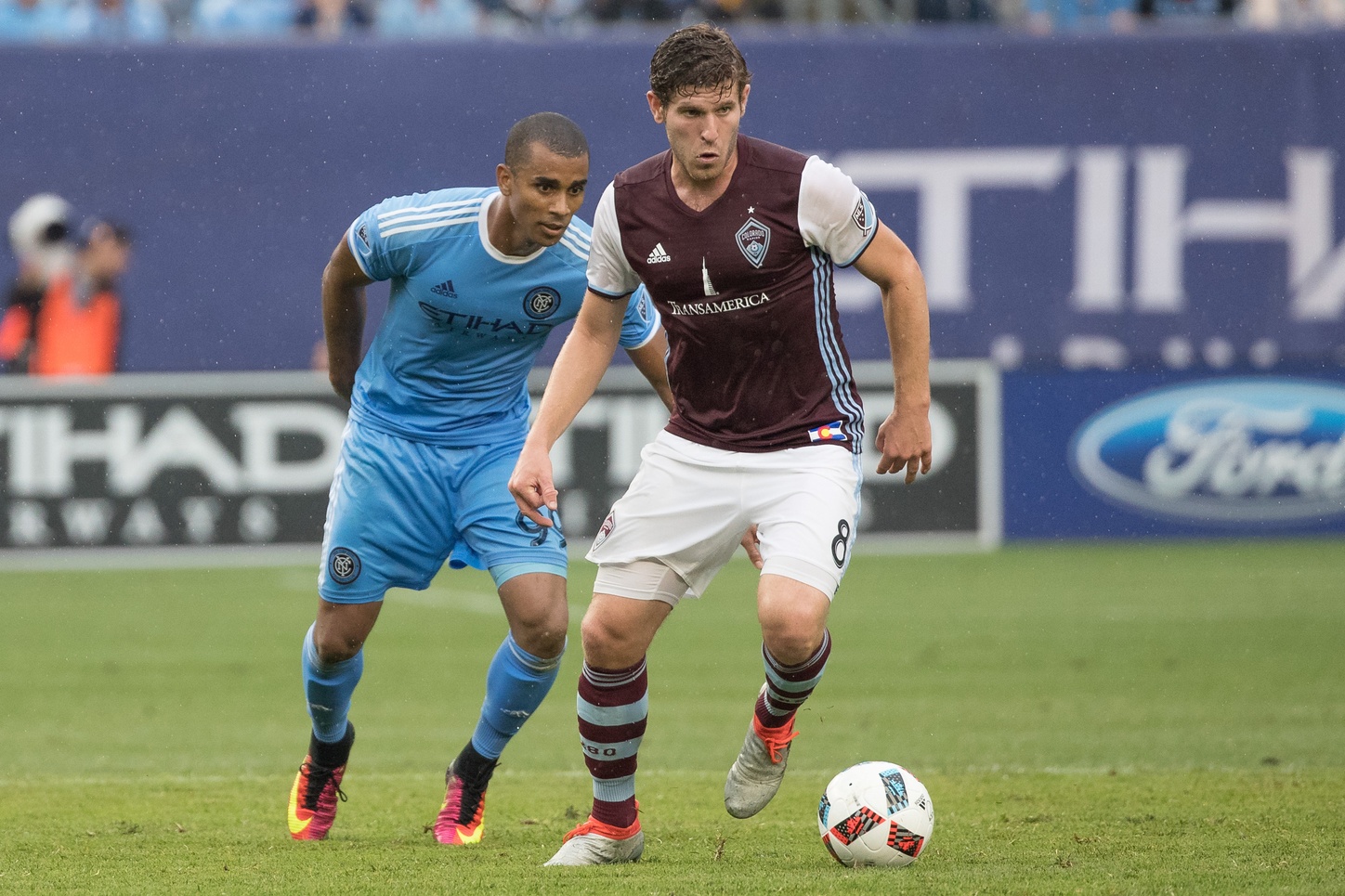 The Colorado Rapids knew their 15-game unbeaten run would come to an end at some point. MLS is a league built on parity, a competition not constructed for excessive dominance or complete ineptitude.
After experiencing the latter for the past several seasons, the former has defined the Rapids' 2016 season. That was until the team's unbeaten streak came to a screeching halt on a rainy Saturday afternoon in the Bronx.
Facing a shorthanded New York City FC team, the Jermaine Jones-less Rapids fell, 5-1, Saturday at Yankee Stadium. It was a shocking loss from a team that had been so dominant, a team that hasn't tasted a league defeat since early April.
Rapids head coach Pablo Mastroeni said after the game that the unbeaten run was "the last thing" on his mind. However, the manner in which the run ended left the former U.S. Men's National Team star visibly frustrated by his team's performance.
"When you concede five goals, you're not happy," Mastroeni said. "If you lose a close one in the waning minutes of a game, you think that nothing needs to be changed, that we're right there. If you lose like this, it's a whole reset. It's a mental reset. It's a rethink of everything.
"Our mentality was that they're missing some key players and that we've gotten to where we've gotten sleepwalking and we're going to keep going. I think when you hit a wall like that, it's a complete reset."
Playing in a match clouded by a rain delay, the conditions always seemed a bit ominous. As rain poured just moments before the team descended to the locker rooms, the Rapids saw themselves down a goal as Frank Lampard struck with his first of three on the afternoon.
Tony Taylor and Steven Mendoza followed suit, taking full advantage of a Rapids team crippled by a Michael Azira red card late in the first half. Yet, with minutes remaining and the game all but done, the Rapids found a goal through Shkelzen Gashi.
"We're going to have to concede something to get back into the game or we can sit back and take it, but I say if we're going to die, we die standing and go for it," Mastroeni said. "I'm most pleased about the mindset of those guys in the second half to come out fighting and find a way to get a goal because that is the group we've been all season."
According to Rapids goalkeeper Tim Howard, Azira's red card was, unsurprisingly, the game-changing moment. On a field as small as Yankee Stadium, NYCFC was able to press the Rapids into submission, while pouncing on the team's mistakes.
Now, that game is over, Howard says. It's finished. A 5-0 loss is worth zero points, much like a 1-0 defeat. For Howard, what matters now is getting back to playing like the team that was cruising through opponents prior to Saturday's setback.
"We enjoyed the way we were playing," Howard said. "This loss hurts, but we have to bounce back. There's no weight (off of our shoulders). We'd prefer to be 16 unbeaten rather than on 15.
"(I want to see) everything that we've been up until this point. Today was a one-off and we'll keep playing, hopefully, the way we've been."
Mastroeni echoed Howard's point. As a coach who has been through many lows with the Rapids, Mastroeni understands it's about perspective. The playoffs remain an end goal, and no one will remember a 5-0 drubbing should the Rapids bounce back into form.
The key is just that: bouncing back. The Vancouver Whitecaps await and with them come a chance to reclaim the Rapids' status as an elite team following their worst performance of the year.
"It's not always going to be puppy dogs and ice cream football games," Mastroeni said. "There's going to be some bombs getting thrown in these things. It's about how do we respond when the chips are against us.
"Records and all of that stuff, they're insignificant to me," he added. "It's about the next game. It's about going on one-game streaks. It's not about setting MLS records, that's not what this is about. It's about becoming a better group every single game and learning from your mistakes."