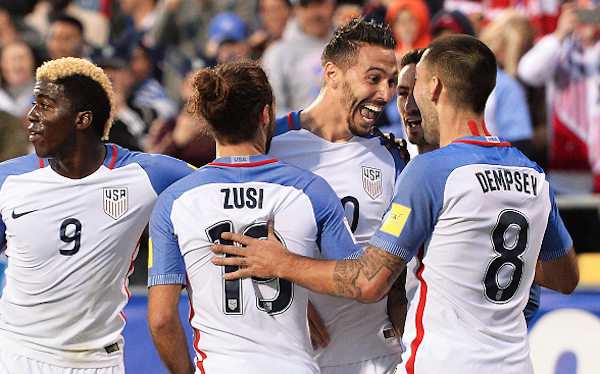 Previous reports linked the U.S. Men's National Team to an October friendly with Ghana, but after some difficulties, it appears a new opponent has been locked down for a match at RFK Stadium.
U.S. Soccer announced on Wednesday that the USMNT will play a friendly against New Zealand on October 11 at RFK Stadium in Washington, D.C. According to the Washington Post, an agreement has been in place for the USMNT to host a match at RFK Stadium for some time now, the opponent was left up in the air as complications with Ghana's scheduling prevented the USSF from setting up a match with their first-choice opponents.
National Teams are allowed to play friendlies and World Cup Qualifiers during the same international breaks, but only within a travel time of 5 hours and two time zones to reduce the burden on players and their clubs. Ghana attempted to file a waiver with FIFA, but the bid was rejected.
Instead, the USMNT will play New Zealand. The two teams have met only twice before with the United States winning each match. New Zealand is currently placed 93rd in FIFA's international rankings. The All-Whites have yet to lose a match in 2016 and their last defeat dates back to March 31st, 2015, a 1-0 loss in South Korea. Prior to their match against the U.S., New Zealand will play Mexico in Nashville, Tennessee on October 8th before returning to World Cup Qualifying in November with two matches against New Caledonia.
The USMNT will play Cuba in Havana on October 7th as their lead in to the New Zealand match.
Jurgen Klinsmann will have to make his selections carefully, however, as MLS does not stop play during international breaks and has four matches scheduled during the window. This raises questions over the selection of players such as Clint Dempsey, Tim Howard, Jordan Morris, Chris Wondolowski and Jermaine Jones, each of whom would be scheduled for MLS play. Additionally, the USMNT will have World Cup Qualifiers in September and then again, if they advance, in November.
What do you think of the report? What do you expect from the USMNT against New Zealand?
Share your thoughts below.