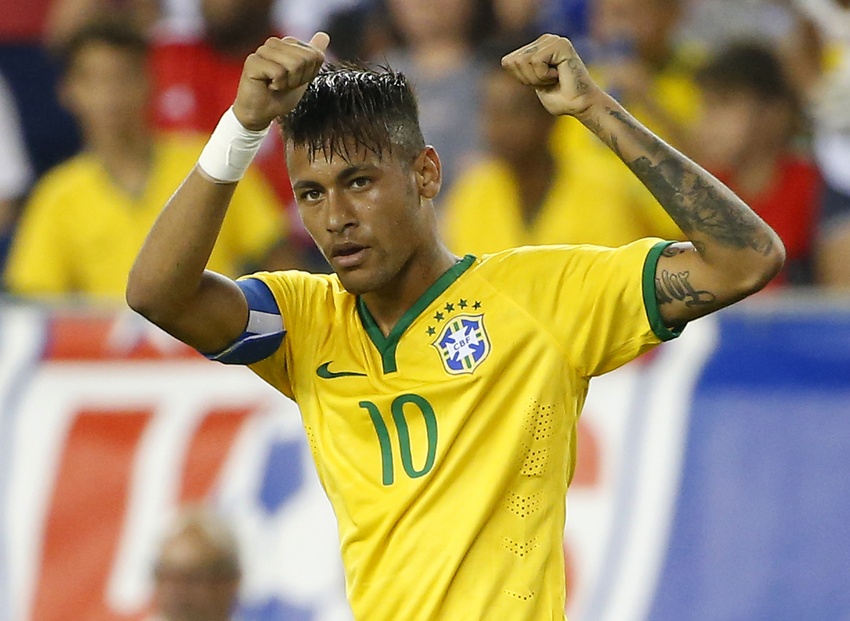 A summer full of soccer has seen plenty of international tournaments, but the 2016 Olympic Games in Rio provide plenty of interesting storylines and trends to watch ahead of the club season.
Featuring rosters composed of Under-23 stars and three overage players, Olympic soccer boats a unique mix of up-and-coming prospects and international stars. Teams like Brazil and Mexico have traditionally blended the two well, as the duo met in 2012 in London with El Tri emerging as gold medalists.
Now, four years later, Mexico will look to defend that gold against 15 other nations, a tall order given the talent several teams possess. Traditional powers like Argentina, Germany, Colombia and Portugal are scattered throughout the field, while Brazil looks to claim their first ever gold in soccer while battling the pressure of pursuing it on home soil.
Here's a look at several storylines to watch during the men's Olympic tournament:
BRAZIL LOOKS FOR FIRST OLYMPIC GOLD ON HOME SOIL
Brazil has won everything there is to win in world soccer except an Olympic gold medal. Playing on home soil with several of the team's stars in the fold, it appears Rio 2016 will be their best chance yet.
With three bronzes and two silvers to their credit, Brazil has found success in Olympic soccer, but not the success the country craves. World Cup titles and Copa Americas have come and gone throughout the country's history, leaving an Olympic gold as one final check-mark for the South American powerhouse. The gold medal is clearly coveted by Brazil, as the country all but threw away this summer's Copa America while leaving Barcelona star Neymar to compete for the crown on home soil.
Now set to lead Brazil's Olympic squad, Neymar joins a young core of prodigies scattered throughout the roster. Recent Manchester City signing Gabriel Jesus will likely lead the forward line, while Barcelona's Rafinha, Lazio's Felipe Anderson and Paris-Saint Germain headline the European-based stars set to go for gold.
Brazil has all the weapons necessary to pursue that elusive gold. Whether they can overcome the pressure of doing on home soil is another story. 7-1 to Germany still looms large, but this Brazilian team has a chance at achieving something quite special just two years after World Cup disaster.
NIGERIA LOOKS TO OVERCOME EXTERNAL PROBLEMS
Nigeria always seems to compete very well at the youth level, but there are times where the federation just can't seem to get out of its own way.
The Super Eagles were stranded in Atlanta until Thursday, sealing a very late arrival to the games ahead of Thursday's clash with Japan. Nigeria boarded a flight Thursday morning and are expected to land in Manaus just hours ahead of their opening match. Originally set to leave on Wednesday morning, the delay was the result of a mix-up between Nigerian officials and an airline company, leaving the team stuck in Atlanta for several days.
Nigeria has won gold before, and features a team that boasts Chelsea midfielder Jon Obi Mikel as its leader. However, external problems have gotten the team off to a poor start ahead of what could still be a solid Olympic tournament.
MEXICO ENTERING AS DEFENDING CHAMPIONS
As the most recent gold medal winners, Mexico enters the Olympic games with a major target on their backs.
A group featuring Giovani dos Santos, Raul Jimenez and Hector Herrera defied the odds in London, toppling Neymar and Brazil en route to a gold medal. The medal was Mexico's first in Olympic soccer, marking a historic achievement for a soccer country that has long been a power on the world stage.
Now, four years later, Mexico looks to defend that medal. The current squad featured Houston Dynamo forward  Erick 'Cubo' Torres alongside 17 Liga MX products. Forward Oribe Peralta, defender Jorge Torres Nilo and goalkeeper Alfredo Talavera lead the way as overage players, while talented up-and-comers Hirving Lozano, Marco Bueno and Carlos Salcedo headline a roster loaded with talent.
Once again, Mexico boasts a strong roster, but a group involving Germany, Fiji and South Korea could provide several tests for El Tri going forward.
TRADITIONAL SENIOR POWERS LOOK FOR SUCCESS TO TRANSLATE TO YOUTH LEVEL
Despite all of their successes on the senior level, Colombia, Portugal and Germany have combined to capture just two bronze medals, with no medals coming since 1988. As traditional powers, the trio are always counted among the favorites in most competitions, but the Olympic games have so far been a different story for three of the world's top soccer nations.
All three sides boast rosters with familiar faces. Colombia's attack will be spearheaded by Teo Guttierez and Dorlan Pabon. The Bender twins, Sven and Lars, lead a German roster loaded with prospects like Julian Brandt, Max Meyer and Serge Gnabry. Portugal features Sporting Lisbon regular Andre Marins, as well as Liverpool's Thiago Illori and Udinese's Bruno Fernandes.
Yet, another power enters as a potential favorite for success after previously claiming two of the last four gold medals. Argentina has brought along rising Atletico Madrid playmaker Ángel Correa and veteran defender Victor Cuesta, while featuring a mostly domestic-based roster.
Upsets are always aplenty at any youth tournament, but gold medals tend to go the way of traditional powers. Mexico, Argentina, Cameroon, Nigeria and Spain have combined to win the last six gold medals. Entering Rio, several big nations have navigated a summer filled with Euro 2016 and Copa America games, but the Olympics give those sides one more chance at international glory and a chance to usher in a new generation of stars.