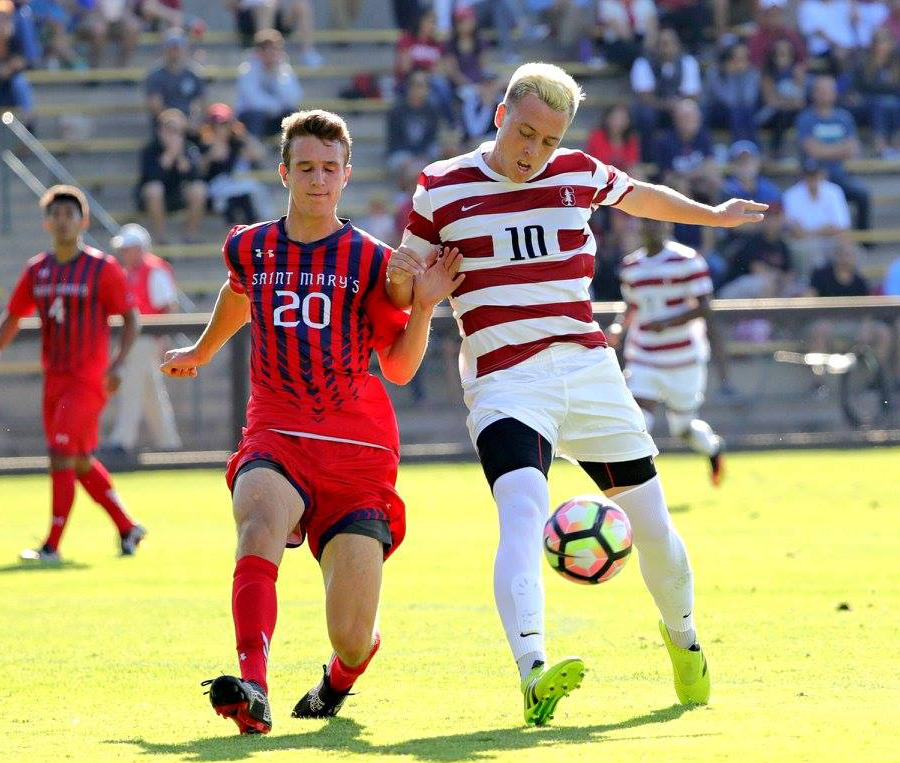 Stanford may not have Jordan Morris anymore, but the defending NCAA champions will have a target on its back nonetheless, and on Sunday, the Cardinal showed the heart of a champion by pulling off the comeback of the weekend.
No. 3 Stanford battled back from a 2-0 deficit, and a red card, to earn a 2-2 draw against St. Mary's (CA). St. Mary's led Stanford 2-0 when the Cardinal's Thomas Hillard-Arce was shown a straight red in the 77th minute. Foster Langsford opened the scoring for Stanford a minute following the red card, and Drew Skundrich equalized three minutes later, helping Stanford maintain a home unbeaten streak that dates back to 2014.
Georgetown, ranked No. 7 to start the season, suffered a second straight loss, falling to West Virginia, 1-0, on Sunday. The 81st minute game-winner by Tucker Stephenson helped give the Mountaineers their first win against a top-10 foe since West Virginia won at No. 8 Indiana in 2013 and the first neutral-site ranked win since 2011 against No. 11 Virginia. The Hoya's are now 0-2 following a pair of 1-0 defeats.
No. 25 Monmouth fell hard to UMass-Lowell at home 3-0. Redshirt-freshman Ivan Abramovic scored his first two career goals and added an assist, as UMass Lowell blanked Monmouth. Abramovic became the first River Hawk to have two goals in a game since Homero Morais netted a pair in a 3-2 win against Stony Brook in 2013. Abramovic is also the first player in the program to record five points in a contest in the Division I era.
SBI No. 5 Syracuse Orange won its second straight New York Classic, beating Loyola following a double overtime goal by Johannes Pieles. The game winner came in the 102nd minute for the Orange's leading goal scorer Pieles.
The other OT winner saw No. 19 UC-Santa Barbara head to Columbus, Ohio and defeat No. 16 Ohio State 1-0 on the back of junior midfielders Kevin Feucht's game winner, three minutes into the extra period.
SBI No. 6 Akron zipped by No. 12 Seattle late, 1-0, in the finale of the Akron Classic. Junior Tyler Sanda sealed the deal for Akron in the 88th minute.
Here is a rundown of the top college results from Sunday and Monday results:
MONDAY RESULTS 
(1) Maryland 5, Hartford 0 (RECAP)
(4) UCLA 1, Cal State Fullerton 0 (RECAP)
(13) SMU 3, Incarnate Word 0 (RECAP)
(17) University of South Florida 1, American University 1 (RECAP)
SUNDAY RESULTS
(2) North Carolina 3, St. Louis 0 (RECAP)
(3) Stanford 2, St. Mary's Cal 2 (RECAP)
(5) Syracuse 2, Loyola 1 (RECAP)
(6) Akron 1, (12) Seattle 0 (RECAP)
(7) Georgetown 0, West Virginia 1 (RECAP)
(8) Wake Forest 2, Cal Poly State 1 (RECAP)
(9) Indiana 3, UC Irvine 1 (RECAP)
(10) Boston College 3, Boston University 2 (RECAP)
(11) Clemson 2, Providence 1 (RECAP)
(22) Rutgers 0, (14) Denver 1 (RECAP)
(15) Notre Dame 1, New Mexico 0 (RECAP)
(16) Ohio State 0, (19) UC Santa Barbara 1 (RECAP)
(21) UConn 2, Nebraska-Omaha 0 (RECAP)
(25) Monmouth 0, UMass-Lowell 3 (RECAP)
Charleston 1, Florida International 3 (RECAP)