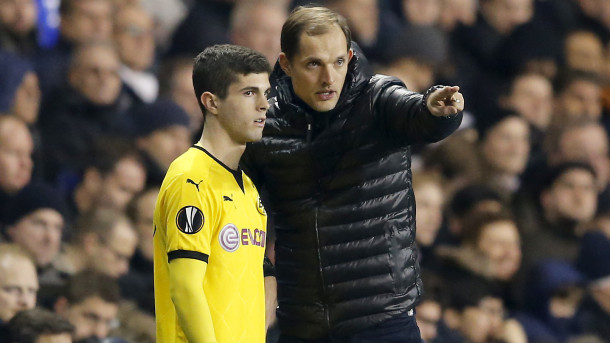 Christian Pulisic has always been ambitious. At 16-years-old, he was off to Germany, pursuing his professional dream with one of the top clubs in the world. At 17, he had cracked the roster, firmly establishing himself on the highest level while earning a call-up to the U.S. Men's National Team for a major tournament.
Now approaching his 18th birthday, Pulisic's ambition reportedly has him considering a move away from Borussia Dortmund, a decision that would be a bit short-sighted for a player that is still far from a finished product.
Reports out of Germany emerged Tuesday stating that Pulisic was thinking over the option of a loan or transfer away from Borussia Dortmund after missing out on the club's SuperCup squad. The report says that Pulisic is in search of more playing time, a privilege that may be a bit scarce following Dortmund's additions of players like Mario Gotze, Andre Schurrle, Emre Mor and Ousmane Dembélé. Entering the Bundesliga season, Pulisic appears to be a bit crowded out, as the club has reinforced across the forward line.
There's nothing wrong with wanting more playing time. Pulisic has obviously gotten a taste of top-level soccer, and no one can blame him from wanting more and more. Following a two-goal Bundesliga campaign and a series Copa America appearances against elite national teams, Pulisic has seen the next level and clearly wants the chance to take the next step as a player.
However, even for prospects with futures as bright as Pulisic's, there is a case of too much, too soon. No matter how talented he is, he remains just short of his 18th birthday, still a newcomer to the professional game. There are few that would know that better than Dortmund boss Thomas Tuchel, a manager who certainly has a plan in mind when it comes to Pulisic's development. Managers don't just forget about talented players when new ones come in, especially at a club like Borussia Dortmund. Throughout the past decade or so, German clubs have been among the best out there at managing young talent, and they have a World Cup to show for it.
At his age, Pulisic cannot expect to be playing 30 games in the Bundesliga. He is still maturing physically and is not yet prepared to compete at that level every week. Luckily, Dortmund has no shortage of matches, as cup ties, Champions League and Bundesliga matchdays will combine to present Pulisic with several opportunities to earn minutes.
Even if this season produces fewer experiences than last, that's okay. There are few players around the world making regular contributions at the age of 18, especially at one of the best clubs in one of the world's best leagues. Each day, Pulisic is given an opportunity to learn from players like Marco Reus, Gotze and Schurrle, each of whom has won several trophies at the top level of world soccer. That opportunity cannot be understated and, at his age, it is one Pulisic should embrace even if it means some time away from the limelight. It would do Pulisic plenty of good to have a steady diet of first-team training, as well as reserve team matches, with several senior appearances sprinkled in.
There are some drawbacks to that plan, though. Pulisic may fall a bit behind in the USMNT pecking order, as players like Julian Green and Lynden Gooch further themselves with their respective teams. Yet, both are older and have paid their dues with years of youth team build up, something Pulisic should not be ashamed to experience this year if Dortmund decides that is how to handle him this season.
Dortmund clearly has a plan for Pulisic, one that will see the club do what they think will maximize his development. It may not be what Pulisic wants right now, especially after last year's experiences, but that doesn't mean it's time for him to leave the club that helped him already achieve so much at such a young age.