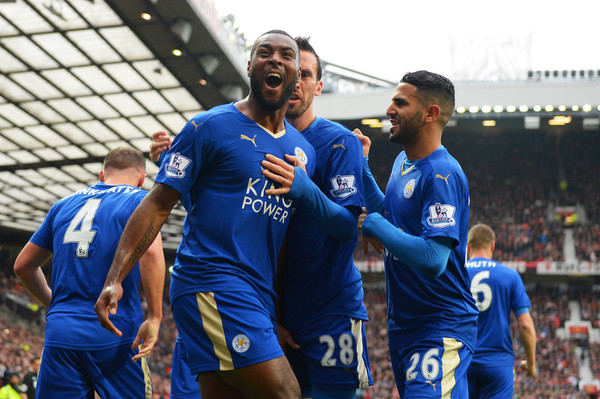 A new season of the English Premier League begins this weekend.
Reigning champions Leicester City will open their title defense at Hull City on Saturday as Claudio Ranieri and Co. look to bounce back from the FA Community Shield loss to Manchester United last weekend.
As for United, they will travel to Bournemouth to kick off their first league campaign under Jose Mourinho. The Red Devils look to get off to a fast start this season after finishing outside the top three in each of the previous three seasons.
Elsewhere, Paris Saint-Germain will take on Bastia as four-time Ligue 1 champions while Bayern Munich and Borussia Dortmund will battle for the German Supercup. Barcelona and Sevilla will also compete for the Spanish Supercopa in preparation for another La Liga season beginning next week.
In Rio de Janeiro, both men and women's Olympics tournaments carry on, with the U.S. Women's National Team taking on Sweden on Friday in a quarterfinals tilt.
Stateside, MLS will see conference leaguers New York City FC and FC Dallas take on Columbus Crew and Sporting Kansas City, respectively, on Saturday.
Here is a rundown of all the soccer action on TV this weekend, with all times Eastern:
FRIDAY
MAJOR LEAGUE SOCCER
11 p.m. — UniMás/Univision Deportes/MLS Live — Vancouver Whitecaps vs. San Jose Earthquakes
FRENCH LIGUE 1
2 p.m. — beIN Sports USA/beIN Sports en Español/beIN Sports Connect — Bastia vs. Paris Saint-Germain
WOMEN'S OLYMPICS
Noon — NBCSN/NBC Sports Live Extra/NBCOlympics.com — United States vs. Sweden
3 p.m. — NBC Sports Live Extra/NBCOlympics.com — China vs. Germany
6 p.m. — NBC Sports Live Extra/NBCOlympics.com — Canada vs. France
9 p.m. — NBCSN/NBC Sports Live Extra/NBCOlympics.com — Brazil vs. Australia
MEXICA LIGA MX
10 p.m. — Azteca America — Tijuana vs. Club León
PORTUGUESE PRIMEIRA LIGA
3:30 p.m. — Univision Deportes — Rio Ave vs. FC Porto
SATURDAY
MAJOR LEAGUE SOCCER
7 p.m. — MLS Live/MLS Direct Kick — D.C. United vs. Portland Timbers
7 p.m. — MSG/One World Sports/MLS Live/MLS Direct Kick — New York Red Bulls vs. Montreal Impact
7:30 p.m. — YES Network/CW Columbus/MLS Live/MLS Direct Kick — Columbus Crew vs. New York City FC
7:30 p.m. — CSN New England/TCN Philadelphia/MLS Live/MLS Direct Kick — New England Revolution vs. Philadelphia Union
9 p.m. — MLS Live/MLS Direct Kick — Houston Dynamo vs. Toronto FC
9 p.m. — KTXA Dallas/KMCI-38 Kansas/MLS Live/MLS Direct Kick — FC Dallas vs. Sporting Kansas City
10:30 p.m. — TWCSN/Altitude Sports/MLS Live/MLS Direct Kick — LA Galaxy vs. Colorado Rapids
ENGLISH PREMIER LEAGUE
7:30 a.m. — CNBC/NBC Sports Live Extra/NBC Universo — Hull City vs. Leicester City
10 a.m. — NBC Sports Live Extra — Burnley vs. Swansea City
10 a.m. — NBC Sports Live Extra — Crystal Palace vs. West Bromwich Albion
10 a.m. — CNBC/NBC Sports Live Extra — Everton vs. Tottenham
10 a.m. — NBC Sports Live Extra — Middlesbrough vs. Stoke City
10 a.m. — NBC Sports Live Extra — Southampton vs. Watford
12:30 p.m. — CNBC/NBC Sports Live Extra — Manchester City vs. Sunderland
MEN'S OLYMPICS
Noon — NBCSN/NBC Sports Live Extra/NBCOlympics.com — Portugal vs. Germany
3 p.m. — NBCSN/NBC Sports Live Extra/NBCOlympics.com — Nigeria vs. Denmark
6 p.m. — NBC Sports Live Extra/NBCOlympics.com — Korea Republic vs. Honduras
9 p.m. — NBCSN/NBC Sports Live Extra/NBCOlympics.com — Brazil vs. Colombia
INTERNATIONAL CHAMPIONS CUP
2 p.m. — ESPN2/WatchESPN/ESPN Deportes — Inter vs. Celtic
FRENCH LIGUE 1
11 a.m. — beIN Sports Connect — Bordeaux vs. Saint-Étienne
2 p.m. — beIN Sports Connect — Montpellier vs. Angers
2 p.m. — beIN Sports USA/beIN Sports en Español/beIN Sports Connect — Dijon vs. Nantes
ENGLISH LEAGUE CHAMPIONSHIP
10 a.m. — beIN Sports USA/beIN Sports en Español/beIN Sports Connect — Wigan Athletic vs. Blackburn Rovers
12:30 p.m. — beIN Sports USA/beIN Sports en Español/beIN Sports Connect — Norwich City vs. Sheffield Wednesday
MEXICAN LIGA MX
6 p.m. — Univision Deportes — Querétaro vs. Cruz Azul
8 p.m. — Univision/Univision Deportes — Monterrey vs. Necaxa
10 p.m. — Univision/Univision Deportes — Club América vs. Morelia
NASL
5 p.m. — ESPN3/NASL Live — Ottawa Fury vs. Jacksonville Armada
7 p.m. — One World Sports/NASL Live — New York Cosmos vs. Tampa Bay Rowdies
7:30 p.m. — beIN Sports USA/beIN Sports Connect/TWCSN/NASL Live — Carolina RailHawks vs. Puerto Rico
7:30 p.m. — ESPN3/NASL Live — Indy Eleven vs. Rayo OKC
8 p.m. — ESPN3/NASL Live — Miami FC vs. Fort Lauderdale Strikers
DUTCH EREDIVISIE
1:45 p.m. — Univision Deportes — Ajax vs. Roda JC
SCOTTISH PREMIER LEAGUE
7:15 a.m. — Fox Soccer Plus/Fox Soccer 2Go — Dundee vs. Rangers
SUNDAY
MAJOR LEAGUE SOCCER
4 p.m. — UniMás/Univision Deportes/ESPN3/MLS Live — Chicago Fire vs. Orlando City SC
7 p.m. — Fox Sports 1/Fox Deportes/Fox Sports Go/Fox Soccer 2Go/MLS Live — Seattle Sounders vs. Real Salt Lake
ENGLISH PREMIER LEAGUE
8:30 a.m. — NBCSN/NBC Sports Live Extra/NBC Universo — Bournemouth vs. Manchester United
11 a.m. — NBCSN/NBC Sports Live Extra — Arsenal vs. Liverpool
NASL
4 p.m. — ESPN3/NASL Live — FC Edmonton vs. Minnesota United
FRENCH LIGUE 1
9 a.m. — beIN Sports USA/beIN Sports en Español/beIN Sports Connect — Nancy vs. Lyon
11 a.m. — beIN Sports USA/beIN Sports Connect — Nice vs. Rennes
2:45 p.m. — beIN Sports USA/beIN Sports en Español/beIN Sports Connect — Marseille vs. Toulouse
SPANISH SUPERCOPA
4 p.m. — ESPN/ESPN Deportes/WatchESPN — Sevilla vs. Barcelona
GERMAN SUPERCUP
2:30 p.m. — Fox Sports 1/Fox Sports Go/Fox Deportes/Fox Soccer 2Go — Bayern Munich vs. Borussia Dortmund
MEXICAN LIGA MX
1 p.m. — Univision/Univision Deportes — Toluca vs. Tigres UANL
7 p.m. — Univision Deportes — Santos Laguna vs. Guadalajara
DUTCH EREDIVISIE
10:45 a.m. — Univision Deportes — PSV Eindhoven vs. AZ Alkmaar