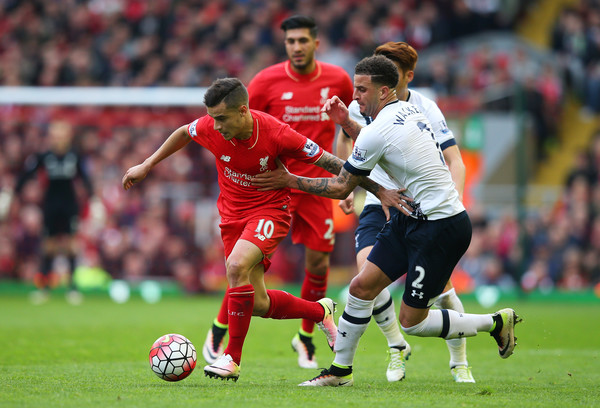 Few teams have given Tottenham as much headache as Liverpool had in recent years and Spurs look to put an end to that dry spell this weekend.
Winless in its previous seven English Premier League games against Liverpool, Tottenham will play host to the Reds for an early Saturday fixture. Harry Kane, who was the league Golden Boot winner last year, has yet to get on the scoresheet after two weeks this season, but he will be looking to tally his 50th Premier League goal to help his side emerge victorious this weekend.
Manchester United, on the other hand, will visit Hull City looking to extend its great start under Jose Mourinho. Manchester City hopes to keep pace when it takes on West Ham United on Sunday.
Elsewhere, Bayern Munich will begin its fifth consecutive season as reigning German Bundesliga champions when it goes up against Werder Bremen in the league opener on Friday afternoon. Borussia Dortmund, meanwhile, will host Mainz 05 on Saturday.
In the states, Toronto FC — fresh off a win over Orlando City on Wednesday to go atop the Eastern Conference — looks to hold onto that lead when it faces the Montreal Impact. And speaking of Orlando City, head coach Jason Kreis will welcome his former club, New York City FC, to the Citrus Bowl on Sunday night to cap the weekend action.
Here is a rundown of all the soccer fixtures this weekend, with all times Eastern:
FRIDAY
MAJOR LEAGUE SOCCER
8 p.m. — UniMás/Univision Deportes/MLS Live — Real Salt Lake vs. Colorado Rapids
SPANISH LA LIGA
2:45 p.m. — beIN Sports en Español/beIN Sports Connect — Real Betis vs. Deportivo La Coruña
4 p.m. — beIN Sports en Español/beIN Sports Connect — Espanyol vs. Málaga
GERMAN BUNDESLIGA
2:30 p.m. — Fox Sports 1/Fox Sports Go/Fox Soccer 2Go — Bayern Munich vs. Werder Bremen
ENGLISH LEAGUE CHAMPIONSHIP
2:45 p.m. — beIN Sports USA/beIN Sports Connect — Burton Albion vs. Derby County
MEXICAN LIGA MX
10 p.m. — Azteca America — Tijuana vs. Pumas UNAM
NCAA MEN
7 p.m. — ESPN3 — UNC Greensboro vs Jacksonville
7 p.m. — ESPN3 — Dayton vs. Cleveland State
7 p.m. — ESPN3 — Eastern Illinois vs. Nortern Kentucky
7 p.m. — ESPN3 — Denver vs. Monmouth
9:30 p.m. — ESPN3 — Green Bay vs. Missouri State
NCAA WOMEN
7 p.m. — ESPN3 — Arkansas-Little Rock vs. Missouri State.
7 p.m. — ESPN3 — Akron vs. Indiana State
7 p.m. — ESPN3 — Kansas State vs. Oakland
7 p.m. — ESPN3 — North Carolina vs. Florida Gulf Coast
8 p.m. — ESPN3 — Cincinnati vs. Evansville
8:30 p.m. — ESPN3 — New Mexico State vs. Valparaiso
SCOTTISH PREMIER LEAGUE
2:45 p.m. — Fox Soccer 2Go/Fox Soccer Plus — Kilmarnock vs. Rangers
SATURDAY
MAJOR LEAGUE SOCCER
7 p.m. — TCN Philadelphia/KMCI-38 Kansas/MLS Live/MLS Direct Kick — Philadelphia Union vs. Sporting Kansas City
7 p.m. — CSN Plus/MLS Live/MLS Direct Kick — D.C. United vs. Chicago Fire
7:30 p.m. — MLS Live/MLS Direct Kick — Toronto FC vs. Montreal Impact
7:30 p.m. — CW Columbus/TWCSC Ohio/CSN Plus/MLS Live/MLS Direct Kick — Columbus Crew vs. San Jose Earthquakes
9 p.m. — TWCSC Texas/MLS Live/MLS Direct Kick — Houston Dynamo vs. FC Dallas
10:30 p.m. — TWCSN/MLS Live/MLS Direct Kick — LA Galaxy vs. Vancouver Whitecaps
ENGLISH PREMIER LEAGUE
7:30 a.m. — NBCSN/NBC Sports Live Extra/NBC Universo/Telemundo Deportes en Vivo — Tottenham vs. Liverpool
10 a.m. — NBCSN/NBC Sports Live Extra/NBC Universo/Telemundo Deportes en Vivo — Chelsea vs. Burnley
10 a.m. — NBC Sports Live Extra — Crystal Palace vs. Bournemouth
10 a.m. — NBC Sports Live Extra — Everton vs. Stoke City
10 a.m. — NBC Sports Live Extra — Leicester City vs. Swansea City
10 a.m. — NBC Sports Live Extra — Southampton vs. Sunderland
10 a.m. — NBC Sports Live Extra — Watford vs. Arsenal
12:30 p.m. — NBC/NBC Sports Live Extra/NBC Universo/Telemundo Deportes en Vivo — Hull City vs. Manchester United
SPANISH LA LIGA
12:15 p.m. — beIN Sports en Español — Osasuna vs. Real Sociedad
12:15 p.m. — beIN Sports en Español/beIN Sports Connect — Eibar vs. Valencia
2:15 p.m. — beIN Sports USA/beIN Sports en Español — Real Madrid vs. Celta de Vigo
4:15 p.m. — beIN Sports USA/beIN Sports en Español — Leganés vs. Atlético Madrid
ITALIAN SERIE A
Noon — beIN Sports USA/beIN Sports Connect/RAI International — Lazio vs. Juventus
2:45 p.m. — RAI International — Napoli vs. Milan
GERMAN BUNDESLIGA
9:30 a.m. — Fox Sports 2/Fox Sports Go/Fox Soccer 2Go — Borussia Dortmund vs. Mainz 05
9:30 a.m. — Fox Soccer 2Go — Cologne vs. Darmstadt 98
9:30 a.m. — Fox Soccer 2Go/Fox Soccer Plus — Hamburg vs. FC Ingolstadt
9:30 a.m. — Fox Soccer 2Go — FC Augsburg vs. VfL Wolfsburg
9:30 a.m. — Fox Deportes/Fox Soccer 2Go — Eintracht Frankfurt vs. Schalke 04
12:30 p.m. — Fox/Fox Deportes/Fox Soccer 2Go — Borussia Mönchengladbach vs. Bayer Leverkusen
MEXICAN LIGA MX
6 p.m. — Univision Deportes — Querétaro vs. Necaxa
8 p.m. — Azteca America — Atlas vs. Cruz Azul
8 p.m. — Univision — Tigres UANL vs. Veracruz
10 p.m. — Univision/Univision Deportes — Club América vs. Guadalajara
NASL
7 p.m. — One World Sports/NASL Live/TWCSN — New York Cosmos vs. Carolina RailHawks
7:30 p.m. — beIN Sports USA/beIN Sports Connect/NASL Live — Tampa Bay Rowdies vs. Rayo OKC
8 p.m. — WatchESPN/ESPN3/NASL Live — Miami FC vs. Minnesota United
NCAA WOMEN
1 p.m. — ESPN3 — Eastern Kentucky vs. Virginia Military Institute
PORTUGUESE PRIMEIRA LIGA
3:30 p.m. — Univision Deportes — Nacional vs. Benfica
ENGLISH LEAGUE CHAMPIONSHIP
10 a.m. — beIN Sports USA/beIN Sports Connect — Cardiff City vs. Reading
SUNDAY
MAJOR LEAGUE SOCCER
2:30 p.m. — ESPN/WatchESPN/ESPN Deportes — New York Red Bulls vs. New England Revolution
5 p.m. — ESPN/WatchESPN/ESPN Deportes — Portland Timbers vs. Seattle Sounders
7 p.m. — Fox Sports 1/Fox Soccer 2Go/Fox Deportes/Fox Soccer 2Go — Orlando City SC vs. New York City FC
ENGLISH PREMIER LEAGUE
8:30 a.m. — CNBC/NBC Sports Live Extra — West Bromwich Albion vs. Middlesbrough
11 a.m. — NBCSN/NBC Sports Live Extra/Telemundo/Telemundo Deportes en Vivo — Manchester City vs. West Ham United
SPANISH LA LIGA
12:15 p.m. — beIN Sports en Español — Las Palmas vs. Granada
12:15 p.m. — beIN Sports en Español/beIN Sports Connect — Deportivo Alavés vs. Sporting Gijón
2:15 p.m. — beIN Sports USA/beIN Sports en Español/beIN Sports Connect — Athletic Bilbao vs. Barcelona
4:15 p.m. — beIN Sports en Español/beIN Sports Connect — Villarreal vs. Sevilla
ITALIAN SERIE A
Noon — beIN Sports USA/beIN Sports Connect — Inter vs. Palermo
GERMAN BUNDESLIGA
9:30 a.m. — Fox Sports 1/Fox Sports Go/Fox Deportes/Fox Soccer 2Go — Hertha Berlin vs. Freiburg
11:30 a.m. — Fox Sports 2/Fox Sports Go/Fox Soccer 2Go — Hoffenheim vs. RB Leipzig
FRENCH LIGUE 1
2:45 p.m. — beIN Sports USA/beIN Sports Connect — AS Monaco vs. Paris Saint-Germain
MEXICAN LIGA MX
1 p.m. — Univision/UnivisionDeportes — Toluca vs. Morelia
7 p.m. — Univision Deportes — Santos Laguna vs. Club León
NASL
2 p.m. — ESPN3/NASL Live — Ottawa Fury vs. Indy Eleven
4 p.m. — ESPN3/NASL Live — FC Edmonton vs. Puerto Rico
NCAA MEN
Noon — ACC Network — San Diego State vs. Elon
2 p.m. — ACC Network — New Mexico vs. Notre Dame
2:30 p.m. — ACC Network — UNC-Asheville vs. Duke
6:30 p.m. — ACC Network — Providence vs. Clemson
7 p.m. — ACC Network — Howard vs. Pittsburgh
7:30 p.m. — ACC Network — Saint Louis vs. North Carolina
NCAA WOMEN
Noon — ESPN3 — Southeast Missouri State vs. Milwaukee
Noon — Longhorn Network — Sam Houston State vs. College of Charleston
1 p.m. — ESPN3 — IUPUI vs. Indiana State
1 p.m. — SEC Network + — Cal State Fullerton vs. Georgia
1 p.m. — ACC Network — Xavier vs. Pittsburgh
1 p.m. — ACC Network — Navy vs. North Carolina State
1 p.m. — SEC Network + — Northwestern vs. Kentucky
2 p.m. — ESPN3 — Eastern Illinois vs. Illinois State
2 p.m. — ESPN3 — Bucknell vs. Wright State
2 p.m. — SEC Network + — Tennessee-Martin vs. Mississippi State
2 p.m. — ACC Network — Elon vs. Clemson
3 p.m. — Longhorn Network — Detroit vs. Texas
3 p.m. — SEC Network + — Jackson State vs. Vanderbilt
3 p.m. — ACC Network — Toledo vs. Louisville
5 p.m. — ACC Network — Western Michigan vs. Notre Dame
7 p.m. — ESPN3 — Morehead State vs. Northern Kentucky
7 p.m. — ESPNU — Villanova vs. Princeton
7 p.m. — SEC Network + — Tulsa vs. Texas A&M
7 p.m. — SEC Network + — Lipscomb vs. Ole Miss
7 p.m. — ACC Network — Coastal Carolina vs. Duke
8 p.m. — SEC Network + — Colorado vs. Missouri