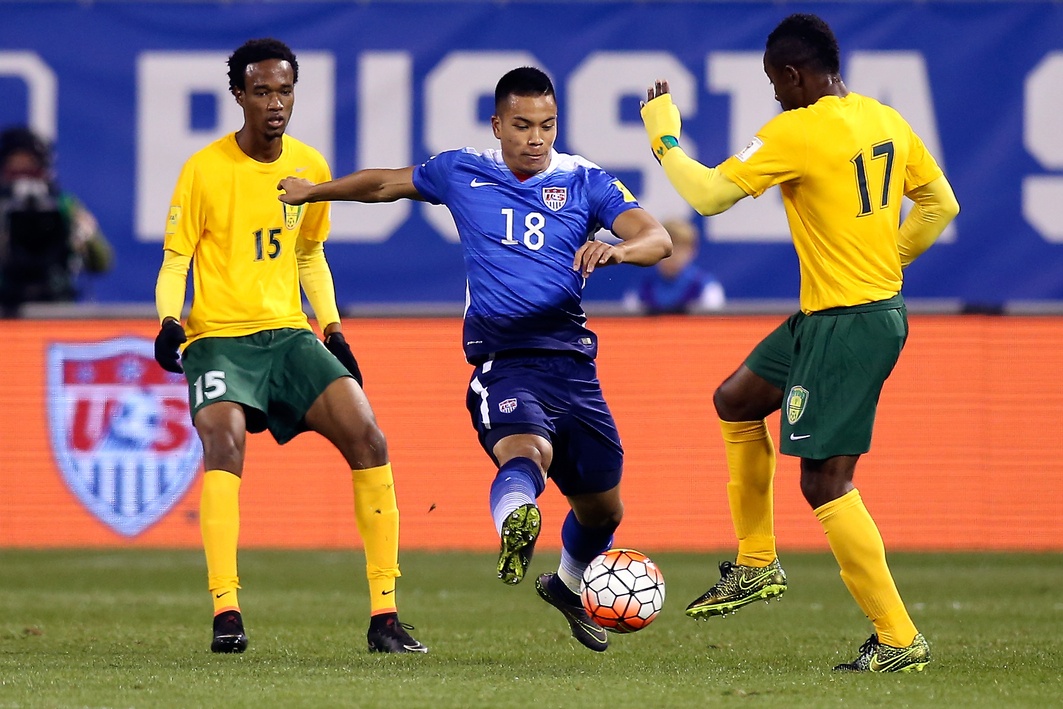 When it comes to World Cup qualifying, each and every match presents a unique set of challenges. On paper, St. Vincent & The Grenadines may not be a team that can challenge the U.S. Men's National Team with the talent that makes up their roster, but Friday's must-win clash provides difficulties all the same.
Heading into Friday's penultimate clash ahead of the Hexagonal round, the USMNT holds its fate in its own hands. Currently second in the group, two wins would seal a spot in the next stage, while anything less would open the door for a shock elimination. A USMNT win could be just enough if Trinidad & Tobago can earn all three points against Guatemala.
Still, the USMNT is not looking past a St. Vincent & the Grenadines team currently ranked 156th in the world. Friday's clash will be held at Arnos Vale Stadium in Kingstown, a venue better known for hosting cricket than international soccer. USMNT midfielder Alejandro Bedoya says he has never been to a cricket stadium, let alone played on one, while admitting that the USMNT must battle the weather, field conditions and the opposition of they are to return home with a successful haul of three points.
"It's always tougher than it is on paper," Bedoya said. "The conditions aren't favorable. It's a lot hotter down there. I think we can't play under lights there because of the situation with the stadium. For various reasons, it's always tough, not easy, to go down there and play the way to play. We're doing everything we can. We have everything to play for and we need nothing but a good result to keep us going."
Venue and conditions nonwithstanding, the USMNT knows full well that St. Vincent & The Grenadines can go out and get a goal, because it already happened this qualifying cycle.
When the two sides met last November early in the qualifying round, Seattle Sounders forward Oalex Anderson stunned the St. Louis crowd by firing his side ahead in the fifth minute. The lead lasted just five minutes before the USMNT onslaught began, but even in a 6-1 loss, the small Caribbean nation showed they can be a threat against the best the U.S. has to offer.
Of the five different goalscorers from that match, only Gyasi Zardes will be unavailble on Friday as the LA Galaxy star recovers from a reported broken foot. The man charged with captaining the U.S., Jozy Altidore, bagged a brace on that November night, while Bobby Wood, Fabian Johnson and Geoff Cameron all provided goals in what turned out to be a lopsided win featuring an early scare.
"You have to get off to a good start," Bedoya said. "They were able to score first and everyone was like 'Oh my God, panic', but it's important for us to get out on the field and, from the first minute, compose ourselves and not take anything for granted. It's important for us to be mentally and physically prepared and to be up for the challenge and to get a result."
If the USMNT can get that result, next Tuesday's clash with T&T will be a big one no matter what's at stake. If Honduras toppled T&T to set the USMNT up with a must-win game, Jurgen Klinsmann's side will need to be on their toes against one of CONCACAF's most athletic and physically imposing teams. If the group is wrapped up, the U.S. will have the chance to throw youngsters like Rubio Rubin, Caleb Stanko and Paul Arriola into big-game action against a legitimate international opponent.
But before they can get to the bigger fish in CONCACAF play, they must first prove they can handle the minnow that is St. Vincent & the Grenadines.
"We have everything to play for. We're extremely focused," Matt Besler said. "We're not taking anyone or anything lightly. It's a group that's very determined. We're going to get to work here for a couple days and fly down and hopefully get the job done. Then, we can come home and hopefully prepare for the next one.
"We know that the Hex is the next step, but you can't look forward. We have two games left in this qualification stage and we have everything to play for."