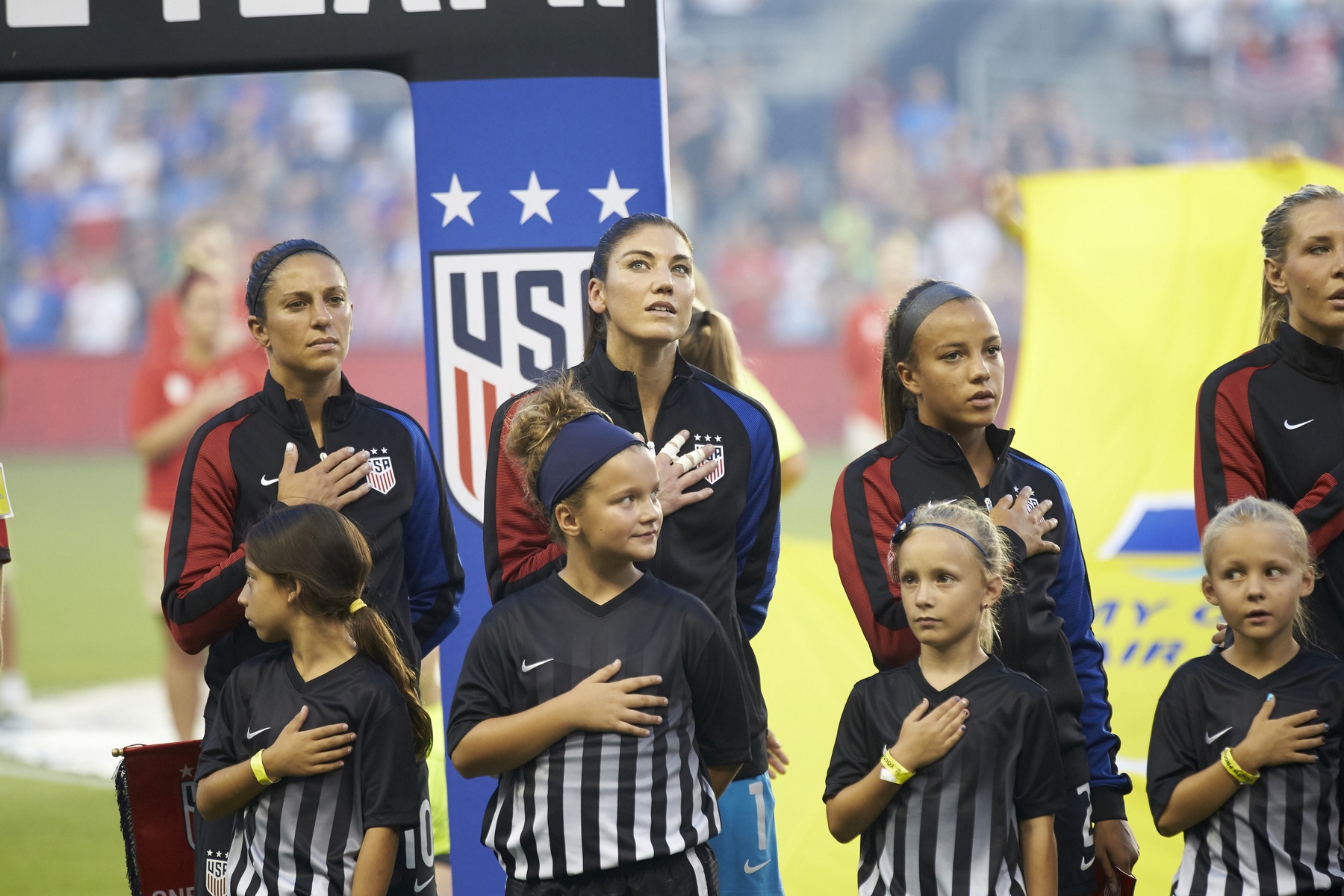 The U.S. Women's National Team is a group that tends to have the spotlight fixed upon them, especially when it comes to Olympic soccer. It's only natural, given the team's successes. With three straight gold medals and four of the first five, the USWNT has proven dominant since the women's game was added to the Summer slate in 1996, but with a mix of old and new faces, the 2016 tournament run presents a new series of challenges.
When assessing the USWNT roster, it's easy to see the stars. Carli Lloyd, Hope Solo and Alex Morgan return to lead the way, veterans who have each been a part of multiple tournament titles throughout their illustrious careers. But gone are stars like Abby Wambach and Christie Rampone, players who carried the torch for years as the USWNT enjoyed an era of dominance.
It's too soon to say anything has truly changed. Since last year's Women's World Cup title, the dominance has continued. And now, heading into this summer's major tournament, the pressure is on the USWNT squad once again, starting with Wednesday's tournament-opening clash with New Zealand. Matches against strong French and Colombian teams soon follow, and while the USWNT is certainly seen as favorites once again, the talent level that stands in their way will provide a significant test.
"I think we're always feeling the pressure of performing, of coming back with gold," Lloyd said. "It's just in our DNA. I think, even if we hadn't won the World Cup, we'd still be under tremendous pressure to win. It just comes with the territory. It comes with being the No.1 team in the world and going for a fourth consecutive gold medal. It's all part of it. I'm super excited to get started. This team has a lot of talent and depth and we have an opportunity to really create history."
"I think that we have become used to it. We go into most tournaments expecting that of ourselves," added defender Kelley O'Hara. "Not only does the outside world expect us to win, but that's our expectation. Every time we go into a tournament or a game, whether it's a friendly or in tournament play, we want to win. It's just the status quo."
While the Wambachs and Rampones of the world will not lead the USWNT into Rio, several young faces will begin to forge their USWNT legacy at their first Olympic tournament. With it, they'll bring something the USWNT hasn't featured for quite sometime: an infusion of youth and pace that could give teams fits in the warm climes of Brazil.
Of the 18-player roster, the USWNT sees 11 players bound for their first Olympics, making the upcoming tournament a new experience for many of those involved. While seven of those newcomers won the Women's World Cup last summer, the Olympics present a whole new aura given the magnitude of the event as a whole. From the opening ceremony to hustle and bustle of Rio, the USWNT will have most of its roster experience the Olympics for the very first time.
Meanwhile, Allie Long, Lindsey Horan, Crystal Dunn and Mallory Pugh enter as major tournament newcomers. At just 18-years-old, Pugh  is the second youngest Olympian in USWNT history, while Long has earned just nine caps entering this summer's competition.
Up top, Pugh and Dunn join veterans Alex Morgan and Christen Press to create the team's forward group. Sydney Leroux and Amy Rodriguez are both sitting out the upcoming games as they look to start a family, paving the way for new faces to emerge to lead the forward line.
"We've had some gigantic losses, some players that have been around the game for quite some time. They're irreplaceable really, but we have a new team," Solo said. "We will never have the same players that we had previously at the World Cup, but we have something different. I don't think anyone has seen the U.S. team as we are now. It's different. Nobody knows what to expect from the younger players, our new talent, our formation, how the new players play well together. It's exciting because we've never seen an American team play this style of soccer."
However, make no mistake, the USWNT will rely on the team's biggest stars. Lloyd remains arguably the world's best player, while Solo is still counted among the best in goal. A defense featuring Becky Sauerbrunn and Julie Johnston will always be rock-solid.
Meanwhile, Megan Rapinoe is waiting in the wings, battling back from an ACL tear that nearly robbed her of another Olympic appearance. Rapinoe may not be a 90-minute player at any point in the tournament, but head coach Jill Ellis could certainly use her creativity on the ball sporadically throughout the tournament.
With that being said, even without Rapinoe, the USWNT is filled with big-game players, players that have played under pressure before and, ultimately, emerged victorious. The Olympics provide a new test, but one that could see the USWNT create further history should they stand tall once again.
"I think that we as a team acknowledge the pressure," Solo said. "We know that the target is on our backs. We've been No.1 for quite some time. We won last year's World Cup, we won the last Olympics. It doesn't make it easy. We don't come into any tournament with an extreme amount of confidence or arrogance. We know that the job is going to be very difficult to repeat a gold medal. We know that the host country has an incredible team. We have to get through Germany, we have to get through France. I think the way we deal with the pressure is knowing that it's not going to be an easy tournament. "
"I think you create your own luck. I don't think there's luck. It's called preparation, being prepared," Lloyd added. "It's focusing and being in the right mindset, but there's nothing better than showing up big in the big moments. This is what it's all about. We spent four years waiting for this moment and here we are. We hopefully have six games in a span of sixteen games and we're ready to go after it. You don't just have luck; you create your own luck.