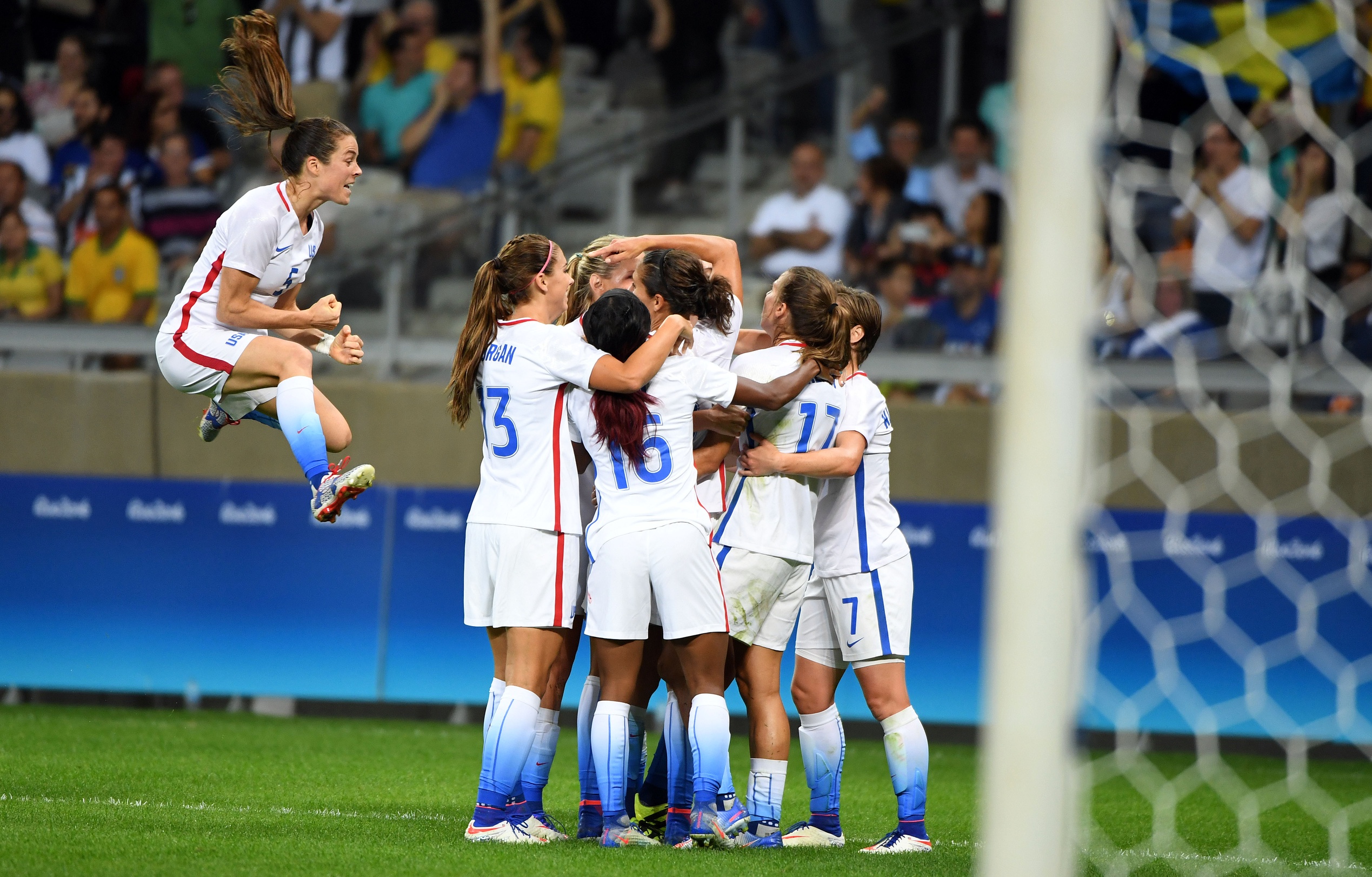 In many ways, the U.S. Women's National Team has completed phase one. A spot in the Olympic knockout stage has been sealed ahead of a third and final group stage match against Colombia. However, there is still plenty on the line for a U.S. team that is determined to finish the group stage in the best way possible.
A win or a draw on Thursday would seal a group win for the USWNT, who booked their spot in the quarterfinals on Saturday with a narrow 1-0 victory over France. Regardless of result, the USWNT will advance to knockout soccer, but there is work left to be done if the three-time reigning gold medal winners want to end their group stage experience on the highest of notes.
Should they slip, a gauntlet awaits heading into the knockout round. A second place finish will likely lock up a date with either Germany or Canada, making the top spot in the group invaluable heading into Thursday's finale.
"We're going to have to make sure we focus extra hard on our recovery," said midfielder Tobin Heath, who shined in the win over France. "This third game, it matters. Even though we're sitting on top of this group, we still have to make sure we seal the deal and complete what we came here to do."
"We're not going to take out foot off the pedal," added Becky Sauerbrunn. "We want to win every single game game at this Olympics."
Having sealed a spot in the knockout rounds, Jill Ellis could very well look to experiment a bit while giving some key players a bit of a rest. The Olympic schedule is grueling, as the USWNT will be playing their third game in six days when they take the field on Tuesday with a quarterfinal clash set for Friday afternoon. After playing the team's first two matches in Belo Horizante, the U.S. will also be contending with travel for the first time as they take the field Tuesday in a warm, humid Manaus.
With that said, Ellis could do well to shuffle the team a bit. Heath and Carli Lloyd have been far and away the USWNT's best outfield players thus far, but the two have played the full 90 minutes in each of the USWNT's first two matches. Sauerbrunn, Kelley O'Hara and Allie Long have also logged 180 minutes apiece, making a rugged Manaus climate a perfect place for some rest.
The USWNT has options and young legs, although choices are a bit limited due to the 18-player roster. Ellis could turn to Crystal Dunn and Mallory Pugh to lead the line should Alex Morgan be given a night off, although the latter was nursing an ankle injury last time out. Julie Johnston could also likely use another night off after missing the France match due to groin soreness. Megan Rapinoe is also unlikely to play a major part as she pushes for a return from an ACL tear.
Luckily for the USWNT, a struggling Colombia awaits, even if the South American side has traditionally been a challenge. The two sides have faced off at each of the previous four major tournaments, as well as a pair of April friendlies that saw the USWNT run away a pair of wins by a combined 10-0 scoreline. Two straight Olympic losses have left Colombia reeling, but the USWNT knows very well that Colombia has provided challenges in the past.
"Every step of the way is a new journey for us. Each new city, each new stadium, each new opponent," said goalkeeper Hope Solo. "We did play Colombia recently, but I would expect a different team right now. They've been struggling in some areas, but every time they've played against us they've been very game."
Heath added that Colombia is an opponent that can be very tricky. Forward Lady Andrade always seems to be a handful for a young Colombia team with just one player in their 30s.
For the USWNT, the time is now, though, and Colombia presents the latest obstacle on the path to a gold medal. In some ways, Tuesday's match is not as meaningful as the two that came prior, but in others, it is a game that could make all the difference heading into the knockout rounds.
"I'm not happy until we're standing on top of the podium," Lloyd said. "Now, we just have to focus on this next one, it's a big one, get the result and then move onto the next one. We'll go out with our own simple gameplan as we normally do and be ready to go.
"The ultimate goal is standing on top of the podium, we all know that," she added. "We can't think about that all the time. We have to focus one game at a time, one day at a time. With that comes responsibility from everyone. We can't overlook any team, any situation. I think the best is yet to come from this team."