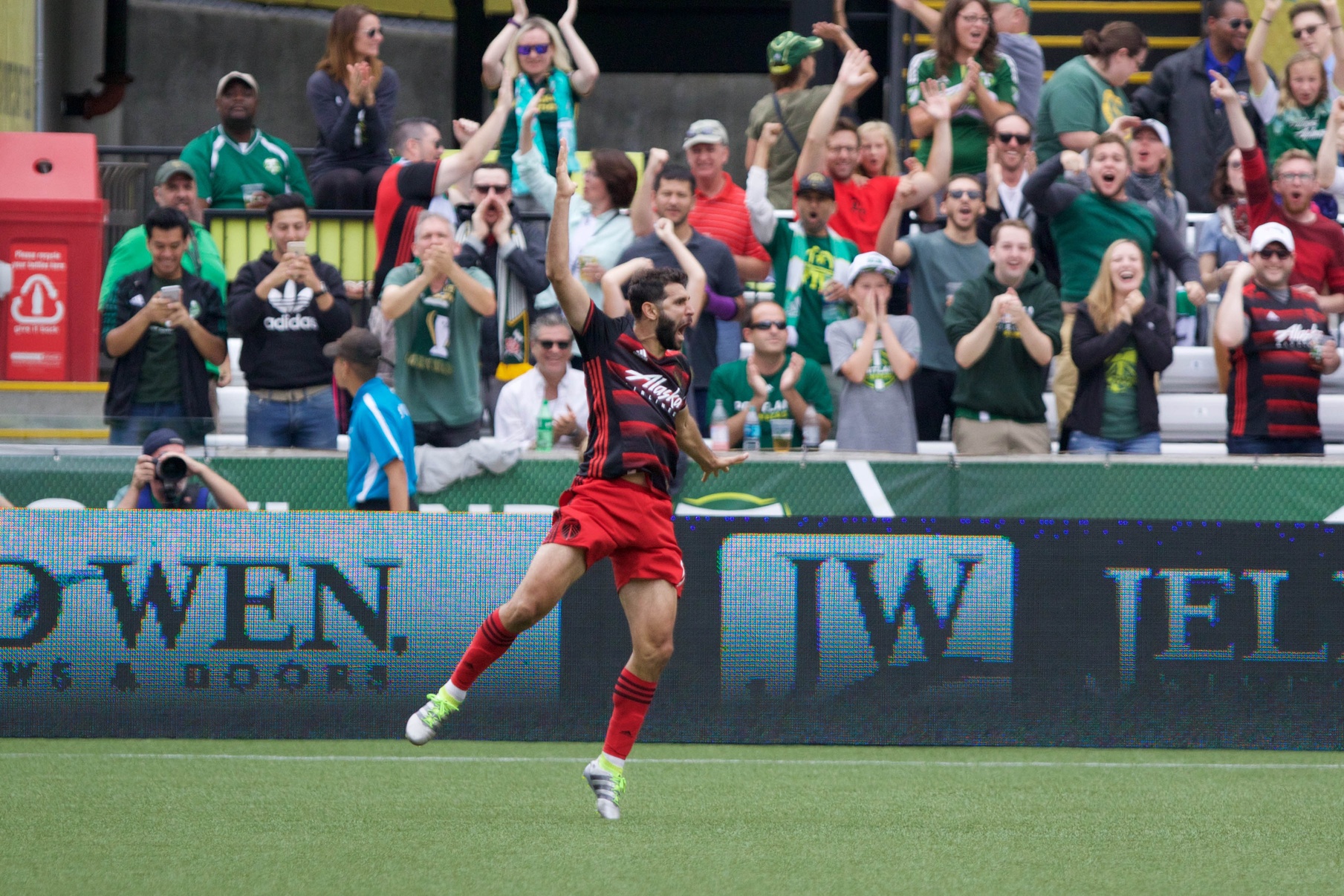 In what turned out to be a rough and rugged contest, a moment of beauty changed the game in Sunday's clash between the Portland Timbers and Sporting Kansas City.
A Diego Valeri half-volley kick-started a dominant second half for the Timbers, who toppled Sporting KC, 3-0, on Sunday at Providence Park in a match that saw both sides reduced to 10 men. The win sees the Timbers snap a three-game skid, while Sporting Kansas City falls for the first time in three games.
After 65 minutes of physical play, Valeri's 65th minute strike proved the difference before a pair of late goals sealed the result. Given space down the right side, Vytautas Andriuskevicius darted towards the box before centering a cross towards Jack McInerney. The cross was headed away, but only as far as Valeri, who thumped a shot on the half-volley. Valeri's strike curled past Alec Kahn and into the back of the net for Valeri's 10th goal of the year and third in four games.
With just minutes remaining, Jack Jewsbury sealed the win, firing a goal in the 87th minute that locked up a vital three points against a Western Conference contender. Two minutes into stoppage time, Fanendo Adi added one more for good measure, putting an exclamation point on a second half dominated by the hosts.
The trio of goals served as a highlights for what had been an ugly match, one defined by a pair of first half red cards. Just 12 minutes in, Diego Chara was given his marching orders for throwing a forearm to the face of Benny Feilhaber right in front of referee Baldomero Toledo. In the 29th minute, Toledo went to his pocket again, dismissing Soni Mustivar for a high challenge on Valeri as the two pursued a 50-50 ball.
After the break, the Timbers pounced, scoring three goals that see the club earn its 32nd point of the year before taking on D.C. United next Saturday. Sporting KC, meanwhile, sits on 34 ahead of a meeting with FC Dallas that same day.
MAN OF THE MATCH
Whenever the Timbers need someone to step up, Diego Valeri answers the call. He did so again on Sunday, leading the way in what turned out to be a resounding win.
MOMENT OF THE MATCH
Diego Valeri's half-volleyed effort catapulted the Timbers towards three points while adding another spectacular finish to Valeri's highlight reel.
MATCH TO FORGET
One could argue whether or not Soni Mustivar's foul was worthy of yellow or red, but the Sporting KC midfielder's dismissal turned the tide at a time when his team was up a man. Valeri's winner served as punishment, as the red card leveled the playing field heading into the second half.