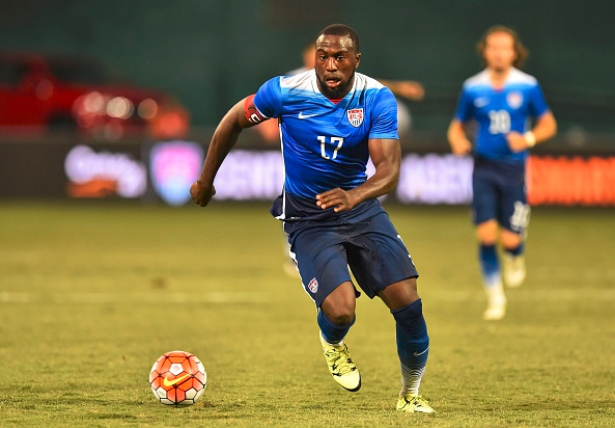 For each of the past several tournaments, the U.S. Men's National Team has had to cope without Jozy Altidore. As hamstring injury after hamstring injury knocked the forward out of big game after big game, the U.S. leaned heavily on Clint Dempsey to provide the goals needed to lift the U.S. through major competitions.
Now with Dempsey out of the lineup with heart issues, it's Altidore's turn to carry the load, and he has a new partner to help him lead the way into a crucial qualifier.
Altidore watched from afar this summer as the U.S. sealed a fourth-place finish at the Copa America. For the third-straight major tournament, the veteran forward was forced out of the action and into the rehabilitation room. At the end of it all, it was Dempsey that paced the U.S. to a successful Copa America run while finishing tied for fourth in goals scored at this summer's tournament, falling behind only Eduardo Vargas, Lionel Messi and Gonzalo Higuain.
Heading into Friday's clash with St. Vincent and the Grenadines, the USMNT will not have the benefit of Dempsey's nose for goal. Rather, they will have Altidore, who is eager to step in and reclaim his spot with the national team after yet another missed opportunity.
"I don't think it changes much. Clint's a big part of this team. He's a big part of everything we're doing here and we're going to miss him a lot," Altidore said. "First and foremost, we wish him well. His health is the most important thing, but the games go on. For us, it's no different. We're trying to be effective, trying to be dangerous. You look around now at the player pool, especially the striker depth, and we have a lot of guys that can step in and do a good job."
"Every time one of your leader players is missing, it's a bummer," added Jurgen Klinsmann. "In his case, we wish him only the best to go through these testings now and hopefully get cleared as soon as possible. Not having Clint is not good. Not having Michael Bradley, not having Jermaine Jones, but that's the way it always goes. Every team sport, you deal with injuries and other circumstances like injuries or suspensions in the case of Michael Bradley and Michael Orozco. We have a very strong group together."
Altidore now figures to be one of the leaders of that strong group. Recently named captain for Friday's match, Altidore brings 93 caps and 34 goals to the table. The 26-year-old's performances have rarely been a source for criticism during his time with the national team. Rather, it has been his health.
Now, Altidore says he has taken steps towards maximizing his time on the field. While he jokingly admitted it was important to "knock on wood", the Toronto FC forward says he has spent the past several months visiting several specialists, collecting opinions from anyone willing to offer one. With the USMNT program providing plenty of help along the way, Altidore has developed new preparation work and a new regime to pinpoint and address the issues that have plagued him for several years.
However, the USMNT's hopes don't just fall on Altidore's recovering hamstrings. Joining him in leading the forward line will be Bobby Wood, a player that has impressed Altidore in his absence.
Over the past year, Wood has grown by leaps and bounds, Altidore says. At this time last year, Wood was struggling to assert himself in the German second division. An impressive 17-goal performance for Union Berlin saw Wood book a transfer to Bundesliga club Hamburg, and the move paid immediate dividends as Wood scored in his first official appearance. All the while, Wood has emerged as a vital part of the USMNT squad, scoring four goals in the last year.
In Wood, Altidore sees a guy that is well-rounded, a player with a work-rate that makes defenses uncomfortable. Describing his strike-partner as a "pitbull", Altidore is relishing the opportunity to play with a teammate that appears to be growing into his spot with the national team.
"For a long time, he took a lot of stick for maybe performing not as well as he could be," Altidore said of Wood, "but the group believed in him. We've all known him and he's been a part of the team for a long time. For him to come out of his shell a bit, it's no surprise. He's a talented player and he'll continue to grow."
"Bobby made big, big strides, there's no doubt about that," Klinsmann added. "The jump from Union Berlin to Hamburg is a big, big jump. It's a big club. It's huge. The way he opened up things in his first game with a beautiful goal is a strong signal from him that says, ' I'm ready to take on a bigger responsibility here and maybe take on a bigger role on my shoulders'. That's what we were hoping for and he seems to have responded well."
Klinsmann will need both of his forwards to respond well if the U.S. is to push on through World Cup qualifying. A win on Friday is paramount, but it won't come in easy conditions.
According to the USMNT head coach, Friday's match could be an ugly one. Excessive winds will force the USMNT to keep the ball on the ground, while lackluster pitch conditions will make passing all the more difficult throughout the game. Knowing that, the USMNT will need to pounce when they can, making it vital for players like Wood and Altidore to take their opportunities when they come.
Altidore and Wood still have room to grow, as both individuals and as a partnership, but on Friday, the two will be critical in spurring the U.S. towards the Hexagonal round.
"From every striker we bring in, we hope for goals," Klinsmann said. "That's what they're supposed to do. Having Bobby now coming through the ranks in the last two years has been huge for us because a lot has always been on the shoulders of Clint Dempsey and Jozy Altidore. Now having him on board, having a Jordan Morris that develops through the Seattle Sounders is huge right now. Young Rubio Rubin is in Holland. This is part of our job to develop them and help them."
"I wasn't a part of (the Copa America), but watching from afar, I saw the group grow a lot," Altidore said. "I saw a lot of young guys step up and take their opportunities. You have a lot of guys that are battle tested in a way and you can count on them now going forward ."