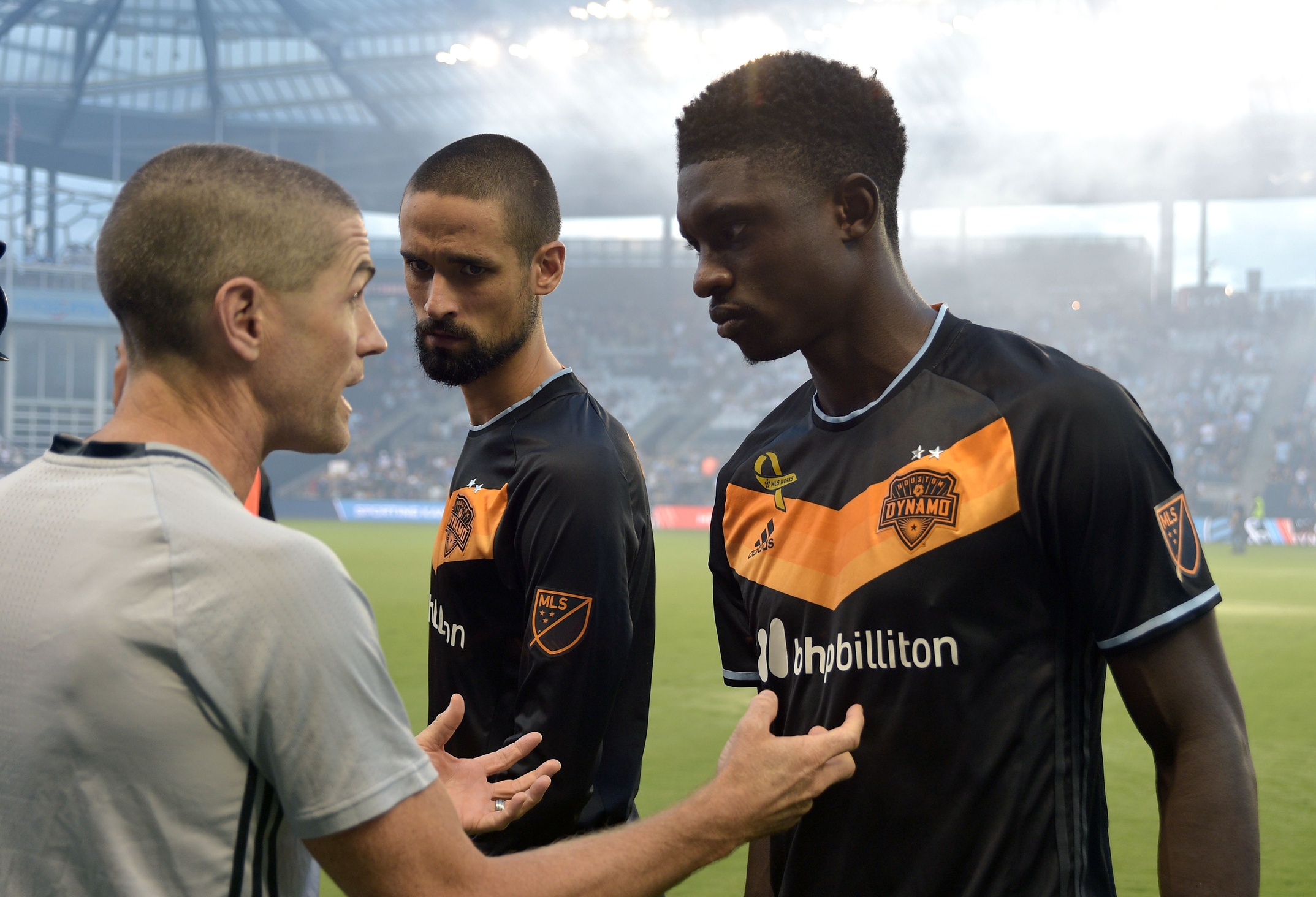 Immediately after earning a last-gasp 3-3 draw over Sporting KC, the Houston Dynamo back line huddled up around a laptop.
The team wasn't checking for a replay of Raul Rodriguez's late equalizer. Instead, the Dynamo wanted to see what had gone wrong in surrendering three goals. Defenders contemplated, mostly in Spanish, how their shape broke down and what to do better next time. Rodriguez, the Dynamo's bilingual veteran centerback, led the discussion.
As far as team-building moments go, the Dynamo had a productive one. Rodriguez hoped it did "something good" for the Dynamo's spirit as a team in the long-term. For Dynamo interim coach Wade Barrett, the performance sure did.
"I told them at halftime, maybe [the result is] a foregone conclusion and maybe it is, but I want the players to do it in the right way," Barrett said. "I told them, you know what I don't know if the result really matters at this point but the fight and character that we have the potential to show in the second half, that matters to me."
Among the Dynamo team, the result wasn't much to celebrate. The Dynamo still sit in last place in the Western Conference with little hope for late-season consolation. The Vancouver Whitecaps are five points ahead in ninth.
Rodriguez, the scorer of the Dynamo's equalizer, however, had a much more technical approach to the result. While the result showed character, it also helps a team that has established togetherness to get better on the field.
"The morale part is one thing that we need to improve, definitely, but there's a lot of stuff. A lot of tactics stuff, especially in the first half that are just small details," Rodriguez said. "Hopefully it's something good, the goal in the last minute, but it's just improving the small details, not just the moral things, not just the psychological stuff, but also the small things."
The team's resiliency, especially during a historically difficult season, was something goalkeeper Joe Willis found valuable among what he called a bittersweet draw.
"I think a lot of times, earlier in the season when a situation like that happens when we give up a third goal, there's times where we'll quit," Willis said. " You can see it in guys' faces, guys just kinda give up. That wasn't the case tonight, I don't think there was a single guy out there that thought we were losing."