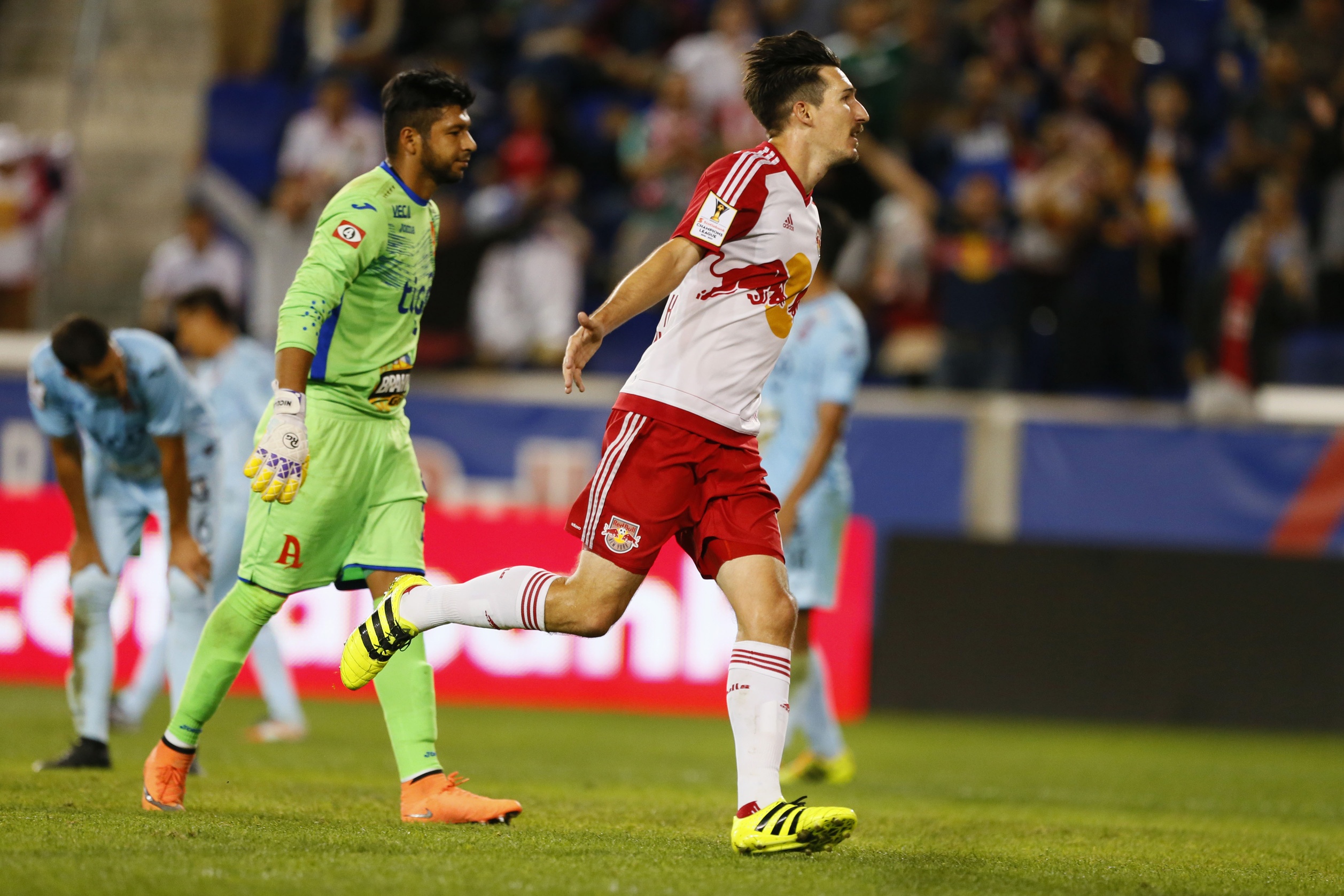 Four MLS teams took the field in CONCACAF Champions League play this week, but only two emerged victorious.
While the Vancouver Whitecaps toppled MLS rivals Sporting Kansas City, the New York Red Bulls took down Alianza FC on a late winner from Sacha Kljestan. On the other end, the Portland Timbers settled for defeat, dropping a 4-2 clash with Costa Rican side Saprissa.
Locked in a 0-0 draw throughout 90 minutes, the Red Bulls found their breakthrough through Kljestan with the game winding down. Played in by Gonzalo Veron, Kljestan fired a shot first time, leading the Red Bulls to a 1-0 win over El Salvadoran side Alianza, who were eliminated with the defeat.
The Whitecaps victory came just as late, and was the result of the play of 15-year-old Alphonso Davies. After assisting Erik Hurtado's opener before Diego Rubio's second-half equalizer, Davies fired a 93rd minute winner to eliminate Sporting KC from the competition while sealing the Whitecaps' spot in the knockout round.
Like Sporting KC, the Timbers were unable to find a win in CCL play, but the reigning MLS Cup champions remain alive with two group stage matches remaining. An own goal and two penalty kicks doomed the Timbers against Saprissa, but wins in the final two group stage matches would push the Timbers into the knockout round.
Here's a closer look at the updated CCL group stage standings:
("A" means advanced. "E" means eliminated)
GROUP A
| | | |
| --- | --- | --- |
| Team | Games Played | Points |
| Pumas | 3 | 6 |
| Honduras Progresso | 3 | 4 |
| W Connection | 2 | 1 |
GROUP B
| | | |
| --- | --- | --- |
| Team | Games Played | Points |
| Saprissa | 3 | 7 |
| Portland Timbers | 2 | 3 |
| Dragon (E) | 3 | 1 |
GROUP C
| | | |
| --- | --- | --- |
| Team | Games Played | Points |
| Vancouver Whitecaps (A) | 3 | 9 |
| Sporting KC  (E) | 3 | 1 |
| Central (E) | 2 | 1 |
GROUP D
| | | |
| --- | --- | --- |
| Team | Games Played | Points |
| Arabe Unido (A) | 3 | 9 |
| Monterrey | 3 | 3 |
| Don Bosco | 2 | 0 |
GROUP E
| | | |
| --- | --- | --- |
| Team | Games Played | Points |
| Pachuca | 3 | 9 |
| Olimpia | 2 | 3 |
| Police United (E) | 3 | 0 |
GROUP F
| | | |
| --- | --- | --- |
| Team | Games Played | Points |
| New York Red Bulls | 3 | 7 |
| Alianza (E) | 3 | 2 |
| Antigua | 2 | 1 |
GROUP G
| | | |
| --- | --- | --- |
| Team | Games Played | Points |
| Tigres UANL | 2 | 6 |
| Herediano | 3 | 4 |
| Plaza Amador (E) | 3 | 1 |
GROUP H
| | | |
| --- | --- | --- |
| Team | Games Played | Points |
| FC Dallas | 2 | 4 |
| Suchitepéquez | 2 | 4 |
| Real Esteli (E) | 4 | 2 |