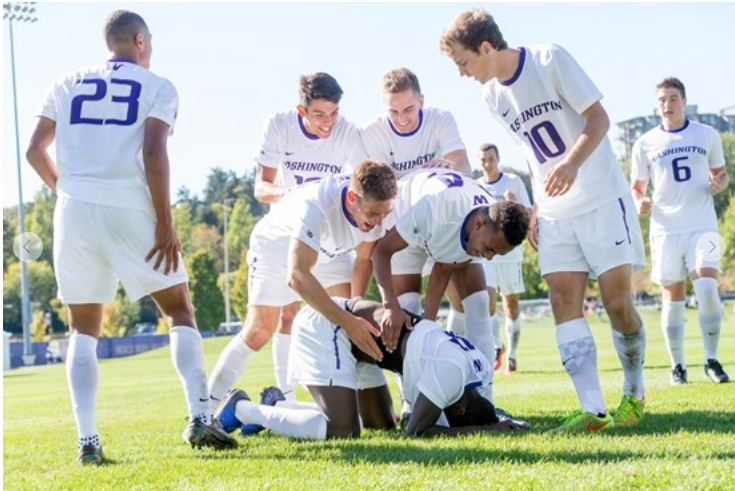 The Washington Huskies sent a very clear message on Thursday night: they plan in being Pac-12 champions.
The Huskies, No. 25 in the latest SBI College Top 25, delivered a 4-0 beatdown of SBI No. 11 UCLA on Thursday night, with a pair of goals in the first four minutes setting the tone for the rout in their Pac-12 opener.
The long throw-in, long a staple of the Huskies program, burned UCLA again, as header goals by Garret Jackson and Justin Schmidt off long throws by Steven Wright left the Bruins chasing the game from then on out.
The victory is Washington's fourth straight, and seventh in eight matches.
Indiana maintained its unbeaten record on Wednesday with one of the best comebacks of the season, rallying from a 2-0 deficit to post a 3-2 victory, in overtime, over SBI No. 13 Butler. The Hoosiers, No. 8 in the latest Top 25, trailed by two goals with 15 minutes remaining before Tanner Thompson and Trevor Swartz scored to force overtime.
Austin Panchot completed the comeback for the Hoosiers with a 97th-minute winner.
Earlier this week, Creighton eliminated Loyola of Chicago from the ranks of the unbeaten, delivering a 3-0 humbling in Omaha on Tuesday. The SBI No. 9 Bluejays rode goals from Mitch LaGro, Noah Franke and Luke Haakenson to hand Loyola-Chicago its first loss of the season.
Here's a look back at this week's college soccer action:
TUESDAY
Davidson 1, (6) Wake Forest 2 (RECAP)
South Florida 0, (7) Clemson 1, OT (RECAP)
(9) Creighton 3, (10) Loyola (Chicago) 0 (RECAP)
Winthrop 0, (18) Charlotte 2 (RECAP)
(19) Akron 0, VCU 0 (RECAP)
Rutgers 5, (22) Florida Gulf Coast 6 (RECAP)
Georgetown 3, American 1 (RECAP)
WEDNESDAY
(8) Indiana 3, (13) Butler 2 (RECAP)
Lipscomb 1, Kentucky 1 (RECAP)
Elon 0 UNC-Wilmington 0 (RECAP)
Providence 0, UConn 1  (RECAP)
THURSDAY
(11) UCLA 0, (25) Washington 4 (RECAP)
(17) San Diego State 1, Oregon State 1 (RECAP)
UC-Riverside 2, UCSB 2 (RECAP)