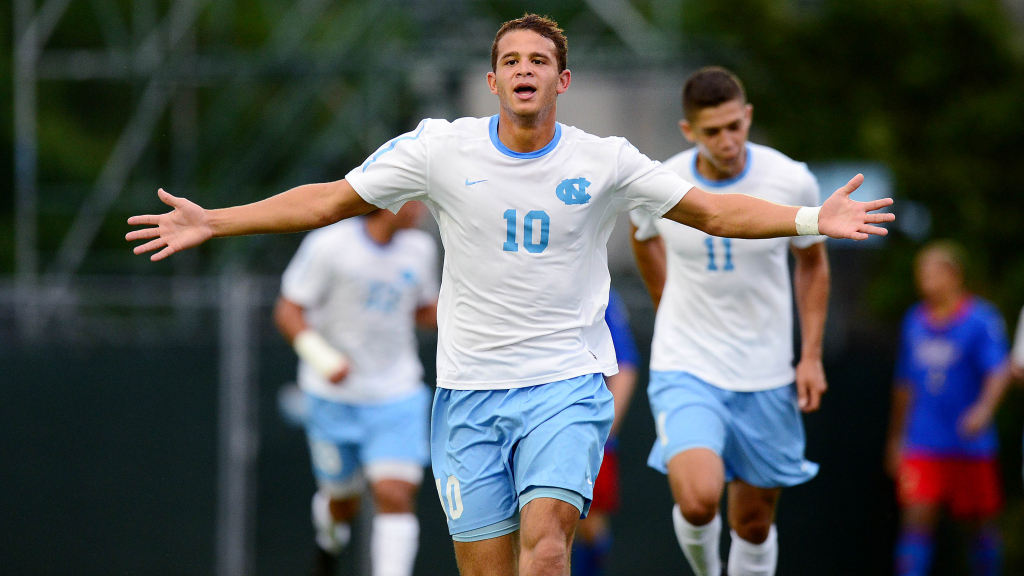 SBI No.1 North Carolina shut out No. 5 Clemson, 1-0, in Chapel Hill. With three minute remaining, Zach Wright scored his second goal of the year to secure the win for the Tar Heels. North Carolina's win over Clemson keeps the Tar Heels perfect at 4-0 with a +8 goal differential.
No.2 Syracuse and No.6 Notre Dame also improved to 4-0 on Friday. Syracuse beat North Carolina State, 2-0, in the Orange's first road victory of the season. Notre Dame picked apart Virginia Tech, 4-1, in South Bend, Indiana.
Already leading by a goal 13 minutes in, Irish senior defender, Brandon Aubrey, scored the first of his three goals in the 15th minute. Aubrey would go onto score his second and third goals, 5 minutes apart, in the 78th, and 82nd minute. The hat trick is the first of Brandon Aubrey's career with Notre Dame.
No.3 ranked Maryland and No.4 Indiana played to a 1-1 draw in Bloomington, Indiana, on Friday night. Indiana's Richard Ballard scored his second goal of the year in the 7th minute, while Maryland senior defender Alex Crognale equalized for the Terrapins in the 87th minute. Both teams remain undefeated with identical 3-0-2 records.
Georgetown and No.19 Stanford found their first victories of the season over the weekend. After beginning the season 0-4, the Hoyas defeated UConn 1-0. Senior forward Brett Campbell scored the only goal for Georgetown in the 42nd minute. Stanford finished off San Jose State, 4-1, Saturday night. The match was tied until the 66th minute, when Cardinal red shirt sophomore Adam Moshfara gave Stanford the lead. Foster Langsford and Drew Skundrich padded the victory for the Cardinal with two additional goals.
In the upset of the weekend, Loyola-Chicago shut out No. 13 Utah Valley, 2-0, in Dekab, Illinois Friday night. Grant Stoneman opened the scoring for Loyola in the first half, and Gordon Stevenson added the insurance goal in 74th minute. Utah State rebounded with a victory on Sunday, 3-0, over Northern Illinois.
Here is a look back at the top college soccer results from the weekend:
WEEKEND COLLEGE SCOREBOARD
FRIDAY 
(1) North Carolina 1, (5) Clemson 0 (RECAP)
(2) Syracuse 2, North Carolina State 0 (RECAP)
(4) Indiana 1, (3) Maryland 1 2OT (RECAP)
(6) Notre Dame 4, (16) Virginia Tech 1 (RECAP)
(9) Denver 4, UC Riverside 1 (RECAP)
Butler  4, (10) UCSB 2 (RECAP)
(12) Akron 2,  Oregon State 0 (RECAP)
Loyola- Chicago 2,  (13) Utah Valley 0 (RECAP)
(18) San Diego State 3, UTRGV 0 (RECAP)
(20) Radford 4, VCU 2 (RECAP)
(21) Creighton 3, Penn, 0 (RECAP)
Georgetown 1, (25) UConn 0 (RECAP)
Providence 1, SMU 0 (RECAP)
SATURDAY
(8) Wake Forest 1,  (11) Virginia 0 (RECAP)
Furman 1, (14) Kentucky 0 (RECAP)
(17) Boston College 1, Duke 0 (RECAP)
(19) Stanford 4, San Jose State 1 (RECAP)
(24) Gonzaga 3, American University 1 (RECAP)
SUNDAY
(9) Denver 2,  Bryant University 0 (RECAP)
(13) Utah Valley 3, Northern Illinois 0 (RECAP)
(18) San Diego State 2, Memphis 0 (RECAP)
Old Dominion 1, (20) Radford 0 (RECAP)
Villanova 2, (22) Delaware 1 (RECAP)
Harvard 1,  (23) Washington 0 (RECAP)
(24) Gonzaga 2, George Mason 1 (RECAP)
American University 5, Cornell 2 (RECAP)
Butler 3,  Oregon State 0 (RECAP)