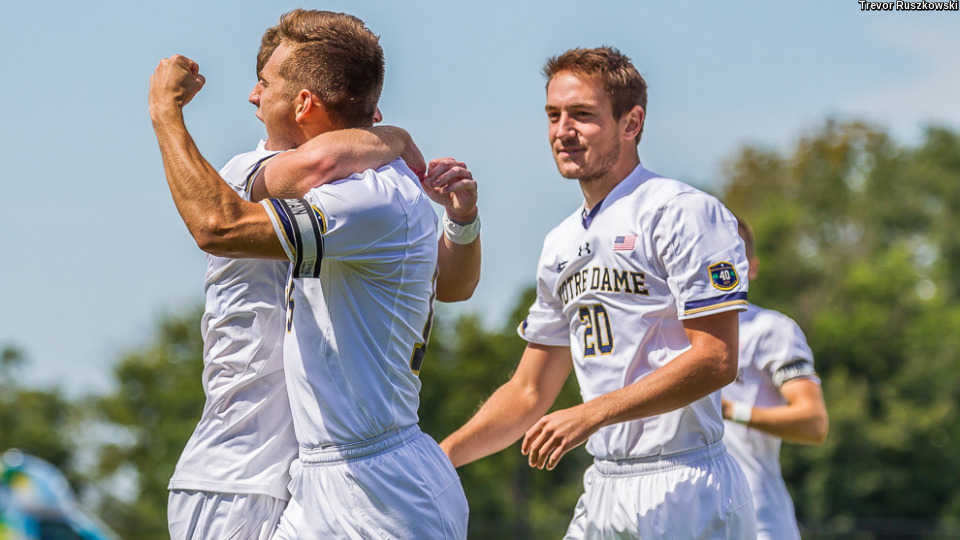 Conference play opens this weekend in the ACC and Big 10. On Friday in the ACC, SBI No.1 North Carolina visits No. 9 Clemson, No. 2 Syracuse hosts North Carolina State, Louisville squares off against Pittsburgh, and  No. 6 Notre Dame look to remain perfect against No. 16 Virginia Tech. Between the Coastal and Atlantic conferences, ACC teams have a combined 32-6-4 record against non-conference opponents.
Four Big 10 match-ups kick off Friday. No. 4 Indiana and No. 3 Maryland headline the conference fixtures. The Hoosiers and Terrapins enter Friday's match with the same undefeated record, 3-0-1. Maryland forward Gordon Wild, leads the Terps in scoring this year with 5 goals, and has found the back of the net in three consecutive matches. Other Big 10 match-ups feature, Michigan State and Rutgers, Northwestern at Ohio State, and Wisconsin hosting Michigan.
SBI's 25th ranked Radford Highlanders look to remain undefeated with two upcoming road tests, Friday and Saturday. Radford visits VCU Friday night, followed by a Sunday afternoon fixture against Old Dominion University. At 3-0, Radford are off to their best start since 1994. The Highlanders have also not conceded a goal in all three matches.
"We are off to a great start with three wins and no goals conceded," Radford coach Marc Reeves said, "but it is very early in the season and our upperclassman leaders know the importance of daily focus and continued quality preparation to maintain our level of performance. We play a great schedule and are excited about the challenges of each contest."
Here is a rundown of this weekend's top college matches:
FRIDAY 
(5) Clemson vs (1) North Carolina 7:30 pm
North Carolina State vs  (2) Syracuse 7 pm
(4) Indiana vs. (3) Maryland 7:30 pm
(6) Notre Dame vs. (16) Virginia Tech 7pm
Duke vs. (8) Wake Forest 7pm
(9) Denver vs. UC Riverside 9pm
(10) UCSB vs. Butler, 1:30 pm
(12) Akron vs. Oregon State 7: 30 pm
Loyola- Chicago vs. (13) Utah Valley, 5pm
Furman vs. (14) Kentucky, 7pm
(18) San Diego State vs. UTRGV, 10pm
VCU vs. (20) Radford, 7pm
(21) Creighton vs. Penn, 7:30 pm
Harvard vs. (23) Washington, 4pm
(24) Gonzaga vs American University, 5pm
Georgetown vs. (25) UConn, 1 pm
Providence vs. SMU, 7 pm
SATURDAY
(8) Wake Forest vs. (11) Virginia, 7pm
Furman vs. (14) Kentucky, 7pm
(17) Boston College vs. Duke, 6pm
(19) Stanford vs. San Jose State, 10pm
SUNDAY
(9) Denver vs. Bryant University, 9pm
Northern Illinois vs.  (13) Utah Valley, 2:30pm
(18) San Diego State vs. Memphis, 7pm
Old Dominion vs (20) Radford, 2pm
(22) Delaware vs. Villanova, 3pm
George Mason vs. (24) Gonzaga, 2pm
American University vs Cornell, 3pm
Butler vs Oregon State, 11pm