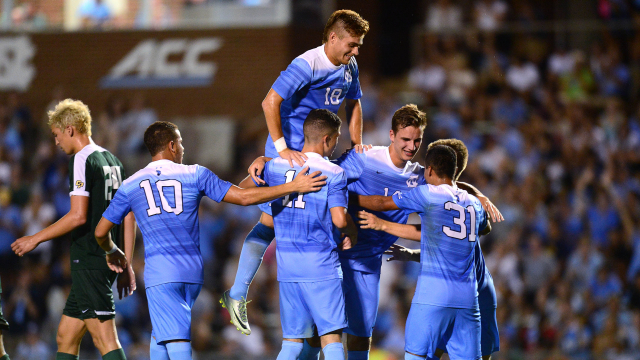 A loaded weekend of college soccer action features 20 of the SBI top 25 teams in action in Friday, with five fixtures featuring ranked opponents squaring off against each other.
The newly ranked SBI No.1 North Carolina Tar Heels (2-0) host local rival, North Carolina State Wolfpack (1-1), Friday night, 7:30 pm, in Chapel Hill, North Carolina. In their first two games, the Tar Heels have a +6 goal differential, and have yet to allow a goal this season. The back four is lead by freshman Mauricio Pineda, who, has already been honored with "team of the week" nods from around the country. The Wolfpack back line will have to try and contain a Tar Heel offense that has seen goal production from six different players so far in 2016.
The Adidas/ IU Credit Union classic will feature four SBI top 25 teams this weekend. Notre Dame and Stanford will clash Friday at 5:30 pm, followed by Indiana and California, at 8:30. Notre Dame will meet California Sunday afternoon, 12:30 pm, followed by the Hoosiers and Cardinal Sunday evening, 7:30 pm.
Dropping down four slots in the SBI top 25, the No.4 ranked Maryland Terrapins (2-0) host a limping  (14) Georgetown Hoyas (0-2) team, desperate for their first win of the season. The Hoyas were stunned late against West Virginia on Sunday in Akron, Ohio losing in the closing minutes 1-0. This is Georgetown's second 1-0 defeat of the season, with the first coming against the Akron Zips. Maryland picked apart Hartford, 5-0, Monday. Sophomore transfer, Gordon Wild, opened his scoring account Monday notching two goals for the Terrapins in the victory.
Jumping into the SBI top 25 this week, are the No.25 ranked Radford Highlanders. Following an undefeated preseason, the Highlanders opened with consecutive one vil victories over North Carolina State, and Lehigh University. Radford will host Davidson Saturday night, 7 pm. The Davidson Wildcats are 0-2 to begin 2016, with a minus 4 goal differential
Here's a closer look at the weekend schedule:
FRIDAY SCHEDULE
(1) North Carolina vs North Carolina State 7:30 pm ET
San Diego State vs (3) Akron 10:00 pm ET
(4) Maryland vs (14) Georgetown 7:30 pm ET
(5) UCLA vs Duke 8:00 pm ET
(6) Indiana vs (24) California 8:30 pm ET
(13) Notre Dame vs (7) Stanford 5:30 pm ET
(8) Boston College vs Hofstra 5:30 pm ET
(9) Clemson vs (20) Creighton 7:00 pm ET
Northwestern vs (11) Denver 4:00 pm ET
Xavier vs (15) Virginia 7:30 pm ET
(16) University California Santa Barbra vs San Diego 11:00 pm ET
(18) UConn vs Louisville 7:30 pm ET
(19) Southern Methodist University vs Western Illinois 8:00 pm ET
(22) University of Kentucky vs Dartmouth 7:30 pm ET
(23) Charlotte vs University Central Florida 6:00 pm ET
University of Delaware vs Lehigh 7:00 pm ET
Penn State University vs James Madison University 7:00 pm ET
University of Pennsylvania vs American University 7:00 pm ET
SATURDAY SCHEDULE
(10) Wake Forest vs Cleveland State 7:00 pm ET
(25) Radford vs Davidson 7:00 pm ET
Butler vs Southern Illinois Univ. Edwardsville 7:00 pm ET
SUNDAY SCHEDULE
(2) Syracuse vs St. Johns 7:00 pm ET
(4) Notre Dame vs (24) California 12:30 pm ET
(6) Indiana vs (7) Stanford 7:30 pm ET
(8) Boston College vs Villanova 5:00 pm ET
Illinois-Chicago vs (11) Denver 8:00 pm ET
Gonzaga vs (12) Seattle 5:30 pm ET
(16) UC Santa Barbra vs St. Mary's (CA) 10:05 pm ET
(19) Southern Methodist University vs American U. 8:00 pm ET
(21) Utah Valley vs Bradley 8:00 pm ET
(23) Charlotte vs Rutgers 4:00 pm ET