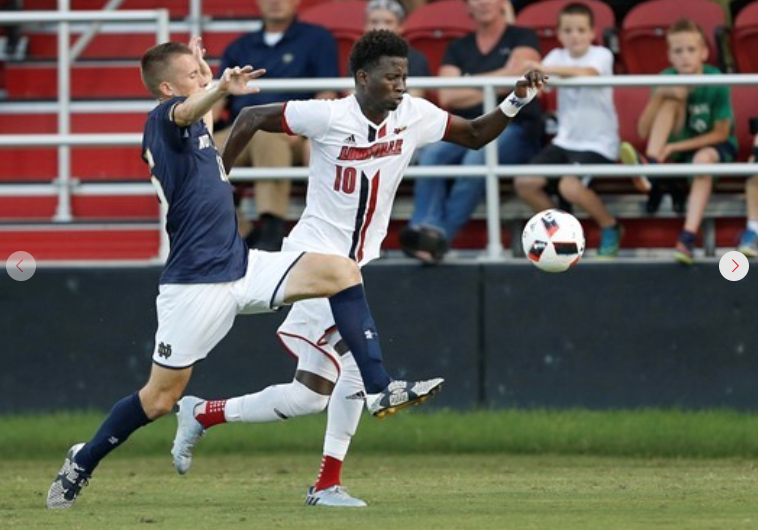 Perfect records are dropping like flies in the college soccer landscape, and the top team in the nation became one of the latest to see their unblemished record disappear.
SBI No. 1 Notre Dame dropped a 1-0 decision on the road to No. 24 Louisville, 1-0, last Friday. Junior Mohamed Thiaw delivered the winner with a first-half strike, while Cardinals goalkeeper Stefan Cleveland helped shut down Notre Dame's vaunted attack.
Unranked unbeatens UNC-Wilmington and Buffalo also saw their perfect records ruined, and both saw them tarnished down in Florida. UNC-Wilmington suffered a 5-0 beating at Florida Gulf Coast on Saturday, while Buffalo dropped a 3-0 loss to South Florida on Friday.
Syracuse held onto its perfect record, and positioned itself to be the No. SBI No. 1, after beating No. 17 Boston College, 2-0. Jonathan Hagman and Kenny Lassiter scored second-half goals to push the Orange to a 7-0 record.
Here is a look back at the weekend's top college scores:
WEEKEND COLLEGE SCOREBOARD
FRIDAY
(24) Louisville 1, (1) Notre Dame 0 (RECAP)
(2) Syracuse 2, (17) Boston College 0 (RECAP)
(4) North Carolina 1, Pittsburgh 0 (RECAP)
Duke 0, (9) Wake Forest 2 (RECAP)
Tulsa 1, (10) Akron 2 (RECAP)
(16) Stanford 3, Harvard 1 (RECAP)
(18) Virginia Tech 3, North Carolina State (RECAP)
Liberty 1, (25) American University 1 (RECAP)
South Florida 3, Buffalo 0 (RECAP)
SATURDAY 
(21) UCSB 1, (6) UCLA 2 (RECAP)
(7) Denver 1, North Florida 0 (RECAP)
(11) Virginia 3, (8) Clemson 3 (RECAP)
(12) Utah Valley 1, Cal State Northridge 0 (RECAP)
Old Dominion 0, (13) Charlotte 2 (RECAP)
Cal Poly 0, (15) San Diego State 0 (RECAP)
Florida International 2 (17) Kentucky 1 (RECAP)
(19) Creighton 4, Seton Hall 1 (RECAP)
Drake 0, (20) Loyola-Chicag0 1 (RECAP)
Villanova 2, (22) Butler 3 (OT) (RECAP)
Florida Gulf Coast 5, UNC-Wilmington 0 (RECAP)
Radford 2, Elon1 (RECAP)
SUNDAY 
(3) Maryland 3 Penn State 2 (RECAP)
(5) Indiana 0, Northwestern 0 (RECAP)
(16) Stanford 4, Omaha 0 (RECAP)
UC Riverside vs (23) Gonzaga, 2 pm
MONDAY
SMU 4, (10) Akron 3 (RECAP)