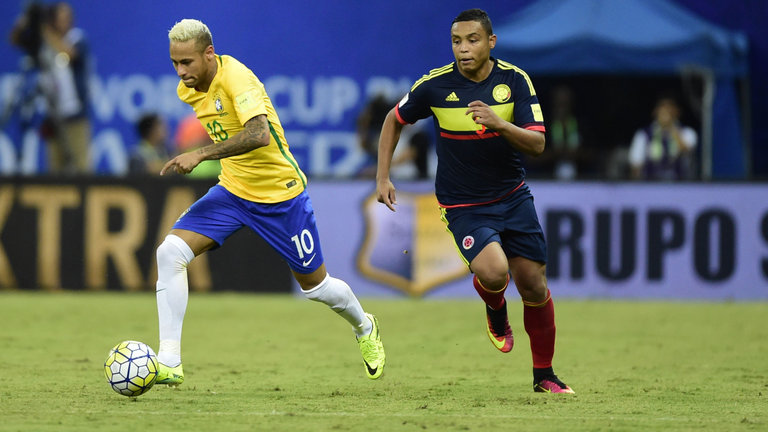 Tuesday provided another drama-filled evening in CONMEBOL World Cup qualifying.
The eighth round was highlighted by Brazil, who won for the second time in as many games under new coach Tite. The Selecao won, 2-1, over Colombia thanks to Neymar's strike in the 74th minute, following up on its huge 3-0 win in Ecuador last Thursday.
Neymar's Barcelona teammate Lionel Messi was ruled out of Argentina's match versus Venezuela, and it showed as La Albiceleste had to settle for a 2-2 draw. Their neighbor Uruguay claimed the top spot in the table after an emphatic 4-0 win at home to Paraguay. Peru earned its second victory of the campaign, beating Ecuador 2-1, while La Blanquirroja's fierce rival Chile tied Bolivia 0-0 in Santiago.
Here is a look at Matchday 8 of CONMEBOL qualifying and the updated standings:
NEYMAR SECURES SECOND WIN FOR TITE, BRAZIL OVER COLOMBIA
What a difference a couple of months can make.
Nearly three months after crashing out of the Copa America Centenario group stage, Brazil has won back-to-back qualifiers under new coach Tite. The Brazilians triumphed, 2-1, over Colombia to catapult into second place in the table. Neymar scored the winning goal with 16 minutes left and has been impressive since the new tactician has been in charge.
Joao Miranda opened the scoring off a corner for the hosts within 80 seconds, but it was canceled out by an own goal from his defensive partner Marquinhos. However, it was Neymar who provided the clinching strike after a composed finish into the bottom corner. The Barcelona forward is now tied with Zico for fourth on the all-time Brazilian scoring list with 48 goals. He's now 29 behind Pele for first and he's still only 24 years old.
MESSI-LESS ARGENTINA SETTLES FOR DRAW WITH VENEZUELA
Argentina caught a small glimpse of what life could have been like without Lionel Messi.
La Albiceleste came back from 2-0 down to draw 2-2 with Venezuela. New coach Edgardo Bauza still hasn't lost since he was appointed, but without Messi, the attack was lackluster until Lucas Pratto forced his way into the penalty area before an emphatic finish for his first international goal. Nicolas Otamendi equalized off a corner in the 83rd minute, which negated Juanpi's stunning opener and Josef Martinez's strike.
Despite the draw, Argentina is still tied for second with Brazil on 15 points.
URUGUAY DOMINATES PARAGUAY TO GO TOP OF THE TABLE
Uruguay responded after its 1-0 loss to Argentina on Matchday 7 in the best way possible.
La Celeste crushed Paraguay, 4-0, with Edinson Cavani scoring twice. Both goals were assisted by Luis Suarez, who had a goal of his own from the penalty spot. Cristian Rodriguez was also on the scoresheet for Uruguay. Cavani may dominate the headlines, but it's Suarez who deserves the plaudits. The Barcelona forward has assisted the PSG man's last three goals in qualifying and has his fair share of crucial strikes.
Uruguay's emphatic victory sent the 2011 Copa America winners to the top of the table, one point above Argentina and Brazil.
TAPIA CLINCHES CRUCIAL WIN FOR PERU OVER STRUGGLING ECUADOR
Peru desperately needed a win. It earned one against one of the top teams entering Matchday 8.
Renato Tapia's powerful finish inside the box in the 77th minute secured a vital 2-1 win for the Peruvians in Lima. As for Ecuador, it is winless in its last four qualifiers, losing three in that span. La Tricolor slipped to fifth, with Peru trailing by just six points with 10 matches left.
CHILE HELD TO DRAW AT HOME BY BOLIVIA
Bolivia failed to win its 50th straight qualifier away from home, but a 0-0 draw in Santiago is not a bad result by any means.
The Bolivians successfully shut down the two-time defending Copa America champions Chile, who remains two points out of fifth place. Surprisingly, Bolivia is now just four points behind La Roja. 
STANDINGS (ROUND 8)
1. Uruguay (16 points | 5-2-1 | 16 Goals For | 5 Goals Against)
2. Brazil (15 points | 4-1-3 | 16 Goals For | 9 Goals Against)
3. Argentina (15 points | 4-1-3 | 9 Goals For | 6 Goals Against)
4. Colombia (13 points | 4-3-1 | 12 Goals For | 10 Goals Against)
5. Ecuador (13 points | 4-3-1 | 13 Goals For | 12 Goals Against)
6. Paraguay (12 points | 3-3-3 | 9 Goals For | 11 Goals Against)
7. Chile (11 points | 3-3-2 | 13 Goals For | 12 Goals Against)
8. Bolivia (7 points | 2-5-1 | 9 Goals For | 13 Goals Against)
9. Peru (7 points | 2-5-1 | 8 Goals For | 15 Goals Against)
10. Venezuela (2 points | 0-6-1 | 9 Goals For | 21 Goals Against)