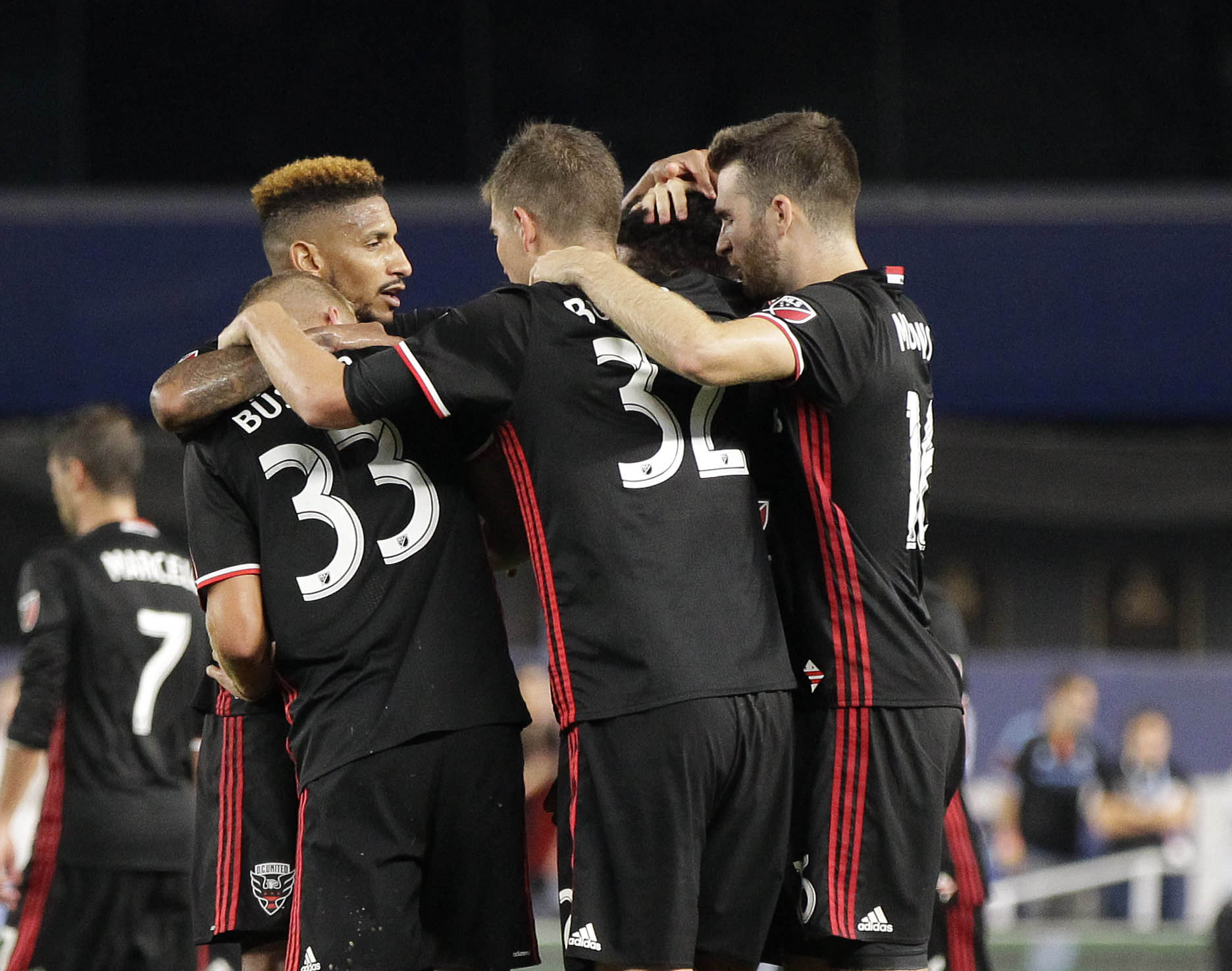 HARRISON, N.J. — The New York Red Bulls were on the brink of securing a comfortable win, but D.C. United mounted an impressive comeback in the dying moments to share the spoils.
D.C. United scored two late goals en route to picking up a road point in a 2-2 draw with the Red Bulls on Sunday afternoon. The rally at Red Bull Arena started through a Steve Birnbaum finish in the 89th minute, and was capped with a close-range effort from Lamar Neagle in the 95th.
The Red Bulls had never before given up a two-goal lead at Red Bull Arena. Prior to Sunday, they were 45-0-0 in all matches at the home venue in which they led by two.
The Red Bulls were the better side for much of the game on Sunday, and took a lead through a Gonzalo Veron header at the doorstep 10 minutes before halftime. Bradley Wright-Phillips doubled the hosts' advantage in the 54th minute, taking a Daniel Royer pass on the right side of the penalty area and smashing a shot to the near post.
It looked like the Red Bulls were going to cruise to the finish line, but D.C. United had other ideas. Birnbaum finished via a low drive to give the visiting club hope, and then Neagle pushed home a shot deep into stoppage time following some chaos in the box.
The result moved D.C. United to 7-9-12 on the year, putting the club one point shy of the final Eastern Conference playoff spot that is currently held by Orlando City. The Red Bulls are in second in the East with a 12-9-8 record.
MAN OF THE MATCH
Though he was beaten to the near post by Bradley Wright-Phillips early in the second half, Bill Hamid made a number of impressive saves to keep D.C. United from trailing by more than two goals. Two of his stops after halftime, on a low Wright-Phillips' attempt and looping Sal Zizzo shot, were of the highlight variety.
MOMENT OF THE MATCH
Down 2-0, D.C. United head coach Ben Olsen threw centerback Steve Birnbaum into a forward role to win aerial balls and cause some havoc. The strategy worked, as Birnbaum sparked his side's comeback in the 89th minute when he fired the ball into the far bottom corner of the net.
MATCH TO FORGET
Playing in his old home against his old team for the first time since being traded to D.C. United, Lloyd Sam had no shortage of reasons to be motivated for this game. His performance was flat, however, and he lasted just 59 minutes before being subbed off. This surely was not the Red Bull Arena return he had in mind.